Territorial Soldiers' Forum
Your voice. Your Army.
Let your voice be heard as a soldier of the Central Territory.
Launch of the Soldiers' Forum
Watch as the Soldiers' Forum is introduced to the Central Territory at the commissioning weekend in June 2022. Meet the first Territorial Sergeant-Major and Assistant Territorial Sergeant-Major.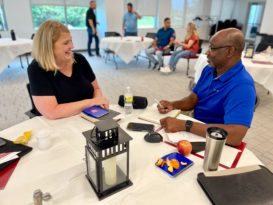 Territorial Soldiers' Forum debuts As a soldier, you are invaluable to The Salvation Army. ...
Forum Members
Reach out to your Soldiers' Forum Representative with your ideas, needs and concerns for the Army.