God So Loved the World Liner Notes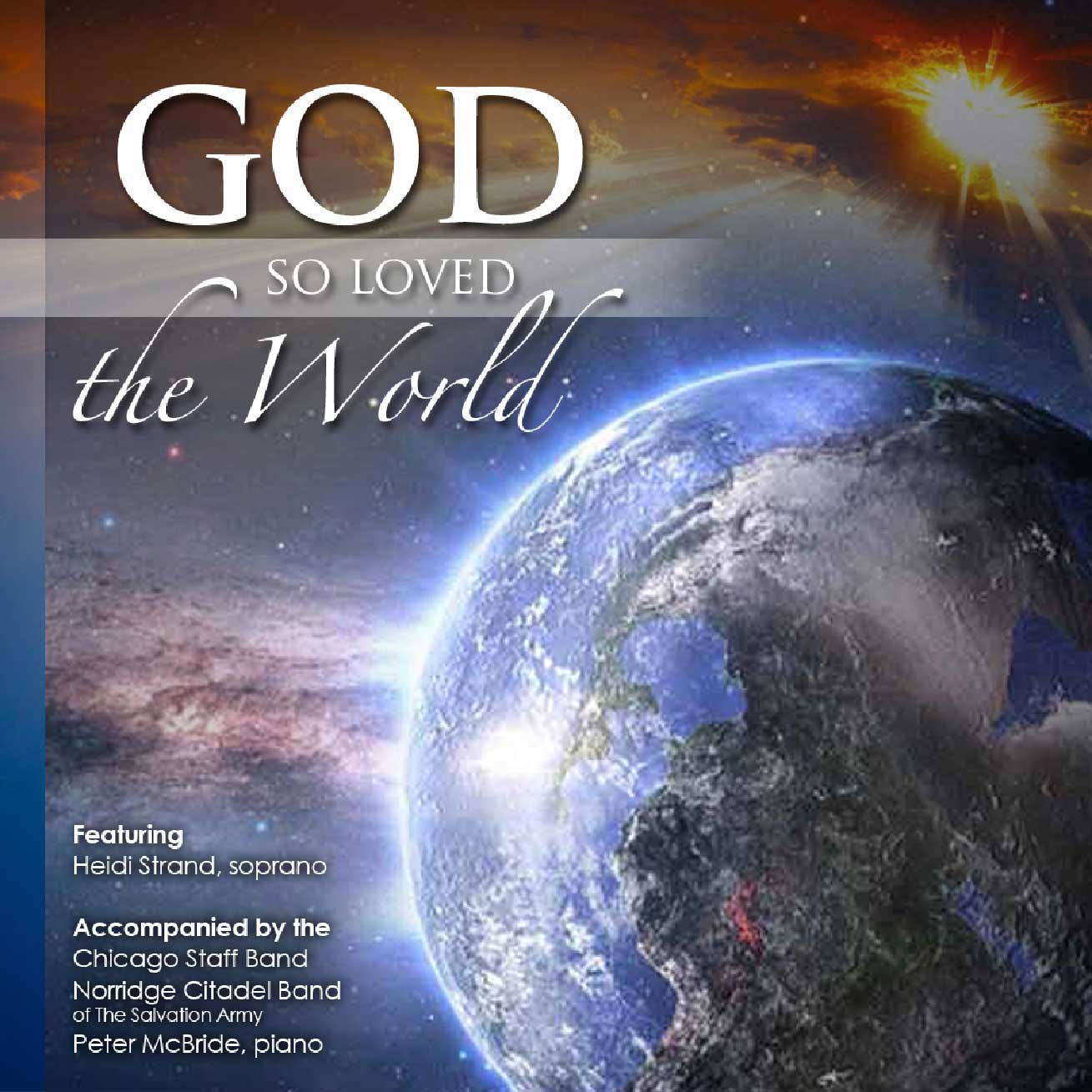 Featuring Heidi Strand, vocal soloist, accompanied by the Chicago Staff Band,
Norridge Citadel Band and Peter McBride, piano
God So Loved The World (Words and music by Dick and Melodie Tunney, arr. William Himes) (4:53)
©1991 BMG Songs, Inc./Pamela Kay Music/Dick and Mel Music. Administered by BMG
Savior Like A Shepherd (Words by Dorothy Ann Thrupp, music by Peter McBride) (2:45)
He's Always Been Faithful (Words and music by Sara Groves, arr. William Himes) (3:38)
© Sara Groves Music 2000, ASCAP Administered by Music Services) Great is Thy Faithfulness © 1923, Renewed 1951          Hope Publishing)
Holy Spirit (words and music by Keith Getty and Stuart Townend) (3:32)
© 2006 Thankyou Music (Administered by EMI Christian Music Publishing)
Artist of My Soul (Words and music by Rick Vale, arr. William Himes) (3:41)
© 1997 Erickson & Baugher Music
My All (Words by Alice Gerogina Edwards, music by Peter McBride) (4:15)
Unshakable Kingdom (Words and music by Michael W. Smith, Gloria Gaither and William Gaither, arr. William Himes) (6:21)
©1984 Meadowgreen Music Company and Gaither Music Company. Meadowgreen Music Company Admin. by EMI Christian Music Publishing.
I'm In His Hands (Words by Stanley E. Ditmer, music by Phil Laeger) (3:09)
©2003 Phil Laeger
Love Divine (Words by Charles Wesley, music by Peter McBride) (3:05)
Jesus Paid It All (words by Elvina H. Hall, music by John T. Grape, arr. Robert Sterling, band arr. Graeme Press) (5:06)
© 1985 Harold Flammer Music, Shawnee Press, Inc.
11. Nothing But Thy Blood (Words by Richard Slater, music by Donna Peterson, arr. William Himes) (5:13)
©1999 The Salvation Army, West Nyack, NY
12. Amazing Grace (Words by John Newton, music American Traditional, arr. Len Ballantine) (4:41)
© The Salvation Army, Atlanta, GA
13.  Irish Christmas Blessing (Words and music by Keith and Kristyn Getty) (3:07)
©2004 Thankyou Music/Administered by worshiptogether.com
In addition to these masterfully performed songs, the God So Loved the World CD includes vocalist Heidi Strand's testimony and a clear, concise gospel presentation.
As a child, I accepted Christ as my personal Savior. However, I spent many years putting most of my effort into the acts of Christianity.   There was no maturity or depth in my walk with Christ. The busyness of my life continued to take priority over advancing my relationship with Christ to a more meaningful and fulfilling level. I was comfortable living a life of the world and had no real understanding of how much I was missing.
It wasn't until much later that I really began to understand the power of God's love for me. As I realized God's great love for me, I started to see people in a different light. I began to reach out to people just like me – people who may experience momentary earthly happiness but need to experience the fulfillment of heavenly joy. My prayer is that this CD will help you understand the truth of Romans 5:6-8: "You see, just at the right time, when we were still powerless, Christ died for the ungodly … God demonstrates his own love for us in this: While we were still sinners, Christ died for us." Christ died for me, just as He died for the world – and for you. All He asks of us is to embrace His love and let it change our lives.
If you are ready to accept Christ as your Savior, it's as simple as ABC:
            Admit your need of forgiveness
"For all have sinned and fall short of the glory of God" (Romans 3:23)
            Believe in Christ
"Believe in the Lord Jesus Christ and you will be saved (Acts 16:31)
           Commit Yourself to Him
"To all who received Him … He gave the right to become children of God
(John 1:12)
You might want to say a prayer like this:
            Dear Jesus, I know that I need you to forgive my sins and change my life. I believe you died for my sins and rose again to give me life. I want to learn to trust and follow you as my Savior and Lord of my life from this moment on. Amen.
If you would like more information about becoming a Christian or about finding The Salvation Army nearest you, please call 1-800-SAL-ARMY or visit   www.salvationarmyusa.org
The God So Loved the World CD may be ordered from Resource
Connection at shop.salvationarmy.org or 1-800-937-8896.
For bulk order information (min. 100 copies) contact [email protected] or (847) 294-2131.