It is with considerable sorrow and heavy hearts that the International Headquarters (IHQ) of The Salvation Army marks the first anniversary of the Ukraine war.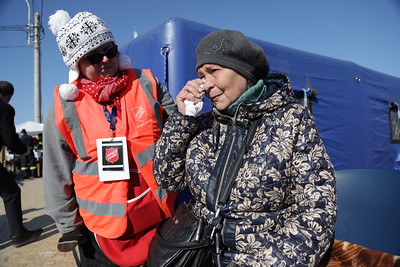 Matthew 5:9 tells us, 'Blessed are the peacemakers for they will be called children of God.' At this anniversary, we remember all of those who have been affected by the war. We pray for the bereaved, the dispossessed and for the safe return of families torn apart by the conflict.
To date, some eight million refugees from the region have sought assistance with an estimated further five and-a-half million people displaced by the war. Reported casualty figures (which include both those killed and injured) are thought to exceed 21,000, with attacks on healthcare and educational facilities numbered around 2,500 (humdata.org).
The Salvation Army response
The Salvation Army has responded to around 160,730 individuals in need in a variety of ways, with some 85 humanitarian projects running in 11 different countries. These are supported via international funding and by IHQ. The total value of these projects currently exceeds some £10 million.*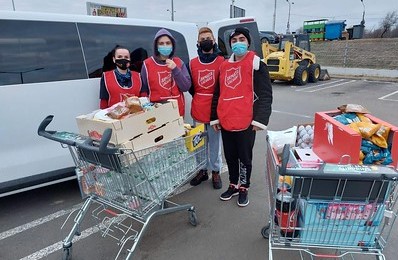 In addition, 15 shipments of relief items have been transported into Ukraine from Germany, Poland and France. These included 74 pallets of food and hygiene items, clothing and bedding, generators, water filters and other electrical equipment.
The international Salvation Army response, either through significant fund-raising efforts and project support or by those in the countries concerned running programmes, includes the provision of essential aid such as more than 93,000 food parcels, 682,000 cooked meals and around 131,000 cash or voucher-based transactions.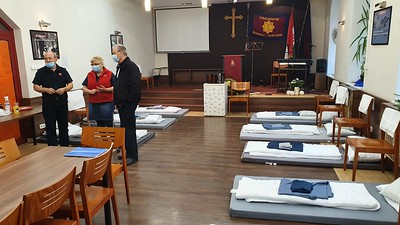 Short-term emergency shelter, mid- to longer-term housing support, host family schemes and other shelter provision, for example on cruise ships, has been facilitated. More than 18,000 people have been accommodated in facilities managed or provided by The Salvation Army.
People have also been supported by the provision of more than 64,000 hygiene kits and water filters, and by the delivery of an additional 105,000 non-food items such as school supplies, bedding, clothing and SIM cards. More than 15,000 people have received health support including well-being and mental health care. The Salvation Army has been actively educating people about the risks of human trafficking as well as running after-school programmes, language classes and children's camps for those re-establishing their lives in host communities.
Peace in Europe once again
As a movement, The Salvation Army, motivated by the love of God, is actively helping those affected by this conflict without discrimination.
The Salvation Army's international leader, General Brian Peddle, said, 'We remember the officers, soldiers and adherents who give their time and devotion to those who need it most, and we thank them for their dedication. While we work closely with the circumstance in Ukraine, we continue to value our Salvation Army services to the Russian people. Our prayers extend to them as well. We pray for a resolution to this humanitarian catastrophe and look forward to the time when, by the grace of God, there will once again be peace in Europe.'
IHQ Communications
*Figures correct 21 February 2023