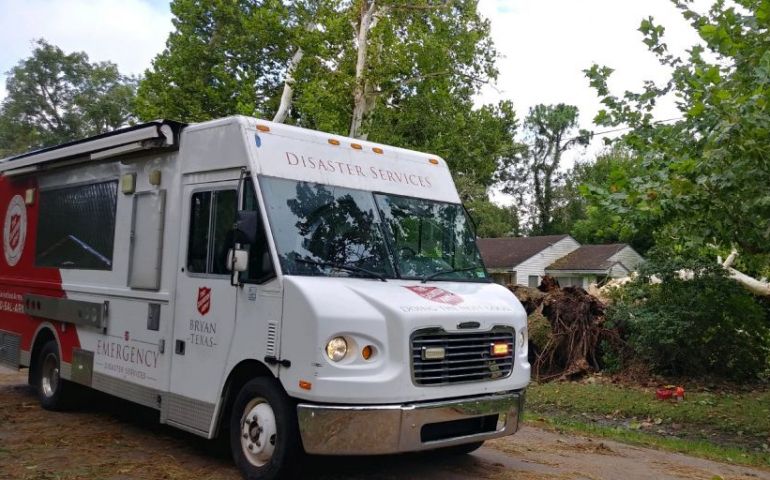 Dallas, Texas (September 15, 2021) – Hurricane Nicholas slowly moved through Southeast Texas on Tuesday, bringing with it heavy rainfall and isolated wind damage. The Salvation Army continues to assess and monitor the impact of the storm throughout the area, with two units actively serving.
The Salvation Army received a request on Monday evening from the City of Freeport to establish a shelter at the local Recreation Center. "We worked with the City of Freeport to set up the shelter on Monday night as the storm approached and woke up Tuesday morning to significant wind damage and much of Brazoria County without power," said Captain Justin Vincent, of The Salvation Army in Freeport. "On Tuesday, our team worked to delivered water and hot meals to some of the hardest hit areas in our community. We want to assure those affected that The Salvation Army will do all we can to help."
The Freeport Corps served nearly 400 meals on Tuesday, all prepared at the Corps. In addition, the mobile feeding unit from The Salvation Army Bryan/College Station deployed to Brazoria County and served in Lake Jackson and will serve there again on Wednesday.
"We are sending pallets of water and food boxes from the Beaumont warehouse to support the efforts of the Freeport Corps," said Alvin Migues, Emergency Disaster Services Director for The Salvation Army in Texas. "Although there have been significant power outages, fortunately, rainfall associated with Nicholas was less than forecast limiting anticipated flooding. We continue to assess damage and local needs and will be looking particularly at the Matagorda Bay area today, coordinating with Service Extension staff and volunteers."
Feeding operations are being established in Bay City, Texas today with additional mobile feeding units remaining on standby as localized service continues. In Freeport, The Salvation Army served 383 meals, 510 drinks, and 245 snacks on Tuesday.
To make a financial donation to support ongoing Hurricane Ida relief efforts, go to helpsalvationarmy.org or call 1-800-SAL-ARMY. For the latest information please go to www.disaster.salvationarmy.org and watch for regular updates on our social media pages at www.facebook.com/salvationarmytexas/ and www.twitter.com/salarmytx.