by Captain Chrissy Cooper
The summer sun shines, laughter flows and friendships are forged in the warm glow of campfires. Echo Grove Camp is a place where time seems to stand still. Amid the familiar sounds, smells and scenery, a new addition graces the grounds— the Mervin Price Chapel and Performing Arts Center. This sacred sanctuary already holds a special place in the hearts of campers and staff alike.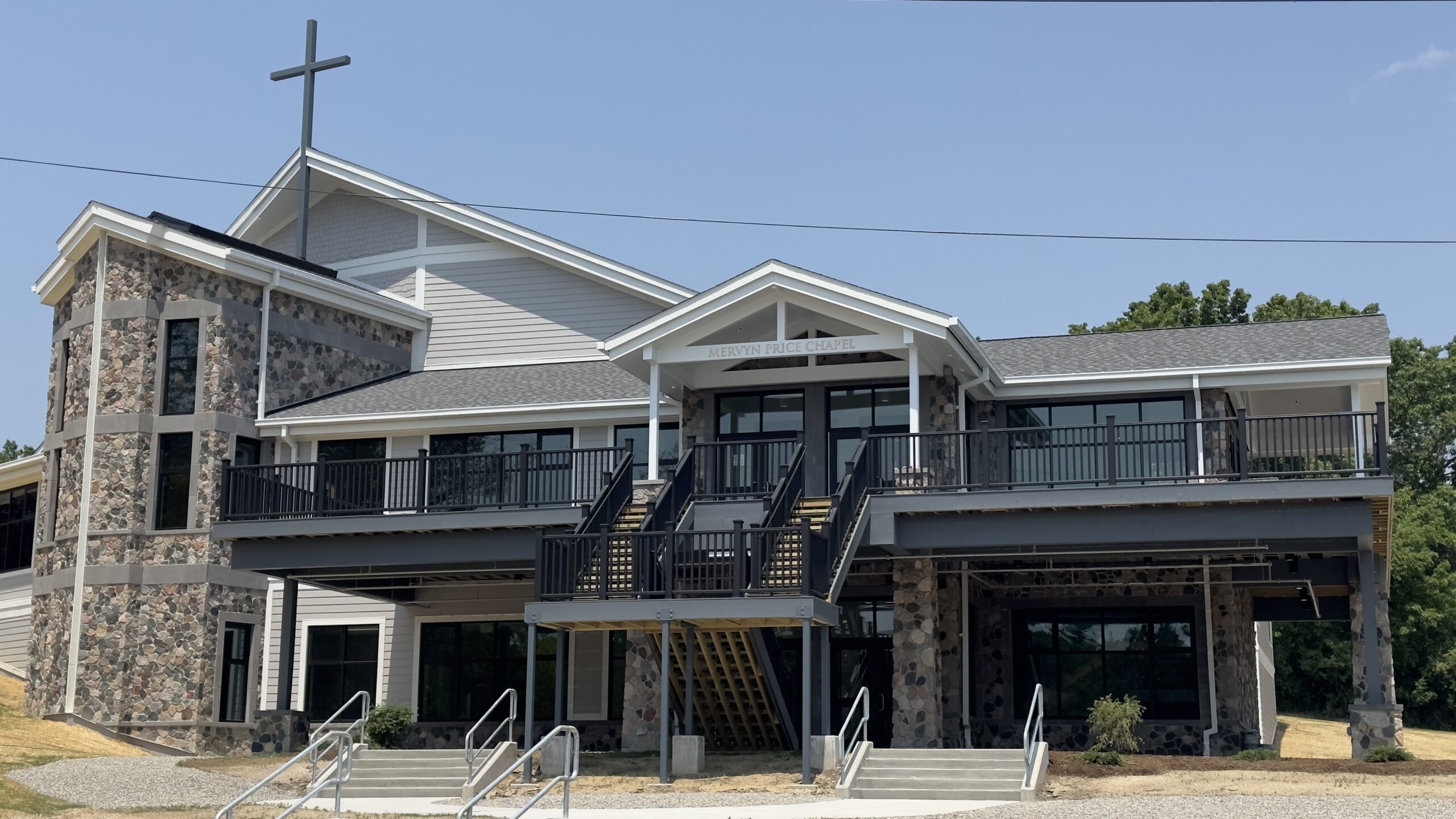 Inspired by Echo Grove's rich heritage and commitment to nurturing hearts in faith, the vision for the chapel was born from a desire to provide a dedicated space for spiritual growth, worship and reflection. Generous contributions from donors who share the camp's vision for fostering Christian values helped make this dream a reality.
The chapel's architectural design echoes nature's beautiful color and textural contrasts. A cross, visible from the top of the structure, extends down through the chapel entrance symbolizing hope and a beacon of light for those seeking solace and guidance as campers and guests enter at its foot.
Upon entering the chapel, a sense of reverence and tranquility envelops visitors. The chapel's lines approach the platform, inviting campers to take a moment from the day's activities and find respite in prayer or meditation while creating a sense of expectation for what is to come. The first floor has many functional spaces that provide opportunities for activities. At music camp, five bands and two choirs met in the same building simultaneously.
Throughout the camp season, the chapel becomes a hub of gospel arts, meaningful decision moments and fun experiences. While the facility is mere months old, many tears have already been shed by children and adults, spiritually dedicating the space with heartfelt Holy Spirit-led responses.
"This facility means so much to us already," said Captain Jonathan Cooper, youth and candidates secretary. "Yes, it provides much-needed programming space. It is aesthetically beautiful, but more importantly, it has already been a hub of lives won by the Kingdom. We can't wait to see what the Lord will continue doing in these rooms."
In its short use, more than 1,000 people have heard the gospel from the platform.
The Mervin Price Chapel and Performing Arts Center is a testament to the camp's commitment to fostering faith, fellowship and spiritual growth. Rooted in Kingdom values, this sacred space serves as a guiding light, illuminating the hearts and minds of campers and guests as they embark on a journey of faith amidst the embrace of nature and a nurturing Christian community.