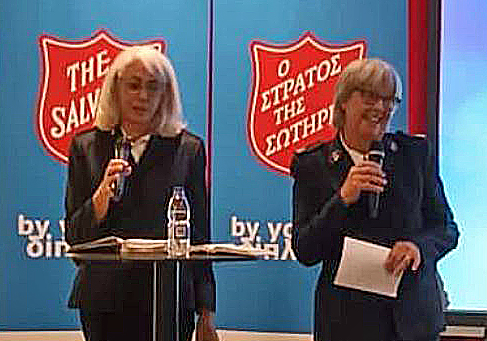 ON 14 to 16 October, Retired General André Cox returned to Greece to celebrate 15 years of Salvation Army mission in the country, part of the Italy and Greece Command.
Invited by Majors Beat Rieder and Annette Rieder-Pell, the retired General and his wife, Commissioner Silvia Cox, were the special guests joining the celebrations. The new Italy and Greece command leaders, Lieut-Colonels Andrew and Darlene Morgan, were also welcomed as guests.
General Cox (Rtd) and Commissioner Cox attended a reception as part of the 15-year anniversary celebrations in Athens. At the reception, the Retired General spoke about The Salvation Army's commitment – being rooted in the Christian gospel – to serve the marginalised, highlighting the amazing work undertaken by the Army at the height of the refugee crisis.
Drawing on his experience of leading an international Church, he shared how he had witnessed the breadth of partnership work making a difference all over the world. He said that faith-based organisations are making an 'amazing contribution'.
Giving thanks for the work in Greece
The Retired General attended 'The Meeting Point' at Athens Corps, where people mingled for coffee and children enjoying face painting in the garden, as Salvationists reached out to the local community. In the evening a celebration of contemporary work, including worship, dance and a series of videos, was held. People from diverse backgrounds gathered to worship God and give thanks for the work in Greece.
On Saturday evening in a special interview, Commissioner Silvia Cox emphasised that her best advice to a young Christian looking to the future would be to 'read the Bible'.
'I have chosen you'
At the subsequent Athens Corps holiness meeting on Sunday, Retired General Cox spoke about God's call, reflecting that in Greece Salvationists will look back on victories and disappointment, yet always need to look to Jesus. He said, 'God's message to The Salvation Army in Greece is, "I have chosen you", and we cannot get alongside people if we do not have God at our side.' He emphasised that in our mission 'We do not follow leaders, we follow Jesus.'
The weekend was a stimulating, faith-building time with the Retired General, Commissioner Cox and other guests that encouraged participants to look to the future.
Report prepared by Ian Geary