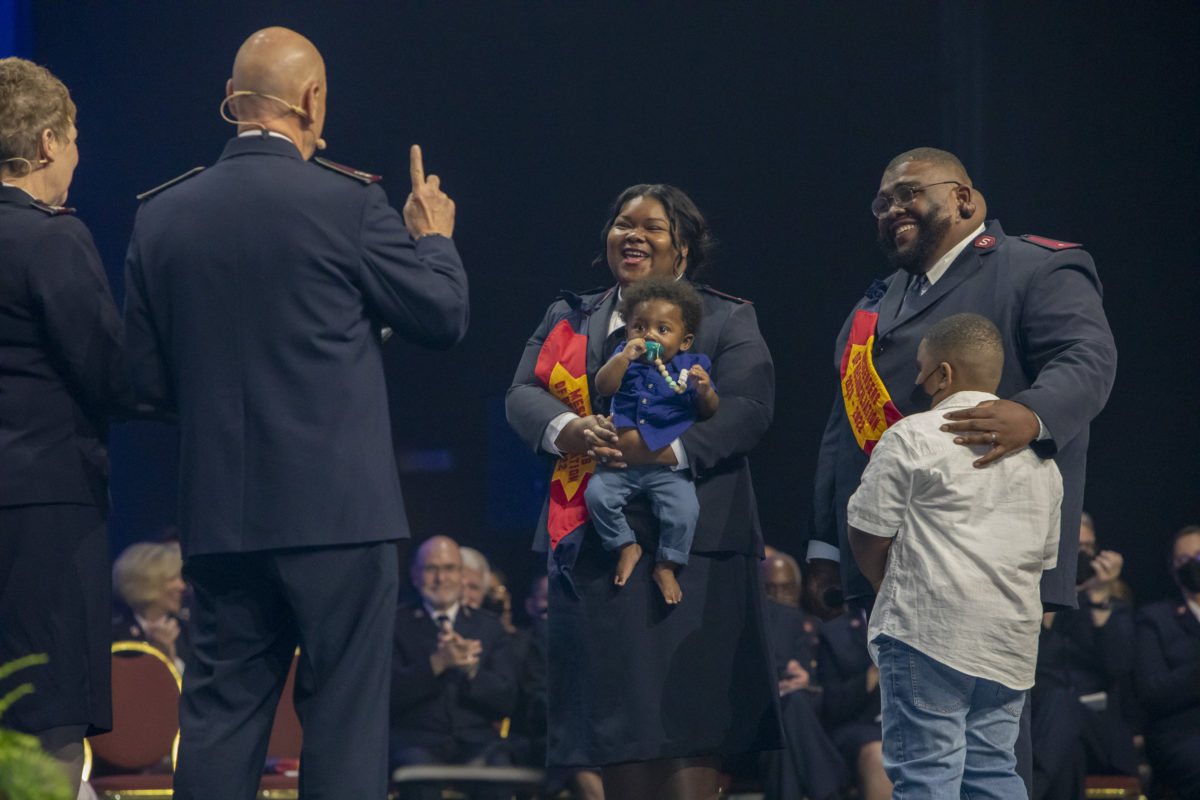 A spirit of reverent joy filled the auditorium on Sunday as cadets of the "Messengers of Reconciliation," were ordained and commissioned as lieutenants, and four auxiliary captains were commissioned and confirmed as captains.
It represented the culmination of nearly two years of classes and field training at the College for Officer Training (CFOT) or five years on the field engaged in distance learning while leading units under the unusual and challenging circumstances presented by the pandemic. Anticipation was evident on each face.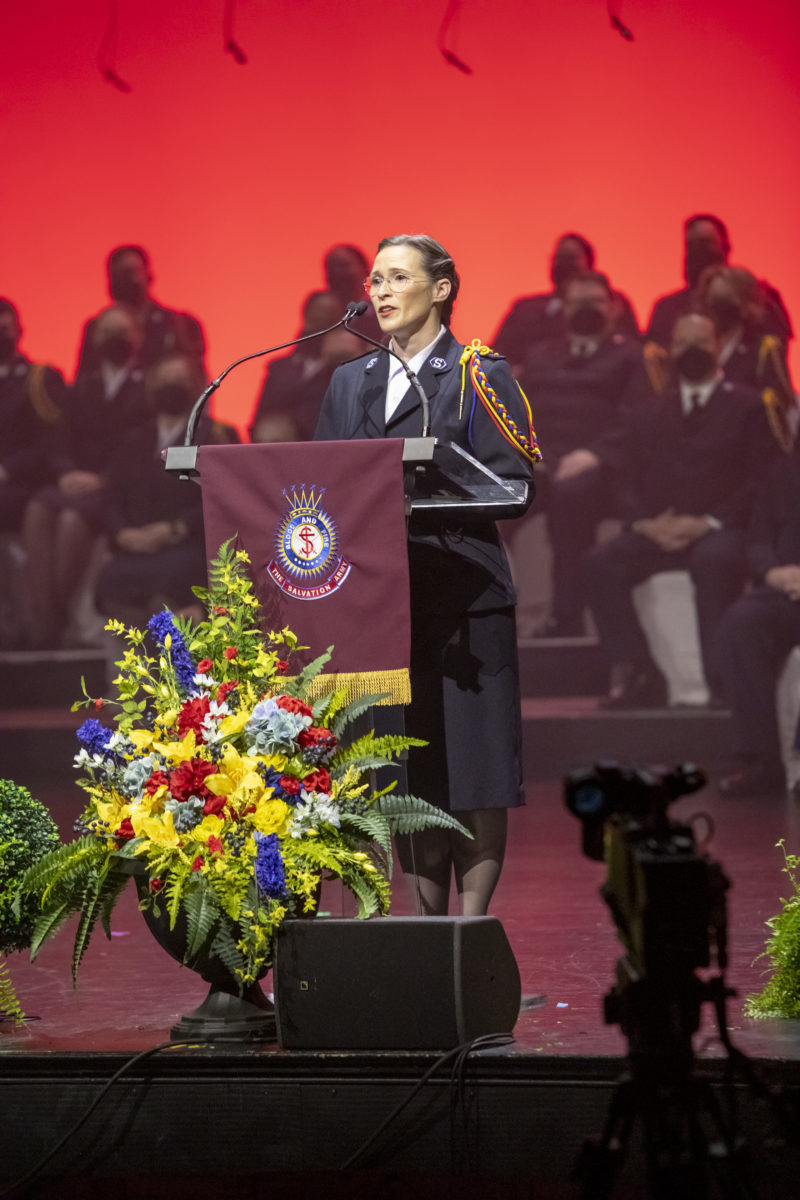 Expressions of worship infused Sunday's services as music, dance, testimonies, scripture and prayer were offered to the Lord. Especially moving was Lt. Amanda Hines' testimony of God's healing, grace and restoration that allowed her to overcome discouragement with the church and mental and physical brokenness following military service as a combat nurse in order to serve Him. Despite these challenges, "But God," she proclaimed. "God can take your difficulties and use them for your good and His glory."
One by one, the cadets were affirmed in their calling and accepted into the ranks of officers by Commissioners Brad and Heidi Bailey. In sacred and often emotional moments surrounding their ordination and commissioning, each was given a scripture verse chosen by their officer mentor who guided and supported them through the CFOT or distance learning experience. Joining the commissioners to stand before the session, members of the Territorial Cabinet offered a heartfelt prayer of dedication, and a blessing was given over them by Lt. Donna Gooden along with Territorial Sergeant-Major Rochelle Holman.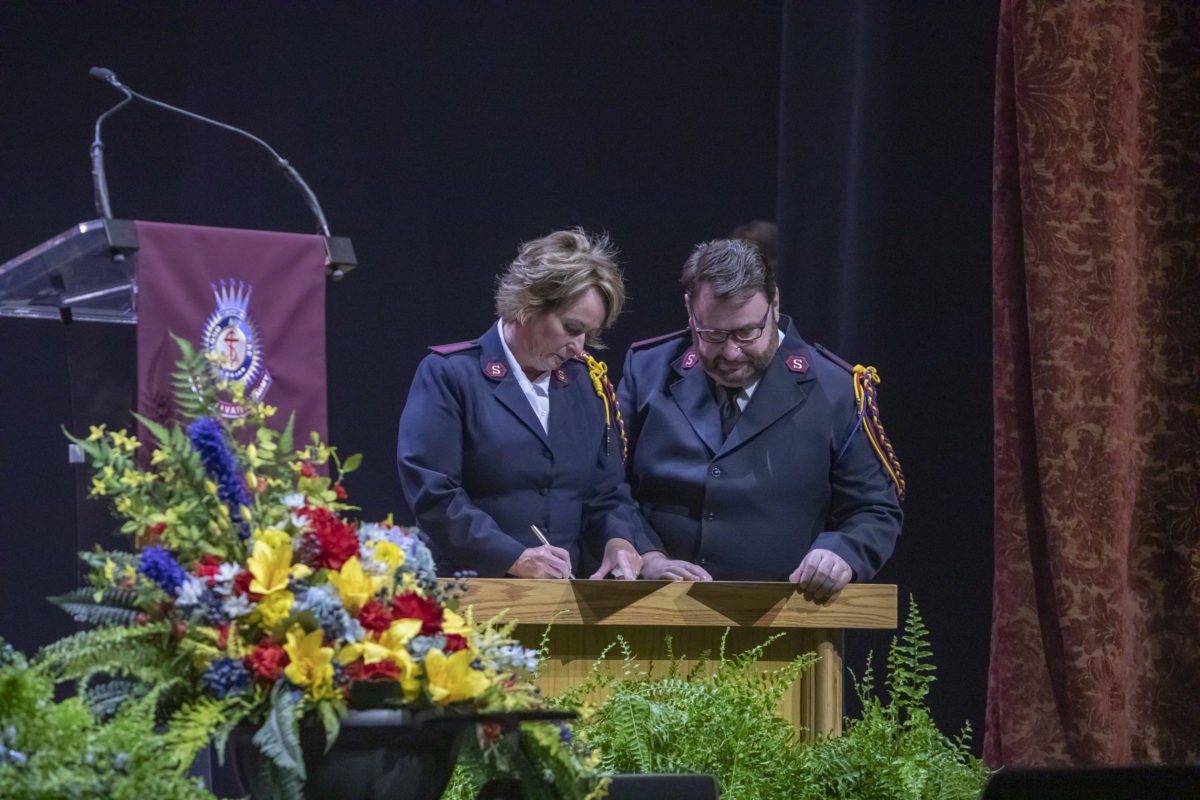 Completing a series of excellent messages during the weekend, Chief of the Staff Commissioner Lyndon Buckingham encouraged the newly commissioned officers and fellow Salvationists to be creative and innovative and to persevere in order to move people closer to an encounter with Jesus.
Referencing the gospel story of the four men who carried a paralytic on a mat and lowered him through a roof to get him close to Jesus, the commissioner said, "I want to be part of a movement that are mat carriers for Jesus. Men and women who are absolutely convinced that the best thing we can do is help people have encounters with the living King."
As the meeting drew to a close, the aisles and stage were lined with those making public their willingness to follow God's calling as officers or local leaders.
Contrasting the morning meeting, the Service of Appointments held a tangible sense of excitement as the newly commissioned officers enthusiastically danced across the stage before taking their seats.
In her charge, Commissioner Bronwyn Buckingham implored the new lieutenants and captains to guard their hearts. "Don't get distracted or sidetracked with the unimportant or dangerous where you will be tempted into unsafe places," she said. "Guard your hearts and determine to follow the example of Jesus by making this your ministry priority."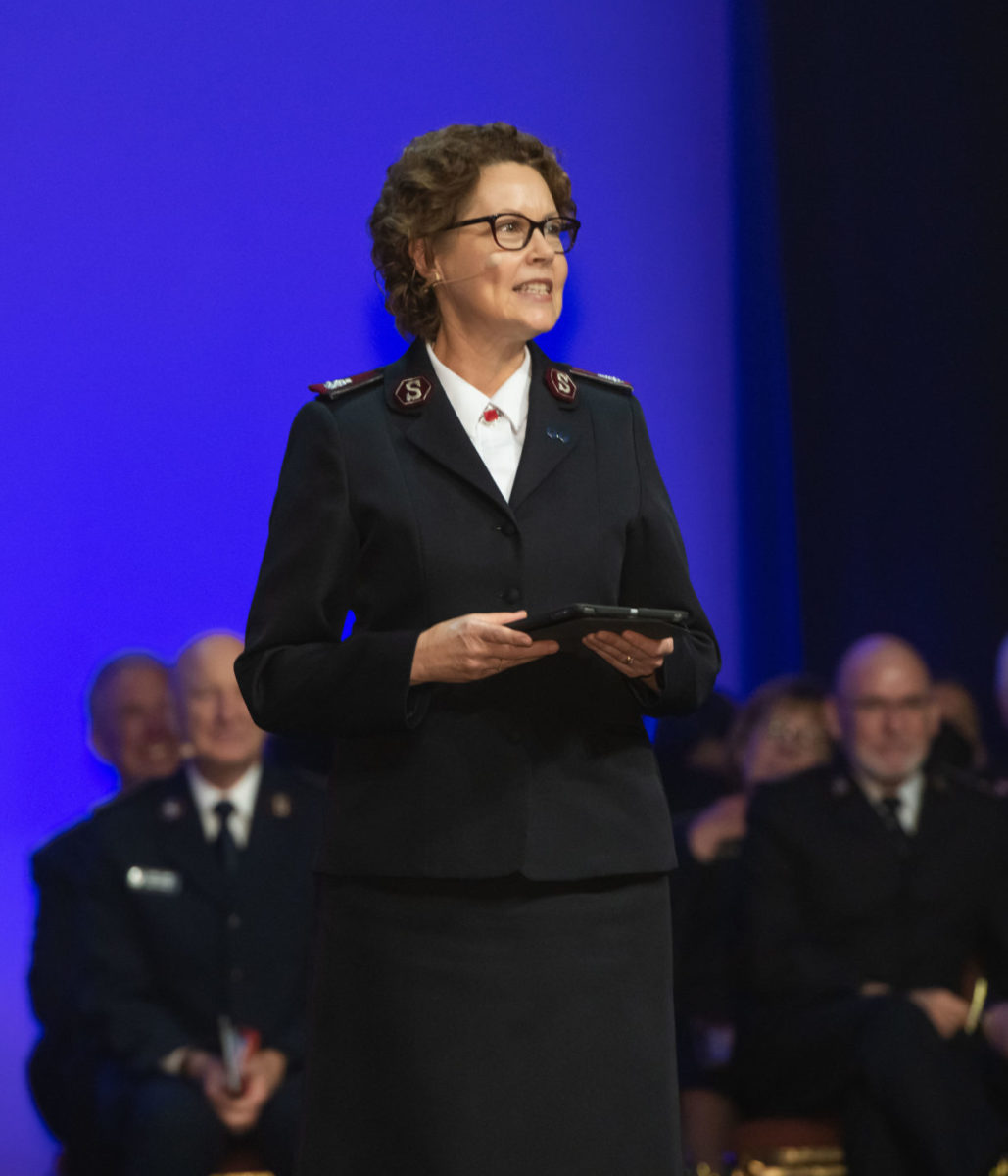 The new lieutenants and their families were then given their appointments by Commissioners Brad and Heidi Bailey with Google Earth visuals of their appointments.
An impassioned address was given by Session Speaker Lt. Mario Bledsoe in which he eloquently expressed thankfulness for those who have gone before, challenged Salvationists to live in reconciliation with God and one another, and encouraged the next group of leaders to come to the table in faith believing God will equip them.