by Major Frank Duracher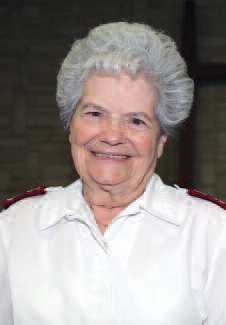 Mrs. Major Catherine Miller has too many children to number—in addition to the four she birthed (two sons and two daughters).She had a revolving front door for decades, admitting scores of young people needing a place to stay and a listening ear.
Retired for more than 25 years, "Mom Miller," 91, remains the matriarch of the Wichita Citadel, Kan., Corps. Her influence continues with dozens of youth in her corps.
Her motherly love for troubled kids and teens began while she and her late husband, Arnold, served as officers across the Central Territory. Her two sons both entered ministry; one served as a Salvation Army officer, and the other still is a missionary in Southeast Asia. Major Catherine also has a great heart for missions, fostering young adults from as far away as France, Switzerland, South Korea and China.
"We always supported missions and volunteered but never were able to go." Both of her daughters faced tremendous challenges, one with cerebral palsy and the other multiple sclerosis. Though they have passed on, to this day the major considers them blessings in her life.
You only have to look to Catherine's mother for her Christian example. "My mother raised us 10 children while working as a teacher in Nebraska. It was hard for her because my dad was away much of the time working on the road," she said.
Major Catherine keeps correspondence with her foster kids both here and abroad, sending monthly checks to those living overseas and remembering all birthdays and anniversaries. She even includes a $5 bill to children for birthdays up to adult age. In her basement, extensive photo albums of her foster kids track their whereabouts and important milestones including babies of their own.
One Mother's Day, her family and friends pulled off a surprise, crowning Catherine as "Mother of the Year" at the Wichita Citadel Corps. Scores of tributes from around the world were read and shown on
video—all of them rising up to call her blessed (Proverbs 31:28).