This March, 23 students from Indiana Wesleyan University (IWU) drove to New York City and participated in a Salvation Army mission trip on their spring break. As team leader with my husband, Jason, I witnessed the enthusiasm each student had for the experience.  This is our second year in New York City, and the week was once again a huge success! For other Salvation Army leaders interested in holding a similar event, here are my top five takeaways.
1) Mission and Ministry: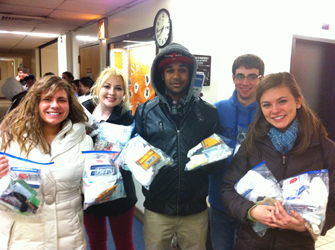 Each day the team split into three groups; one ministered at the Harlem Temple, Corps, one at the Manhattan Citadel, Corps, and a third at the New York Temple, Corps. Each group served in the corps' soup kitchens and assisted with the children's ministry. Throughout the week the students also worked with city non-profits such as a mobile market distributing fruits and vegetables and a pantry bagging groceries for the less fortunate.
As the IWU students began to learn more about The Salvation Army on a local level, they started to take an interest in the ministry and scope of what it has to offer.  When Jason and I moved to New York City in 2011, IWU students asked if we might be interested in hosting a spring break trip there; so it was arranged.
2) Salvation Army 101: The relationship between The Salvation Army and IWU began four years ago when two students worked at the Ray and Joan Kroc Corps Community Center in Atlanta, Ga., for a summer. When those students returned to school in the fall, they began to organize a spring break trip to the Atlanta Kroc Center for others interested in ministry. My husband, the Georgia divisional mission's director at the time, facilitated the details of the trip and added a seminar each day where students could learn about the history and background of The Salvation Army.
4) Local Connection: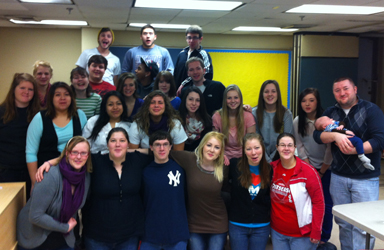 After the trip the students had an automatic connection and continuous point of contact with their local Salvation Army. Lts. Bigelow regularly arrange get-togethers and ministry opportunities for the IWU students at the Marion, Ind., Corps.3) Relationships: Last year through the support of the Central Territory, Lts. Jason and Dana Bigelow, Marion, Ind., corps officers (where IUW is located), were invited to attend. They were able to develop relationships with their local college students and also experience the work of The Salvation Army in a different territory.
5) Building the Kingdom: When you reveal The Salvation Army's mission to a generation of young adults who are searching for a way to be Christ's hands and feet, a contagious energy flows in and through the individual and the organization. The longterm benefits of this experience help shape their perspective of the Army, not only now but potentially in the future through increased volunteering, local leadership, soldiership, officership or advisory board membership. These outside perspectives not only benefit our organization but help to bring about God's Kingdom.