Two great camps, one amazing mission
by Joe Caddy
RESONATE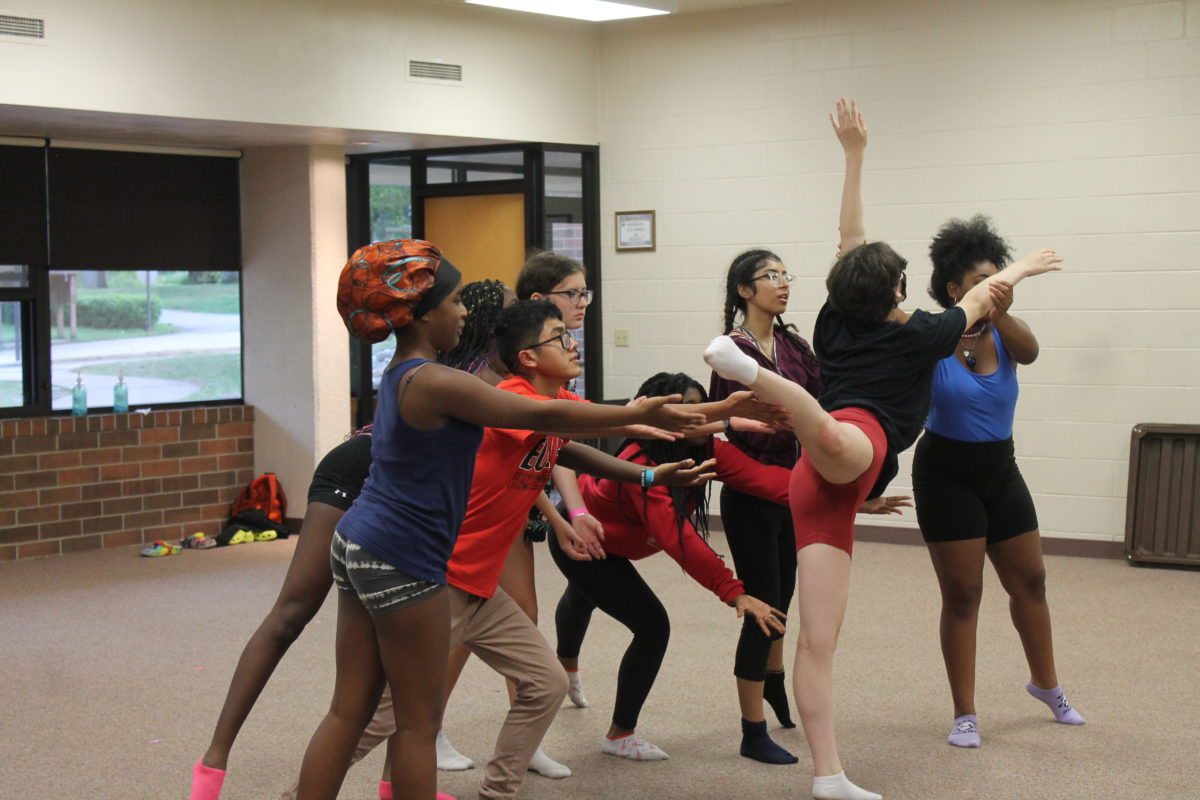 When faculty and students of the inaugural RESONATE Worship Arts Conservatory convened at Wonderland Camp, no one was quite sure what to expect. While creative arts instruction isn't new to the territory, this was the first time a territorial conservatory has been dedicated exclusively to studying dance, drama, praise band and visual media.
Building Foundational Skills
The 56 students were assigned to seven different instructional ensembles in four tracks (Dance, Drama, Praise Band, Visual Media) which comprised the primary curriculum. Each day the ensembles worked together on techniques related to their disciplines and applied them to the performance pieces for the finale. Daily elective classes provided extra enrichment for students wanting to dig deeper into their subject area or to explore another discipline.
Nurturing Connection with God
By definition a "resonation" is a response, so the conservatory's very name was selected to reinforce the communal nature of our relationship with God. He speaks, His children receive and respond, and the conversation continues. This fundamental principle formed the devotional focus embedded into the presentations students created in their ensembles, as well as the daily Bible teaching and small group discussion materials composed by chaplain Captain Vinal Lee. On Wednesday evening, the Creative Arts Service Team and Captain Marisa McCluer invited delegates to consider their roles in the story being penned by God, "the Author of life."
Inviting Creativity
In addition to presentations created together in class, students and staff were given opportunities to express their unique visions and preferences, including selecting the design for their camp T-shirt and flavor combinations for a shaved ice treat.
Growing through Community
Ensembles, cabins and small group Bible studies became venues for students and faculty to listen to and learn from each other. Up-and-coming Christian recording artist Natalie Layne gave a brilliant concert on Thursday evening and shared about her artistic journey through a Q&A.
Expressing Faith
At the end of camp, all tracks combined to present "THE CONVERSATION," a concert based on themes from the week's devotionals in Genesis 1 and John 1. The two praise teams led the congregation in worship while each dance and drama group presented two items of contrasting styles. The live performance was broadcast online with production support from the Visual Media majors.
RESONATE concluded with a combined Sunday worship service with CMI led by territorial leaders Commissioners Brad and Heidi Bailey.
While RESONATE concentrated solely on creative arts, many multitalented students stayed at camp to study another musical field at Central Music Institute (CMI) which immediately followed it.
Central Music Institute
When the final notes of benediction dissipated at the end of CMI 2019, no one knew it would be nearly three years until those sounds would again reverberate in the rafters of the chapel. While much has changed, the presence of nearly 230 students and faculty this year proved CMI remains "the place to be" for those seeking spiritual nourishment and musical excellence in brass and vocal music.
Developing Gifts
The frenetic whir of audition day quickly waned into the sounds of collective harmony as students found their places in one of four bands or two choirs that would act as their primary ensemble for the duration of the camp. Throughout the week, each student ensemble, elective class and solo contest winner was given an opportunity to share their artistic gifts with the rest of the camp as part of a series of Student Showcase concerts.
Lending their time and expertise were several guest performers and instructors like CMI alumnus Jeff Marquis and his wife, Sheena, who shared responsibilities as guest chaplains.
Reaching New Heights
Throughout the camp, Dorothy Nancekievill, International Staff Songsters leader, provided steady and skillful leadership to the combined Booth and Hilltop student choruses and the faculty-student hybrid CMI Chorus. International Staff Band member and Norwich, England, Corps Bandmaster Richard Woodrow led both the CMI Faculty Band and Wonderland Band to new levels of musical mastery and ministry.
Inspiring Exploration
A highlight of the week came on Monday when guest artists Trey McLaughlin and the Sounds of Zamar elated the gathered crowd with their superlative talent and led the audience on an inspiring exploration of the depth and breadth of the gospel music genre.
Enjoying Fun and Fellowship
When class was not in session, students and faculty made the most of every opportunity for fun, fellowship and friendly competition in the first-ever CMI Color Wars. Students were divided into teams, given colorful wristbands and pitted against each other in a series of fun challenges. The winning team earned a late-night snack, but all students came away from the event with memories made with new friends.
Looking to the Future
While the camp needed to end two days early due to COVID-19, the consensus of those present was it was worth the effort to be back together at Wonderland again. Though the effects of the pandemic are still lingering, the outlook for music ministry in the territory is bright.
CMI Awards
Shagbark Band
Buay Jock (Lincoln, Neb.)
Shabari Ross (Wyandotte Down River)
Aden Lahman (Hutchinson, Kan.)
Franklin & Gladys Botu Scholarship
Temple Band
Elijah Fisher (Oakbrook Terrace, Ill.)
Emmanuel Leka (Rockford Temple, Ill.)
Marcos Trejo (Norfolk, Neb.)
Rachel Grindle-Phelps Scholarship
Gospel Choir
Chantel Polusca (Chicago Temple, Ill.)
Ladarion Jones (Iowa City, Iowa)
Senaa Debela (Decatur, Ill.)
Gospel Choir Awards and Scholarship
Citadel Band
Santana Neal (Decatur, Ill.)
Jonas Carr (Dearborn Heights, Mich.)
Nyamal Chut (Omaha Citadel, Neb.)
Aaron Mathias (Port of Spain, Trinidad)
Donald Hanton Scholarship
Booth Chorale
Abby Ortman (Norridge, Ill.)
Haylee Needham (Hammond Munster, Ind.)
Aiden Kelly (Council Bluffs, Iowa)
Evangeline Phelps (Dubuque, Iowa)
Colonel Douglas Norris Scholarship
Wonderland Band
Troy Hanton  (Oakbrook Terrace, Ill.)
Keegan Hanton (Norridge Citadel, Ill.)
Esther Jo (Korean Territory)
William & Katherine Scarlett Scholarship
Flint Citadel Uden-McDougall Percussion Award
Jacob Pook (Oakbrook Terrace, Ill.)
Ray Wright Tuba Award
Jonas Carr (Dearborn Heights, Mich.)
Earle Hanton Euphonium Award
Santana Neal (Decatur, Ill.)
John R. Cheyne Trombone Award
Sadiq Tijani (Oakbrook Terrace, Ill.)
Howard Chesham Horn Award
Katie Bell (Flint, Mich.)
Ron Rowland Cornet Award
Andrew Morris (Gwinnett County, GA)
Harry Strissel Most Improved Musician Award
Morgan Pierson (Oakbrook Terrace, Ill.)
Ernest & Mary Miller Vocalist Award
Aiden Kelly (Council Bluffs, Iowa)
Sarah Leka (Rockford Temple, Ill.)
Ramsdale-Jaudes-Boyer Rookie Award
Troy Hanton  (Oakbrook Terrace, Ill.)
Marjorie Marshall Piano Award
Samantha Jarbou (Flint Citadel, Mich.)
Major John Mowers Memorial Scholarship
Marcey Wolfe (Anderson, Ind.)
Bernard A. and Bessie H. Smith Conducting Award
Emmanuel Coppin (Royal Oak, Mich.)
Fischer Awards
Composition – Timothy McDonald (Fulton Heights, Mich.)
Leadership – Amanda Curry (Royal Oak, Mich.)
Leadership – Keegan Hanton (Norridge Citadel, Ill.)
Winters Instrument Repair Award
Franco Delmastro (South America West)
Jhonatan Flores (South America West)
Camilla Kidaguian (South America East)
Paula Gil (South America East)
Steve Diaz Chaplain's Award
Ladarion Jones (Iowa City, Iowa)
Majors William and Jean Stuart Leadership Award
Emilio Ramos (East Chicago, Ind.)
Lois and Len Duguay Spirit of CMI Award
Emmanuel Leka (Rockford Temple, Ill.)
Ben Merritt Award
Andrew Morris (Gwinett County, GA)
Arthur Shoults Scholarship
RESONATE Awards
DANCE TRACK
Outstanding Student Level 1
Jasmine Slifer-Kerns (Wichita Citadel, Kan.)
Outstanding Student – Level 2
Fabian Tejerina-Cabrera (Aurora, Ill.)
Dance Track Overall Award
Chantal Polusca (Chicago Temple, Ill.)
DRAMA TRACK
Outstanding Student – Level 1
Evangelo Humes (St. Louis Gateway Citadel, Mo.)
Outstanding Student – Level 2
Andy Acosta (Blue Island, Ill.)
Drama Track Overall Award
Haylee Needham (Hammond-Munster, Ind.)
PRAISE BAND
Outstanding Student – Level 1
Avery Mowers (Independence, Mo.)
Outstanding Student – Level 2
Ian Nguyen (Independence, Mo.)
Praise Band Track Overall Award
Isaac Lofton (Decatur, Ill.)
VISUAL MEDIA
Outstanding Student
Santana Neal (Decatur, Ill.)
Visual Media Track Overall Award
Eli Roussin (Escanaba, Mich.)