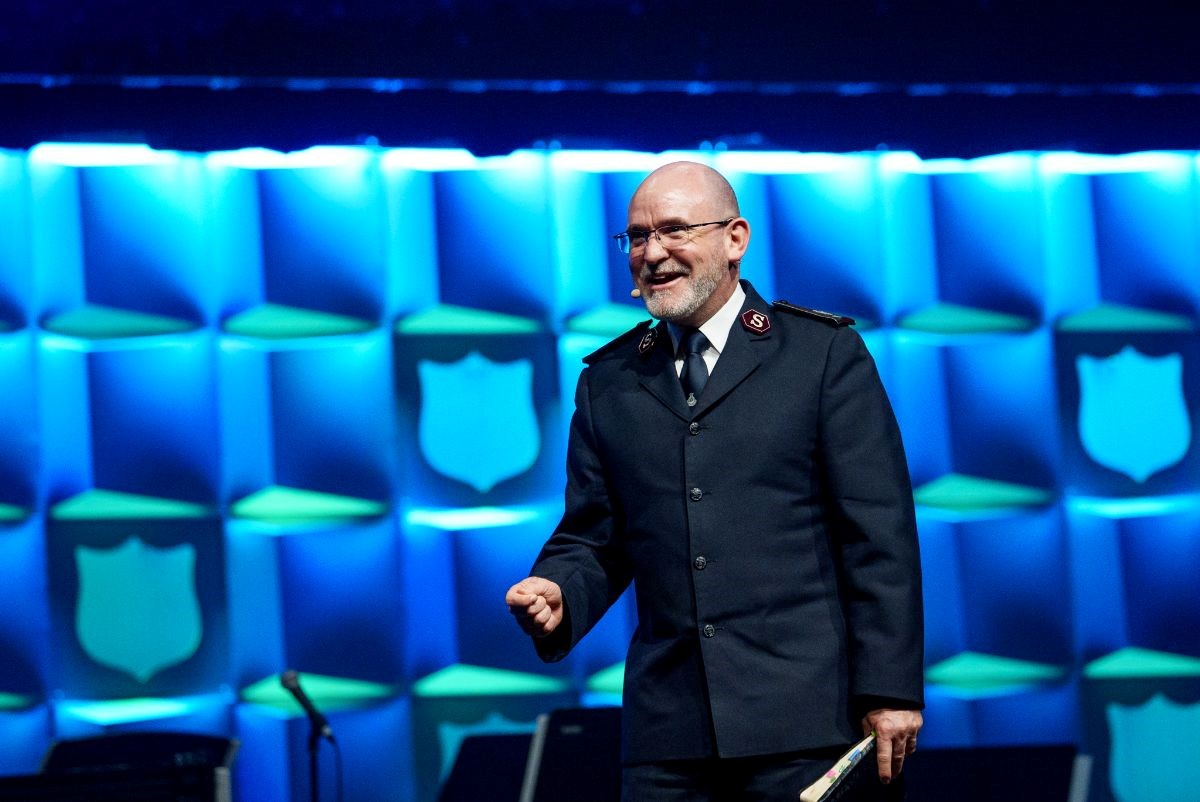 The Chief of the Staff Celebrates New Beginnings in USA Central
MORE than 1,100 Salvationists and friends from the USA Central Territory gathered in Milwaukee, Wisconsin, for the first in-person commissioning weekend in three years. The fellowship was sweet, the blessings abundant and there was no doubt that God is still using The Salvation Army to accomplish his mission in America's Midwest.
Each exhilarating meeting of the event, which took the theme Advance, focused on Jesus, his work in the world and the privilege of every Christian to join him in this mission. Delegates lifted the Lord's name in praise and knelt at the mercy seat, transforming the Miller High Life Theater into a sacred space time and again.
Those who gathered – and thousands more who watched the online streaming of the event – were encouraged in their faith and service by the Chief of the Staff (Commissioner Lyndon Buckingham) and Commissioner Bronwyn Buckingham (World Secretary for Spiritual Life Development). The Buckinghams' engaging style and authenticity connected with delegates, who were inspired by their uplifting Bible messages to remain in Christ and express our love to God by serving others and sharing our own salvation stories.
'It's still absolutely true,' proclaimed the Chief, 'that the most powerful tool we have in the Church for bringing people into an encounter and experience with Christ is our own story, our own testimony, our own reality of the living presence of Christ dwelling deeply within our hearts.'
His point was driven home by powerful personal testimonies and a video which revealed that since 2020, when the COVID-19 pandemic hit, 56,406 people have sought Christ across the USA Central Territory.
The theme of sacrificial living continued through the commissioning and ordination of new Salvation Army officers from the Messengers of Reconciliation Session of cadets. When they received their first appointments, those who are parents were joined on-stage by their children, with the news bringing reactions of joy and celebration.
Commissioner Bronwyn Buckingham offered words of encouragement and advice to the new officers. 'Guard your hearts,' she told them, followed by a reminder that Jesus, in his public ministry, 'always made time to be in the presence of his heavenly Father'.
Recognition was given to the 10th anniversary of 'Pathway of Hope', an initiative developed in the USA Central Territory to break the intergenerational cycle of poverty. The programme has changed the lives of more than 10,000 families across the territory and its success has seen it taken on by other territories. There are now Pathway of Hope projects in more than 1,000 locations worldwide, including in the three other USA territories, Canada, Bermuda, Spain, Portugal, Norway and Argentina.
Other causes for jubilation included a World Services Ingathering of more than US$10.2 million, the dedication to God of three Summer Mission Teams and the introduction of a new territorial soldiers' forum.
Music from the Chicago Staff Band, a territorial worship collective and USA Central Territorial Staff Songsters brought people into a closer sense of God's presence, as did thought-provoking dramas by the Bill Booth Theater Company.
A ceremony honouring the ministry of the Eastern Michigan, Heartland, Metropolitan and Western Michigan/Northern Indiana Divisions moved on to the inauguration of the North and Central Illinois Division and Great Lakes Division. These changes are part of a wider territorial reorganisation. Together, the two new divisions will incorporate 85 corps (churches), 5,300 soldiers and 190 officers.
Calling for a commitment of support through prayer and service, Territorial Commander Commissioner Brad Bailey said: 'We have been intentional to look at what changes might be needed to position our territory to advance with greater effectiveness and more targeted deployment of all the resources that God has entrusted to us. That process has brought us to this important day and this important milestone as we honour our tradition and celebrate new beginnings.' Commissioner Heidi Bailey (Territorial Leader for Leader Development) dedicated the divisions to God in prayer, asking him for continued guidance and help as the territory moves forward.
Based on a report by Elizabeth Kinzie