East St. Louis Flood Relief Brings Together Purpose of Survivors and Volunteers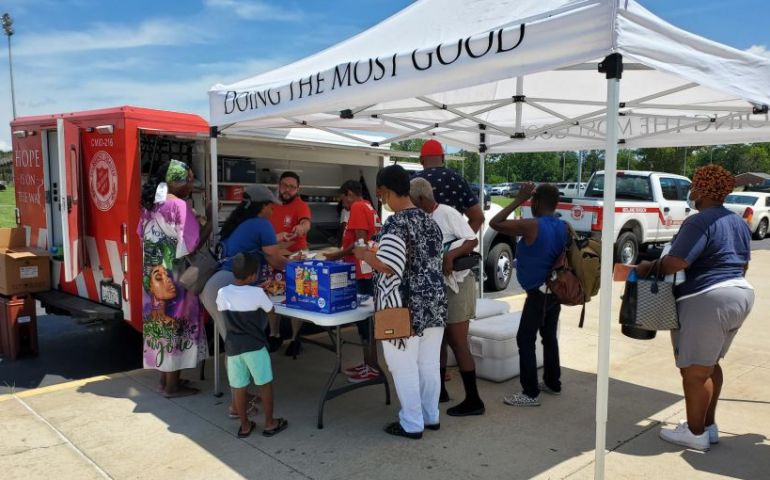 St. Louis, Mo. – Assistance for St. Louis-area flood survivors moved to the other side of the Mississippi River Aug. 6-7 in East St. Louis, and Salvation Army Midland Division was in the heart of the ongoing resource centers.
Gift cards for people affected by the floods were distributed by The Salvation Army after conversations with our Social Services personnel, who were tasked with hearing people's stories and providing financial assistance.
A variety of volunteers showed for the weekend session, such as Minister LaDonna Shivers, who volunteers every Saturday by helping the community. This past Saturday's event was her first time volunteering for The Salvation Army, which beckoned her with its presence on television for flood assistance.
Shivers helped hand out flood kits (with house cleaning supplies), sanitizers, wipes and water to families driving through the East St. Louis multi-agency resource center (MARC), which drew about 20 organizations such as The Salvation Army, Red Cross, United Way, St. Louis Food Bank, and Illinois Attorney General's office.
"I've been doing this since my husband passed in 2014," Shivers said. "God called me to the ministry. Two months after he passed, I got saved, sanctified and baptized. I was born again. Even though it took losing my husband to get to this point, I'm here."
The soul-searching ordeal pushed her near losing her house, in addition to her husband's death.
"I just went straight to the streets," Shivers said. "I was on my way to becoming homeless. I lost my husband, I was about to lose my house, lose everything. When I was born again, God said, 'I have work for you to do in the streets.' From 2014 to this moment right here, I've been totally faithful and dedicated. Being in the streets, being about God's business."
It didn't take long for Shivers, wearing a T-shirt dedicated to her organization, Reaching & Helping Ministries, for sweat to surface in the two-day heat wave, with temperatures approaching 100 degrees in humid air.
"It's just really sad when I see people out here, not only homeless people, just people here because they got strung out on drugs, abused, just hurting, not knowing where to go," Shivers said of the experience. "Especially the veterans, my heart really goes out to them. When I talk to various people, I can just hug them and cry with them and let them know God loves them and I love them."
Joining her for most of the hot day was Dimitri Heaggans, ministry outreach manager for St. Clair County Salvation Army, ground zero for Salvation Army support efforts in East St. Louis.
"I think the event today is really special for the community," Heaggans said. "It's not only providing resources, materials and information people [affected] in East. St. Louis need. It's also giving them hope and encouragement in a time of distress. The flood definitely affected a lot of the community in different ways."
Those ways were evidenced in difficult stories the flood survivors had, after receiving assistance from Salvation Army.
Deborah said, "My husband is an amputee, so it's been really hard. The basement is flooded. Some of the appliances got messed up. Some of the food is spoiled. Some of the furniture and stuff was damaged. I got mold growing on my wall. I've got to try to figure out what's the next step. I have no flood insurance. Regular insurance, but no flood insurance, and the insurance company doesn't want to pay for the flood. I have sewage backup in my house. … We have COPD. It was a little rough. But thank God we made it through. Amen. Thanks for the assistance. It didn't come as soon as we expected, but we are getting some type of relief."
Shari, who lives in a Caseyville mobile home, said, "We had four lawnmowers. We don't have any now. They were all in the flood. All my husband's tools are a waste. We're fortunate. We did not lose power, and we did not get water in the house. We were here today because my husband is a veteran. He's also disabled. He's a stroke patient. I'm disabled due to a brain tumor. We can't clean it all up. We were looking for assistance to get it cleaned up, so we don't get mold in our house."