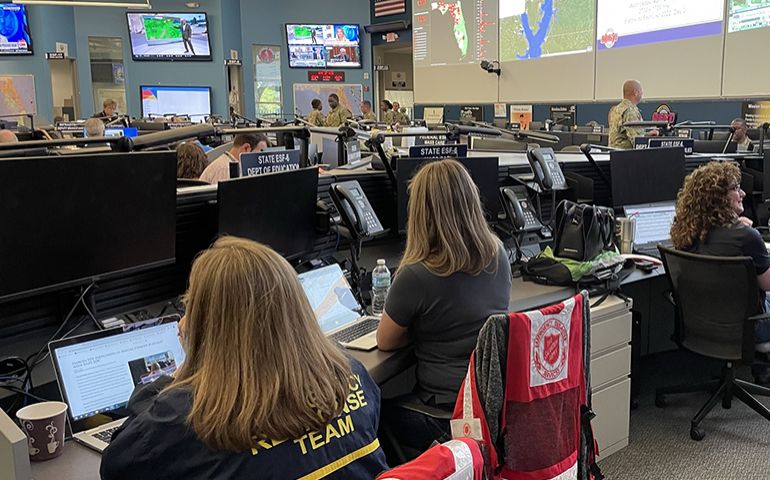 TALLAHASSEE, Florida, (April 27, 2022) – The Salvation Army, Florida Division, Emergency Disaster Services is participating in The State of Florida's annual statewide disaster exercise, sponsored by The State of Florida Division of Emergency Management between April 25-28, 2022. This exercise is a functional exercise that focuses on cybersecurity, terrorist activity, significant weather events, lake dam failures and a major flooding disaster 'scenario' and other unexpected events occurring at the same time across all of Florida.
The goal of the statewide State Emergency Response Teams (SERT) exercise in the aforesaid scenario, comprised of state agencies, partner organizations, non-profits, faith based, non-governmental organizations is to build upon an established framework of management and information sharing, delivering essential commodities/services in support of the impacted communities and to provide life-sustaining and human service to the affected population surrounding the affected regions.
According to Steven Hartsook, Florida EDS Director, "It is crucial that emergency management agencies and partner organizations test and exercise the capacities and capabilities to respond and recover from major disaster events. The Salvation Army partners with emergency management agencies and partner organizations at all levels and exercises like these help us to identify what we need to focus on to improve our disaster response capabilities."
The State EOC exercise focused on providing training among all levels of the SERT, the exercise 'scenario' allowed for cross training and depth building that is not always possible in real-world events nor faster paced exercises, establishing and strengthening the relationships between agencies, tailoring the exercise to the needs of the specific responding organizations and agencies, while staying in line with the larger scenario.