by William Himes
On Thanksgiving evening 1920, Bandmaster J. Arthur Fynn conducted the first Chicago Staff Band (CSB) Thanksgiving concert. Eighteen bandmasters continued this annual tradition until in 1978 it was moved to the following Saturday evening and renamed Sounds of the Seasons.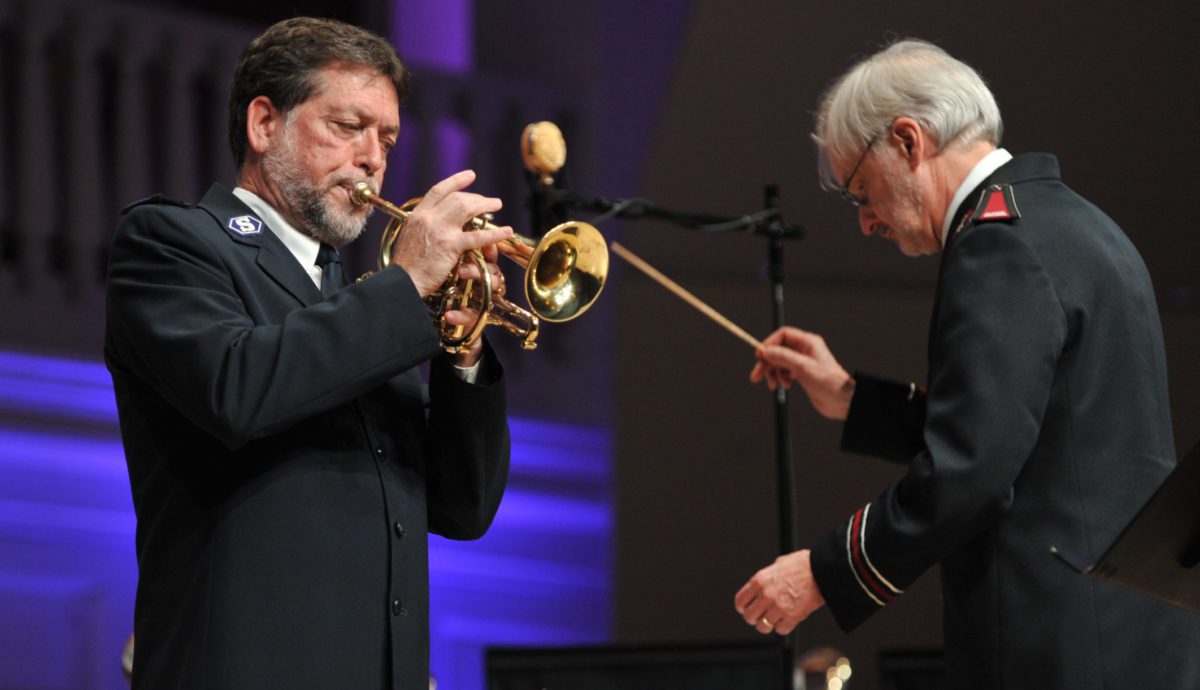 Following a one-year hiatus due to the pandemic, nearly 800 people gathered to savor the fine acoustics of Edman Chapel at Wheaton College. A three-fold sense of anticipation and celebration made this evening even more special: the band's 100th Thanksgiving performance; the first public performance of the Central Territorial Staff Songsters (CTSS); and the opportunity to honor Dr. Harold Burgmayer upon his retirement after 40+ years of Salvation Army music ministry, including leadership as territorial music and creative arts ministries secretary since 2015. On this occasion he conducted both groups.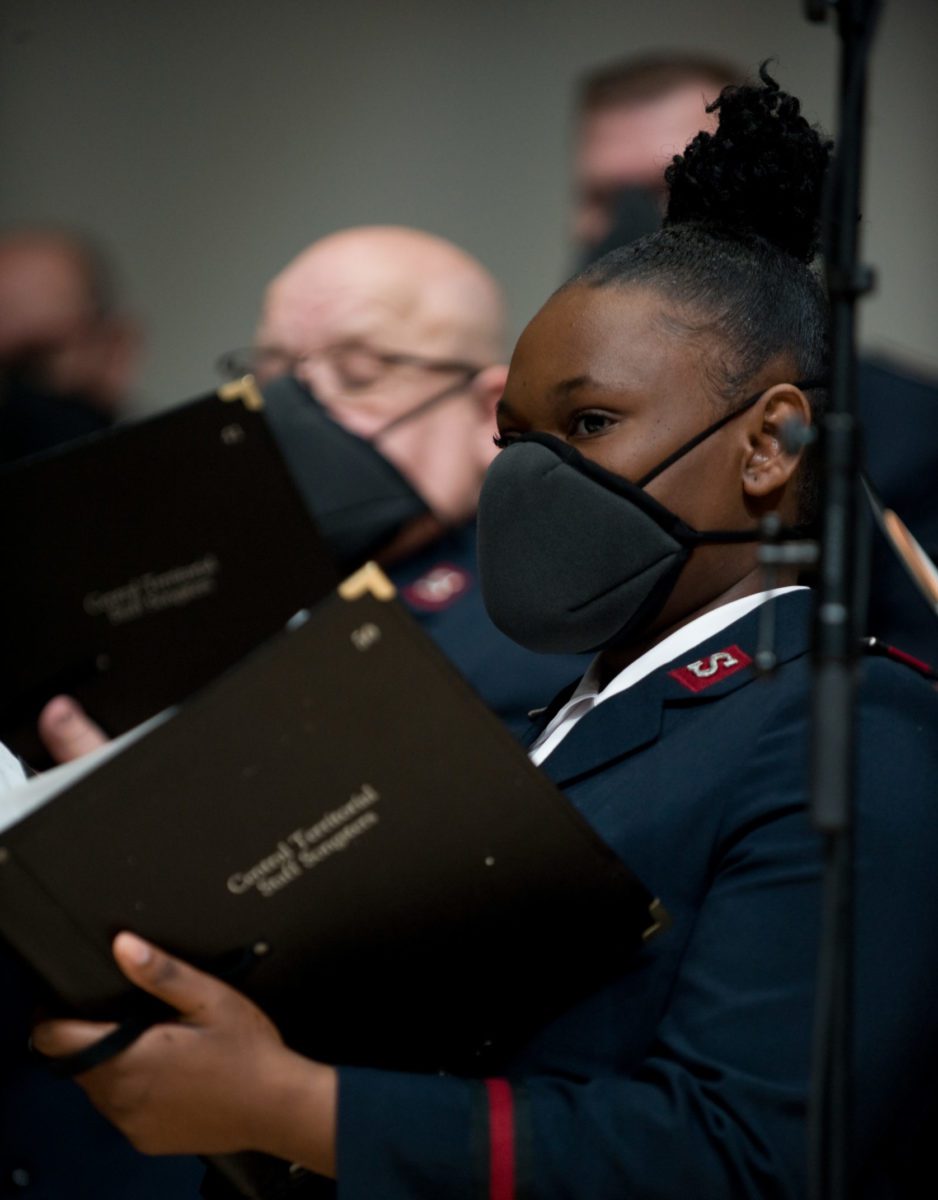 The evening began with the CSB featuring two contrasting Burgmayer compositions: Anthem of the Ages, an energetic flourish based on the hymn, "Holy, holy, holy," and Prelude to a New Day, a gentle sunrise of sound unfolding into a majestic setting of "All creatures of our God and King" before ending quietly as it began. The band next launched into the march, Praise, by Wilfred Heaton. Published in 1949, this classic always comes up fresh—and in this writer's opinion is the finest march ever written.
In Dr. Burgmayer's introduction of guest soloist Mark Ridenour, assistant principal trumpet of the Chicago Symphony Orchestra, he noted Mark is the third Salvationist trumpet player to be associated with this world class ensemble, preceded by William Scarlett and Philip Smith.
From the first notes of Peter Graham's Rhapsody for Cornet and Band – Resurrection, listeners knew they were hearing musical artistry at the highest level as Ridenour navigated technical and stylistic demands with brilliance, subtlety and warmth. Based on two spirituals, "He never said a mumblin' word" and "The angel rolled the stone away," the performance was flawless.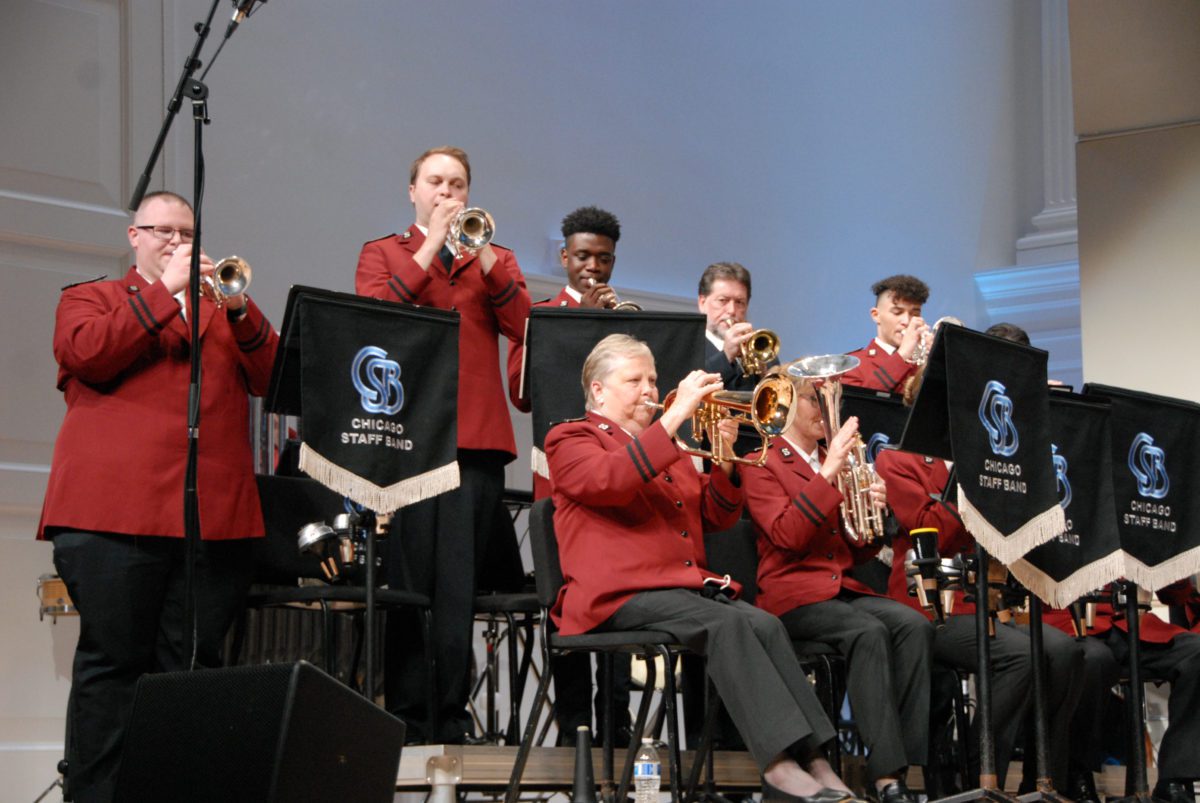 The Central Territorial Staff Songsters then contributed a trio of contrasting works. Worthy to be Praised! began a cappella as the 32 members sang from memory, with pianist Major Kathy Hellstrom, bass player Isaac Leka and percussionist Cashus Saydee joining to support. This was followed by compelling renderings of As Water to the Thirsty and Floodgates, the latter a major work arranged especially for the CTSS by Dr. Burgmayer. Many people commented on how tight and articulate the songsters sounded, every word clearly understood, despite singing through masks.
Mr. Ridenour returned to the stage, trumpet in hand, to share a beautiful tone solo based on songwriter John Hallett's My Song of Songs, arranged by Joseph Turrin, well-known East Coast symphonic and stage composer/arranger. As the band effectively navigated Turrin's complex harmonies and textures, the soloist soared above it all, exhibiting complete mastery of his instrument, ending on the softest pianissimo.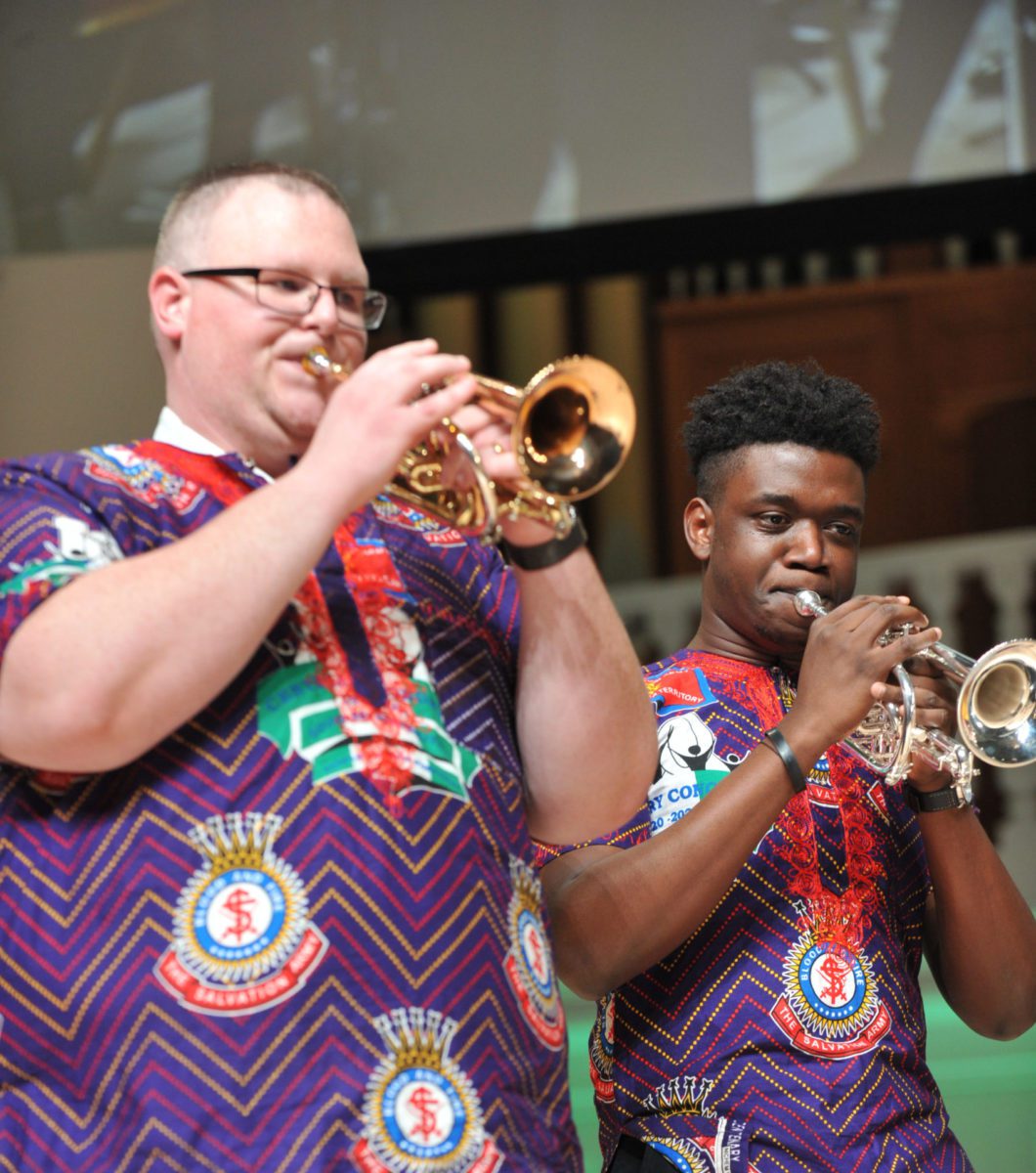 Leslie Condon's demanding tone poem, The Present Age, has been around since 1972. The music, often angular and strident, depicts a young Christian trying to faithfully "serve the present age" in a pessimistic, brutal world. The chorus, "I'll follow Thee" is abruptly shattered by grotesque music that jeers the young saint, who nevertheless is reaffirmed as represented by the hymn, "It is well with my soul." This epic work concludes with renewed determination with the victorious theme, "Courage, brother, do not stumble." Lt. Colonel Jonathan Rich's devotional and the well-synchronized slides coupling lyrics and scripture passages aided the listener's comprehension of this superb performance.
The Message of Christmas (William Himes), depicting bustling shoppers and majestic carols, ushered in Advent themes, followed by CTSS choral presentations of See Amid the Winter's Snow and All is Well, sensitively accompanied by the CSB. As the offering was taken, a CSB ensemble, wearing colorful African shirts, shared a medley of Nigerian Christian songs, called Songs of Naija accompanied by slides and videos from their recent trip to Nigeria to support that territory's congress.
Two swing numbers set the second half of the program into motion: Comfort and Joy (Martyn Thomas, UK) and then a Count Basie-style medley especially composed for this concert by Sam Creamer called The Wonder of His Grace with solos from Lynda Cooper and Isaac Leka.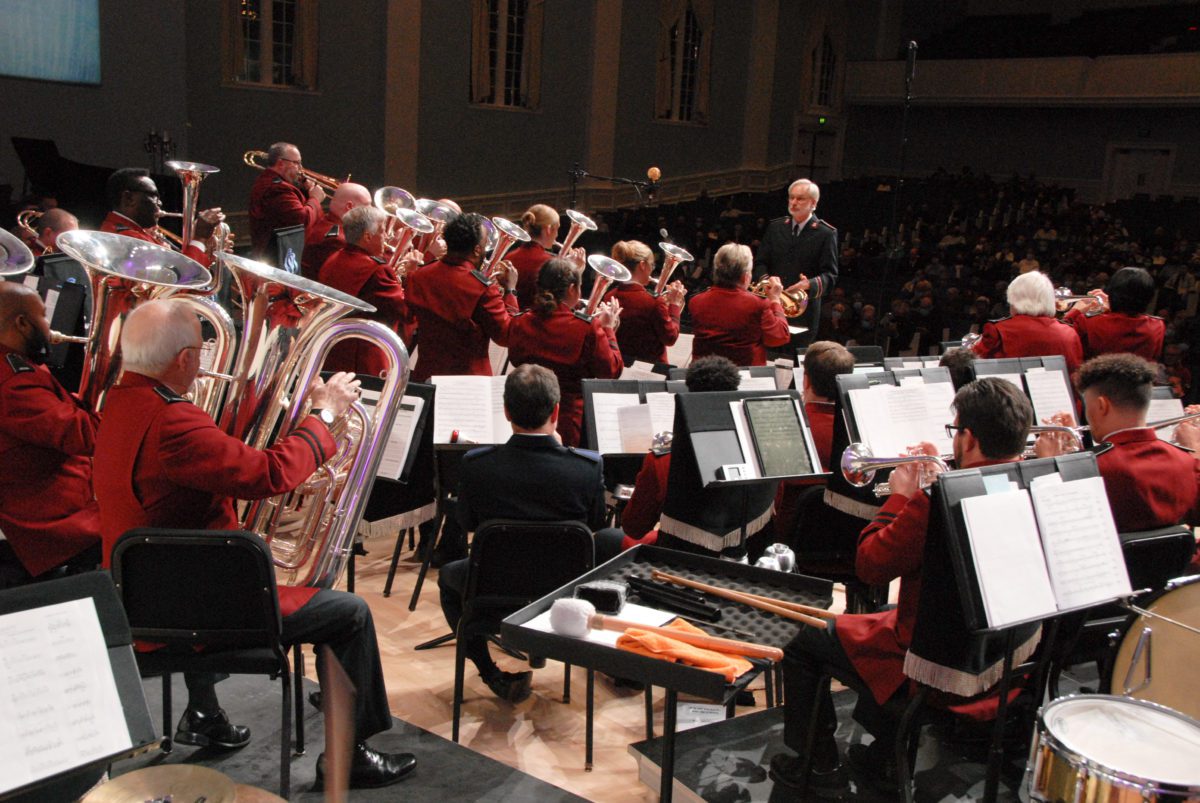 Mark Ridenour's final offering, The Challenge by Eric Ball published in 1939, was a radical departure from the theme and variation form. This dramatic essay exploits the full range of the cornet, and again soloist and band gave a great performance of this demanding work which more than lives up to its title!
The CTSS then gave a moving performance of Chris Brindley's inspiring I Have Seen the Glory of the Lord, followed by the CSB's exciting rendition of Power and the Glory (Paul Lovatt- Cooper); both received well-deserved standing ovations. A testimony to Dr. Burgmayer's effective stewardship of Salvation Army music ministry in the Central Territory, the evening fittingly concluded with the choral benediction, Go in Peace, Go in Love.