by Major Nancy Mead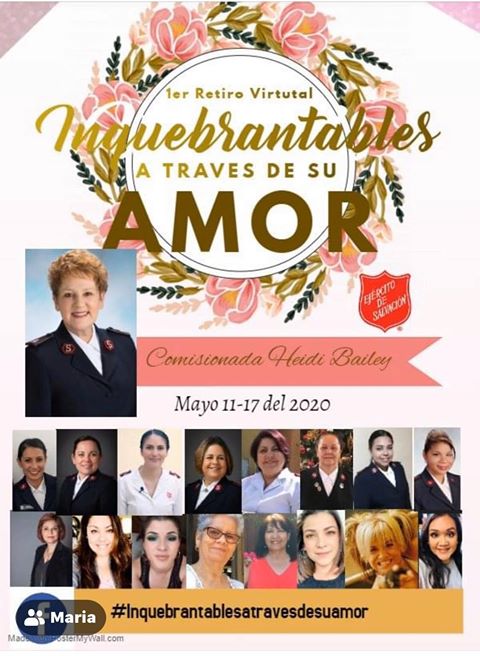 The territory's first-ever Virtual Hispanic Women's Retreat, "Inquebrantables A Traves De Su Amor  (Unbreakable through His Love)," took place this May with more than 1,650 women participating.
The event was led by Major Melissa Viquez, Minneapolis Temple, Minn., corps officer, who felt the Lord speak to her heart about reaching out to Hispanic women during the pandemic. She began by calling on her local support team to pray for her vision and then reached out to other Hispanic officers across the U.S. territories and Latin America to assist in the virtual retreat.
Filled with classes intended to refresh mind, body and spirit, the retreat included inspiring music, devotionals, Bible journaling, Zumba, dance, timbrels, coloring, prayer, health and beauty care, testimonies, cooking, calligraphy and more to enrich women's daily life. Participants were able to select,  watch and learn at their own pace and on their own schedule.
God used this new means of outreach and ministry to reach women for His glory. Many shared prayer requests, including one who asked for prayer for a man she knew who had COVID-19, was in a coma and did not have a good prognosis. The women from the retreat began praying, and the next evening he awoke! It was a powerful lesson in how women can support each other even if they can't be together in person.
Commissioner Heidi Bailey, territorial leader for leader development, concluded the retreat with an inspiring message about God's unbreakable love based in Psalm 117:2 (NIV): "For great is his Love toward us, and the faithfulness of the Lord endures forever." She challenged the women to take what they have learned during the pandemic and look for ways to use it for the Lord.