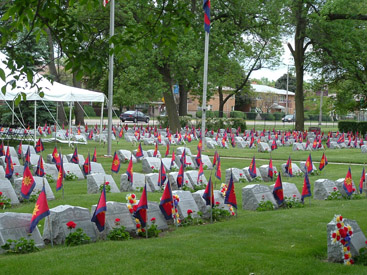 In his quest to create online memorials for each of the 600 Salvationists buried in The Salvation Army section of the Glen Oak Cemetery, Hillside, Ill., Major Paul Moore is seeking information about people for whom few facts exist in the Central Territory's archives.
Following are just a few cases for which the major is trying to track down information and photographs. He can be reached at [email protected]
Colonel Elizabeth Wilson Moore French—The third officer buried at Glen Oak, she was the wife of Colonel George French, but little else is known about her
Majors Fred and Faith Giles—Western Territory officers who died in a 1946 fire while doing evangelistic meetings in Rochester, Minn.
Major Clarence Green—Following leg surgery, the major died in a Minneapolis hospital during a flash fire from which he could not escape.
Commandant Emmi Olin and her sister, Julia Olin—These Finnish immigrants are buried just outside the boundaries of the Army section because Julia, who died first in 1941, was not a Salvationist.
William and Thalma Holt—Buried without headstones, no other information exists on this couple.
And, here are 21 people buried at Glen Oak for whom Major Paul Moore has no information:
Mary Eloise Anderson
William Gant
Jeanette Greenwald
Ronald Gronvold
Anna Marie Hallsworth
Jessie Harris
Paul Harris
Eugene Henderson
Grace Henderson
David Johnson
Ida Johnson
Gordon Keer
Addie Kinsey
Agnes Knowles
Betty Kohler
Martin Larsen
Conrad Edward Loche
Donald Mark Oldford
Kate Olsen
Vernon Olsen
Marshall Brewer Wood