by Faithe Colas and Krachel Greenwood
Former NFL players George Koonce and Harry Sydney III,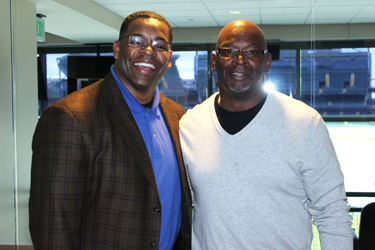 More than 150 delegates gathered for the 2014 Wisconsin and Upper Michigan (WUM) Divisional Advisory Organization Conference (DAOC).
Themed "Teamwork," the conference boasted an evening a Lambeau Field, home of Wisconsin's beloved Green Bay Packers. Highlights included a tour of the facility, a run through the tunnel used only by the Packers, great food and autographs. The conference also featured 10 workshops and three plenary sessions.
In addition to featuring Lt. Colonel Jeffrey Smith, territorial secretary for personnel, the conference included a star-studded line-up of special guests Meredith Counce, Marketing Manager for the Dallas Cowboys; George Koonce, Jr., Ph.D. Vice President of Advancement, Marian University and former NFL player; and Harry Sydney III, former NFL player, coach and three-time Super Bowl champion.
Meredith Counce opened DAOC with a presentation about connecting with and recruiting the younger generations to support the work of The Salvation Army. She shared about Echelon, a program that seeks to mobilize the next generation through a variety of fundraising, service and networking and how it began in Texas as a local chapter of the National Young Adult Auxiliary of The Salvation Army. Today membership had grown to more than 400 young professionals, and she suggests we can build on these types of groups.
Lt. Colonel Jeffrey Smith introduced and talked about the Pathway of Hope approach, a case management approach to providing targeted services to families with a desire to take action to break the cycle of crisis and enable a path out of intergenerational poverty.
"Pathway of Hope is successful because of the team behind the shield," said Lt. Colonel Smith. "It's what helps to break the cycle of poverty."
One Green Bay, Wis., mother shared her story, concluding she wouldn't have been able to provide for her family, or even think about the future, if it weren't for The Salvation Army's Pathway of Hope initiative.
After former Green Bay Packer George Koonce shared his story of becoming a professional football player and about his leadership role at Marian University in Wisconsin, he introduced his former teammate Harry Sydney. Harry's insight into mentoring and coaching was invaluable. He provided examples and experiences from his involvement in "My Brother's Keeper," an effort to empower boys and young men. He closed with a challenge to "pay it forward" and reach out to build up potential members of your team.