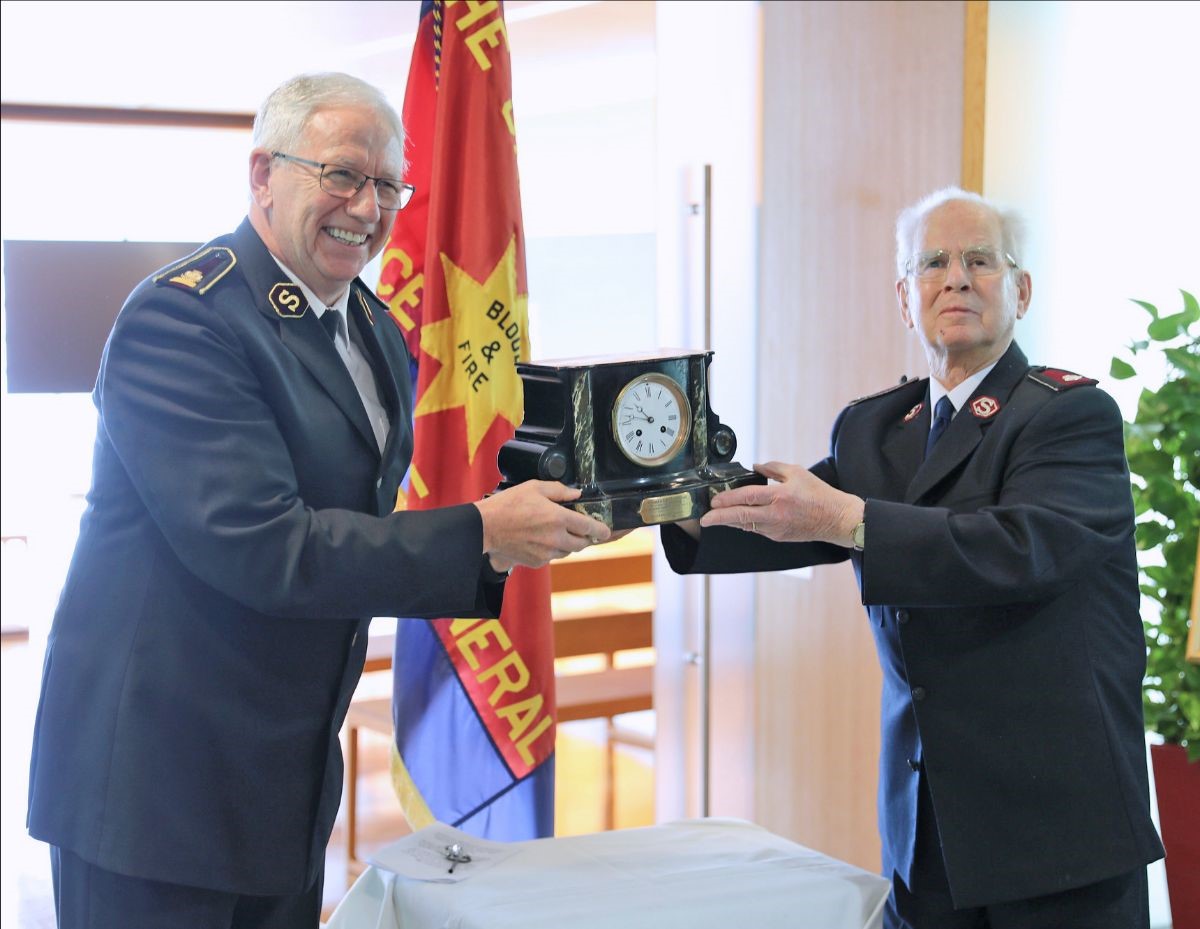 A MANTEL clock that was given to William Booth, Founder of The Salvation Army, in 1866 was presented to General Brian Peddle at International Headquarters (IHQ) in London on 8 June 2022. The clock has been in the keeping of the Booth family for more than 156 years and Colonel Bramwell Booth – the Founder's great-grandson – told the General that 'the time has come for it to enter the wider confines of the Army'.
Presenting the General with the key to the clock, Colonel Booth said: 'We are grateful to know that you have willingly undertaken to both care for and share the Founder's clock.' He also revealed that he is almost certainly unique in having met all but one of The Salvation Army's 21 Generals, going back to his grandfather, who was also called Bramwell Booth.
An inscribed brass plate on the front of the clock explains that it was given to 'the Rev William Booth' on 2 July 1866 by 'members and friends of the East London Christian Revival Society in commemoration of his first anniversary in London'. As this society's mission spread, it took the name The Christian Mission before it was renamed The Salvation Army in 1878. The second of July is now known as 'Founders' Day', commemorating the occasion in 1865 when William and Catherine Booth began an evangelistic ministry that has now reached 132 countries.
For many years the Founder's clock has not kept good time, so Colonel Bramwell arranged for it to be refurbished by Mike Holwell, a graduate of the British Horological Institute. Mike took the clock apart and thoroughly cleaned and restored it both inside and out. Today it looks as good as when it was first presented to William Booth more than one-and-a-half centuries ago.
The Founder's clock will be housed in the General's offices at IHQ, where visitors can be inspired by a piece of Salvation Army history. 'We want to give you and your family a very heartfelt thank you,' the General told Colonels Bramwell and Ruth Booth, 'for caring for this clock for so long.' He explained the personal sense of connectivity he felt to his predecessors and assured Colonel Booth that having an object at IHQ that belonged to the Founder would only strengthen that feeling. Offering words of prayer, he said: 'We thank you, Lord, for this reminder of your faithfulness and continual blessing. The clock will remind us that you have been with us across time.'
Two members of William Booth's family who work at IHQ were present for the ceremony. Lieut-Colonel Anne-Florence Tursi (Administration) is Bramwell's niece and Laura Booth (Literary and Editorial) attended with her husband Adrien Booth, a great-great-great-grandson of the Founder.
Report by Kevin Sims
IHQ Communications
International Headquarters