Significant expansion and upgrading of emergency disaster services (EDS) is taking place in the Central Territory, enabled by a national $40 million Lilly Endowment grant that was awarded last October.
Called Project Impact, it focuses on three areas: expanding warehouse space, harnessing new "green" (environmentally sustainable) mobile feeding units, and amplifying training for staff and volunteers.
The funding increases The Salvation Army's disaster response and recovery capability nationwide, promoting collaboration between territories and providing specific resources to empower EDS to better reach underserved and rural communities while building resilience with partner organizations and community members.
"This is a huge blessing and very much needed," said Kevin Ellers, Central territorial disaster services director. "Our canteens are aging. Many in our fleet of 200 canteens are more than 20 years old. Our national disaster training program curriculum is great, but it is now close to 20 years old and needs an overhaul. This grant will help us to strategically expand our response capacity."
Kevin continued, "We're building our infrastructure to respond more quickly and efficiently to disasters and crises, but also to develop a more seamless recovery effort with social services and other  partners."
Warehouses
Sixteen million dollars has been earmarked to strategically expand national warehouse capacity across the nation to support large-scale responses.
The warehouses will allow for large contributions of in-kind goods from corporate donors to be received, stored in reserve, repackaged and processed for immediate distribution to areas that have been impacted by a disaster. Logistical equipment (like forklifts, pallet jackets and scales) and technology will implement best practices of inventory management, with software being developed or procured and shared across territorial boundaries.
In the Central Territory, $4 million has been allocated to build two disaster warehouses in the St. Louis and Minneapolis areas. Both of the facilities will be strategically located to improve mobilization to frequently disaster-affected areas and provide good geographic coverage for the territory.
The Midland Division has purchased a 66,000-sq-ft building on 11 acres which will allow for new facilities and future expansion. A multipurpose compound is planned which will bring together social services and EDS; that will streamline long-term recovery efforts but also meet ongoing and seasonal needs as it could serve as a space for a Christmas toy shop. The current building will be renovated, and the Army will construct a 30,000-sq.- ft. EDS warehouse, training and emergency operations center with offices, an enormous garage and loading dock, and commercial kitchen which could make up to 15,000 meals for distribution by canteens during a disaster relief effort but may be used regularly to prepare meals for the homeless in shelters and on the streets.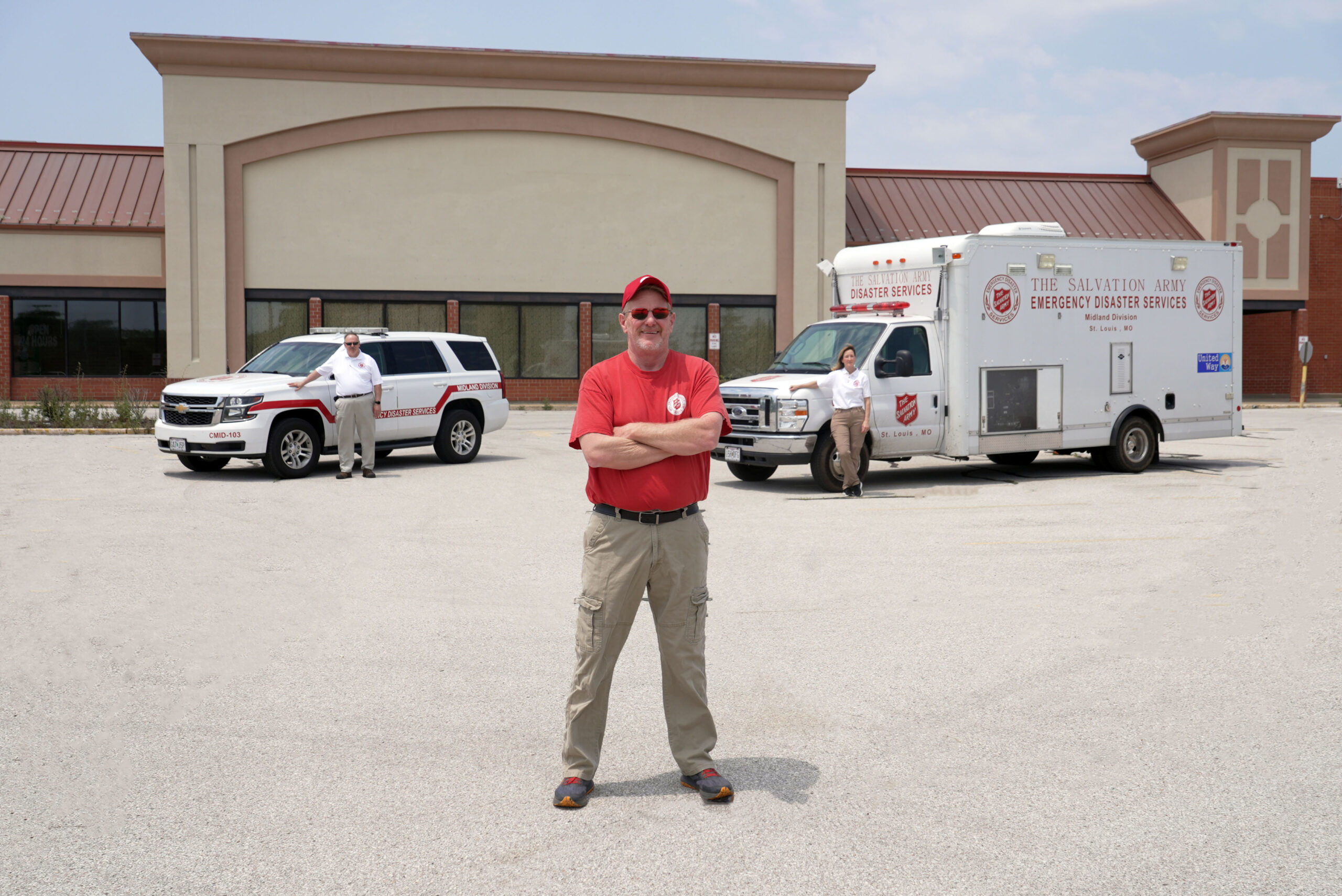 According to Martin Rueter, Midland EDS director, the EDS facility could not only serve the division but play a key role in meeting needs after a large-scale disaster anywhere in the nation given its size for storing goods and its unique location in the center of the U.S. with easy access to four major interstates, railroads, the Mississippi and Missouri Rivers, and Scott Air Force Base which headquarters the U.S. Transportation and Air Mobility Commands.
Farther north in Minnesota, the Northern Division plans to build a warehouse next to the divisional headquarters that will provide significantly more space, a commercial state-of-the-art kitchen with capacity to churn out thousands of meals every day, tiered storage space, two loading docks that will accommodate 53-foot semi-trucks, classrooms for continuing hands-on EDS training, an emergency operations center, office space for EDS staff, a SATERN (Salvation Army Emergency Radio Network) room, a large garage to house all EDS vehicles (including canteens) and space that can be used for a multi-agency center, as well for a Christmas toy shop.
According to Major Michele Heaver, Northern EDS secretary, the warehouse will allow supplies to be distributed quickly in Nebraska, North and South Dakota. The project not only will draw on funds from the grant but a capital campaign.
"For somebody who suddenly finds themselves in need in disasters, it will provide a faster response," the major said, getting to the heart of the difference the EDS warehouse will make. "Flood kits, shelter cots, food, generators—everything you need—will be in one warehouse. We'll load up the truck and canteens, and they're out the door."
Equipment
The Central Territory is replacing and upgrading its EDS fleet with service delivery vehicles to improve agility and maximize service.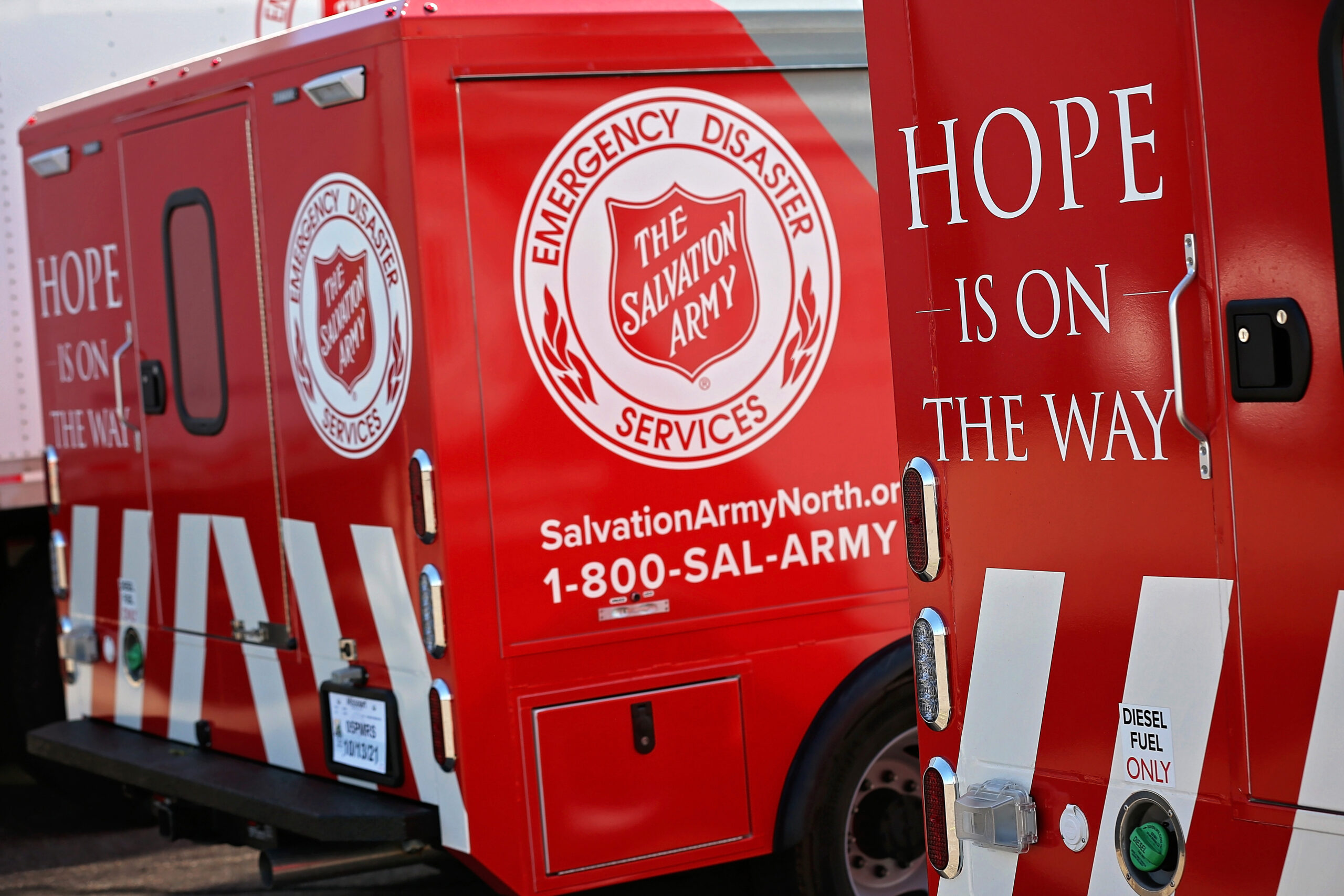 The grant earmarks $2.25 million for the territory to purchase a minimum of 15 newly designed food service delivery units over three years, replacing the non-energy efficient mobile kitchen fleet with greener technologies that have added mobility and maneuverability and minimize air contaminants and pollutants. Initially each division will receive its choice of two green vehicles. The North & Central Illinois Division (NCI) already has two green vehicles and is excited about receiving a third, according to Sam Amick, NCI EDS director. They plan to place it at the Canton, Ill., 360 Life Center, which has an exceptional EDS team. "The new vehicle will provide better coverage of the Western part of the division—all the way to the Mississippi," said Sam.
He indicated the smaller hybrid canteens are not only more energy efficient since they're not dependent on a generator when parked for hours but their smaller size allows them to navigate city streets easier and get EDS teams where they need to go—a gamechanger in cities like Chicago. The size of the vehicle, which is closer to a van, will increase the number of potential drivers as many volunteers can't drive a traditional larger canteen.
The Central also is receiving $5 million for specialized equipment based upon unique response considerations. This could include shower trailers, field kitchens, trucks, laundry units, multipurpose facilities to be used for case management, offices, command and control, or emotional and spiritual care.
Training
Five million dollars also has been allocated nationally to expand disaster training efforts which will include a territorial training specialist in each territory and a national coordinator, supporting training materials, summits, instructors and travel costs, and further curriculum development and video production.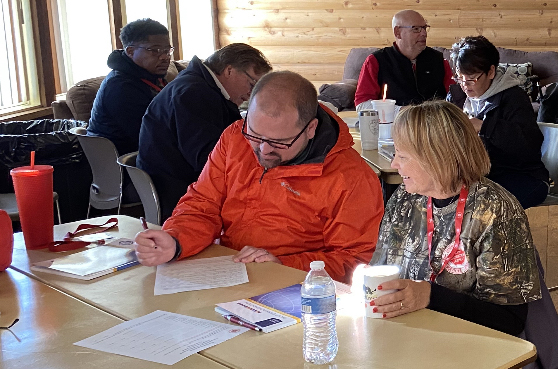 Across the nation, The Salvation Army aims to recruit and train 20,000 diverse and inclusive volunteers who represent the communities we serve by creating accessible and engaging disaster training courses.
Courses will include online independent study, as well as in-classroom learning for higher level material. Twenty courses are being created. Half will focus on incident command training, while the other half will focus on volunteer development with partner disaster relief organizations and community houses of worship.
According to Kevin, the Central Territory is working with the Eastern Territory on the volunteer modules and with the Western Territory on the entire online learning management system.
"The goal is to build our capacity locally and have strong teams across the territory," he said. "People are excited. The momentum is catching on."