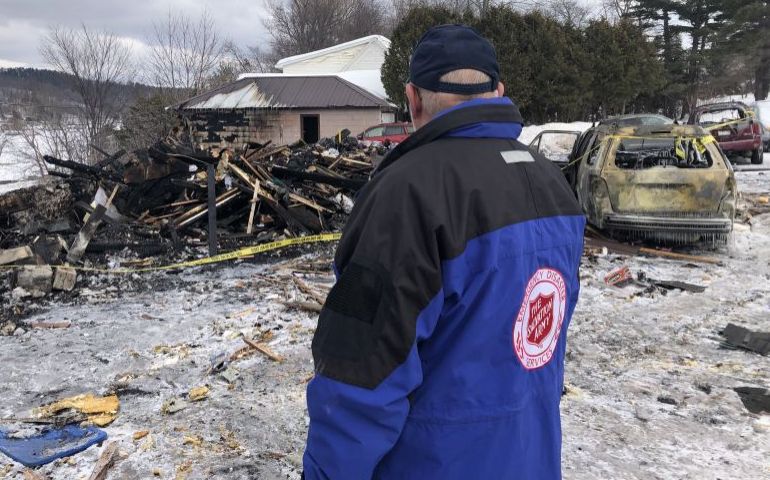 HOUGHTON – At 2a.m. Sunday morning (March 13) The Salvation Army was called in by the Houghton County Sheriff's Department to assist victims of an apartment building explosion and fire. By the grace of God and the heroic efforts of a handful of college students – miraculously no one was killed or seriously injured in the event – which completely flattened the structure.
Due to the late hour and the rapid escalation of the disaster; most of the survivors were barely clothed as they ran out of the building into snow and freezing temperatures. The Salvation Army met with them and brought clothes. One of the students – barefoot with only a blanket – said he was in bed when the explosion occurred. He and his bed immediately fell through the floor to the apartment below. His neighbor fled in his socks with only his toothbrush.
The apartment also housed a disabled elderly couple. The initial blast deformed the structure and the students had to break down the door to get the couple out. They all escaped the building just as it burst into flames.
The Salvation Army provided hot coffee and breakfast – donated by the Houghton McDonald's – to roughly 35 firefighters, police and first responders who were on scene fighting the blaze for about 5 hours. Semco Energy crews arrived on scene with emergency crews and shut down the gas main for College Row. Damage to the gas main required at least a week of round the clock work to restore heat to around 100 students who lived on the block and were provided service by that line.
Michigan Technological University coordinated emergency housing for all of their students. The Salvation Army is partnering with the college to find long term placement for their students. The Salvation Army working with The Douglass House has helped secure permanent, long-term housing for the disabled seniors. The incident displaced roughly 100 students for two days while crews repaired the gas main. Long term housing is still being arranged for the six students who escaped the fire and another six whose apartments sustained serious water damage to their ground-floor rooms in the neighboring apartment building.
The Salvation Army is coordinating relief efforts along with the Pigs N Heat Fire Fund, American Red Cross, Hancock St. Vincent DePaul, Habitat for Humanity's Restore, Love Inc. of the Copper Country as well as Houghton County Emergency Management, the City of Houghton, the Michigan State Housing Development Authority and Department of Health and Human Services.