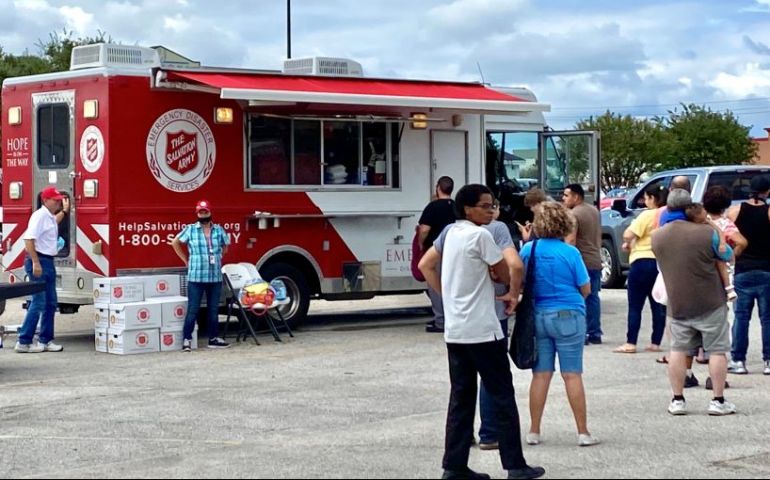 Dallas, Texas (September 17, 2021) – The Salvation Army continued service to communities impacted by Hurricane Nicholas in Southeast Texas on Thursday, serving hot meals and delivering water and food boxes. Two mobile feeding units, from Bryan/College Station and Victoria, have been working in the area and Salvation Army facilities have opened their doors to people in need.
Service has been limited to Freeport, Lake Jackson, and the Matagorda Bay area, where Hurricane Nicholas first made landfall in Texas. "While the impact of Hurricane Nicholas was not as severe as initially forecast, more than 40 Salvation Army staff and volunteers have been actively providing service in the coastal region, particularly in Brazoria County and the Matagorda Bay area," said Alvin Migues, Emergency Disaster Services Director for The Salvation Army in Texas. "These teams are providing support, equipment and supplies that are needed to help people during the initial days of recovery while power is being restored."
The Salvation Army has served 2,846 meals, 2,829 drinks, and 1,463 to those affected by Hurricane Nicholas, many who were left without power. Additional supplies including 800 food boxes and 240 cases of water have also been provided.
"The Salvation Army in Galveston requested additional supplies for a distribution in La Marque, and we delivered food boxes on Thursday in support of their efforts," said Migues. "Damage has been limited with Nicholas with the biggest concern being the power infrastructure. Close to half a million homes have been without power but many have been or are being restored in the coming days. We have several Salvation Army churches, staff, and volunteers living and working in the affected area all year-round, and they will continue to help, love, and serve their communities."
It is anticipated that food service will continue in Sargent, Texas, on Friday, from the mobile feeding unit from Victoria. All units will conclude service on Friday evening.
To make a financial donation to support ongoing Hurricane Ida relief efforts, go to helpsalvationarmy.org or call 1-800-SAL-ARMY. For the latest information please go to www.disaster.salvationarmy.org and watch for regular updates on our social media pages at www.facebook.com/salvationarmytexas/ and www.twitter.com/salarmytx.