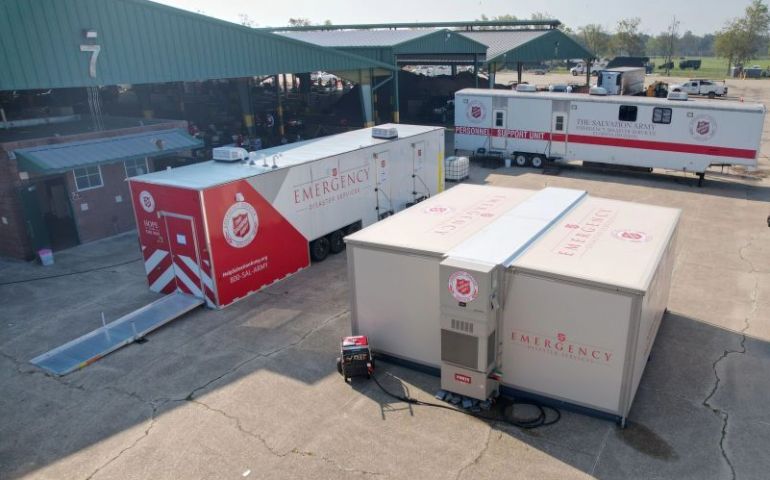 Gonzales, LA (September 14, 2021) – The Salvation Army's Incident Command Team overseeing service delivery out of Gonzales, LA is preparing for the effects of Tropical Storm Nicholas. With 17 mobile feeding units and all the personnel associated with disaster response services, planning for safety is imperative.
"Safety is the top priority for all of our volunteers, employees, and officers on site and in the field," said Laurie Fried, Emergency Disaster Services Director for The Salvation Army. "Currently we are serving several of the southern bayous in Louisiana where the effects of the storm could cause potential flooding in already saturated areas. Precautions are being taken to ensure the safety of all Salvation Army personnel under our command."
Current housing and equipment for personnel includes mobile trailers, semi-trailers with bunks, shower trailers, and more. Precautions include securing safe housing for our teams and putting safety plans in place for flooding and severe weather to minimize service interruptions.
The mobile units from Gonzales IMT have served 224,935 meals, 106,379 drinks, and 55,759 snacks. Emotional and spiritual care contacts have been made with 14,853 persons. The Salvation Army has served 346,096 meals, 184,937 drinks, and 85,651 snacks across Louisiana.
To make a financial donation to support ongoing Hurricane Ida relief efforts, to go helpsalvationarmy.org or call 1-800-SAL-ARMY. For the latest disaster response information, go to www.disaster.salvationarmy.org and watch for updates on our social media pages at www.facebook.com/salarmyAOK and www.twitter.com/SalArmyAOKEDS.