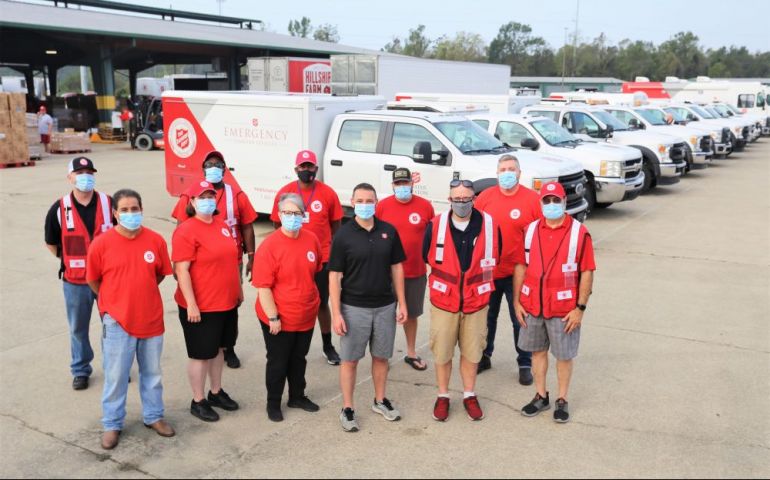 Gonzales, LA (September 10, 2021) – Ten Salvation Army Officers (pastors), with specific training in Emotional and Spiritual Care (ESC) during disaster response, arrived in Gonzales on Wednesday afternoon. The ESC Officers deployed on Thursday with mobile feeding unit crews ready to meet and minister to storm survivors in impacted communities in Louisiana,
Captain Jeremiah Romack, the Senior Kroc Center Officer in Kerrville, Texas, is responsible to coordinate the ESC efforts. "I am so pleased to have the ESC Officers in place at the Gonzales Command Post. Our crews have been doing a tremendous job over the last 10 days or so ministering to the practical needs of Hurricane Ida survivors by providing more than 150,000 meals," said Romack. "We are now in a position to expand that practical ministry with a focus on how folks are dealing with their respective situations emotionally and spiritually. People are under a great deal of stress and pressure right now. Our team are prepared and ready to listen, encourage, and most importantly pray with those they meet."
The mobile feeding unit staff and volunteers typically work in pairs. They are responsible to drive to their pre-determined location, set up the service area, unload the containers of food, and serve as many as 1,200 meals. "The addition of an ESC Officer not only lends an extra set of hands during set up and tear down, but also means that someone is readily available to greet those coming for a meal, and just spend a little more time in conversation and sharing with each person," said Romack.
Officers in the ESC team are from the Potomac and North & South Carolina Divisions. They will be deployed in southern Louisiana for 14 days. "In Lockport, while picking up a hot meal, a community member said to me, 'I knew that Jesus was here when I saw The Salvation Army truck pull up,'" said Lt. Jimmy Pierre, ESC Officer from Burlington, North Carolina. "That's what our ministry is all about."
The Salvation Army will continue a supply distribution at South Terrebonne High School (3879 LA-24, Bourg, LA, 70343) on Friday, September 10 and Saturday, September 11 from 9 AM- 1 PM. A mobile feeding unit will also be stationed at the High School serving hot meals. On Thursday, individuals and families from bayou communities visiting the High School distribution received 140 tarps, 2288 boxes of water (2.5 gallons per box), 2000 hygiene kits, 1040 food boxes, 224 infant kits, 4480 PepsiCo breakfast boxes, and 2496 clean up kits.
"Distributions play a vital role in a community's recovery. Several days after the storm, families are ready to get back into their homes, but need support to keep them there as they start to rebuild," said Kathleen Kouns, Long Term Recovery Program Manager for The Salvation Army in Texas. "Clean-up kits, hygiene kits, food boxes and tarps provide that essential support to sustain families, provide hope, and cultivate a sense of normalcy during their recovery process."
The Salvation Army continues to expand service south reaching the hardest hit communities. On Friday, mobile units will be serving in Golden Meadow (2 units), Galliano, Dulac, Chauvin, Cut Off, Larose (3 units), Houma, Bayou Blue, Lockport, Albany, Gray, LaPlace, and Bourg (South Terrebonne High School). Service addresses can be found at https://disaster.salvationarmyusa.org/aboutus/?IdaFacts. Cleanup kits and other supplies will be provided to residents of Grand Isle who will be allowed to return and assess damage to their homes for the first time, on Friday.
The mobile units from the Gonzales IMT have served 150,711 meals, 68,021 drinks, and 38,005 snacks, making 9,582 emotional and spiritual care contacts since 8/31/21. The Salvation Army has served 262872 meals, 151072 drinks, and 68200 snacks, across the state in response to Hurricane Ida, activating 49 mobile feeding units.
To make a financial donation to support ongoing Hurricane Ida relief efforts, go to helpsalvationarmy.org or call 1-800-SAL-ARMY. For the latest information please go to www.disaster.salvationarmy.org and watch for regular updates on our social media pages at www.facebook.com/salvationarmytexas/ and www.twitter.com/salarmytx.