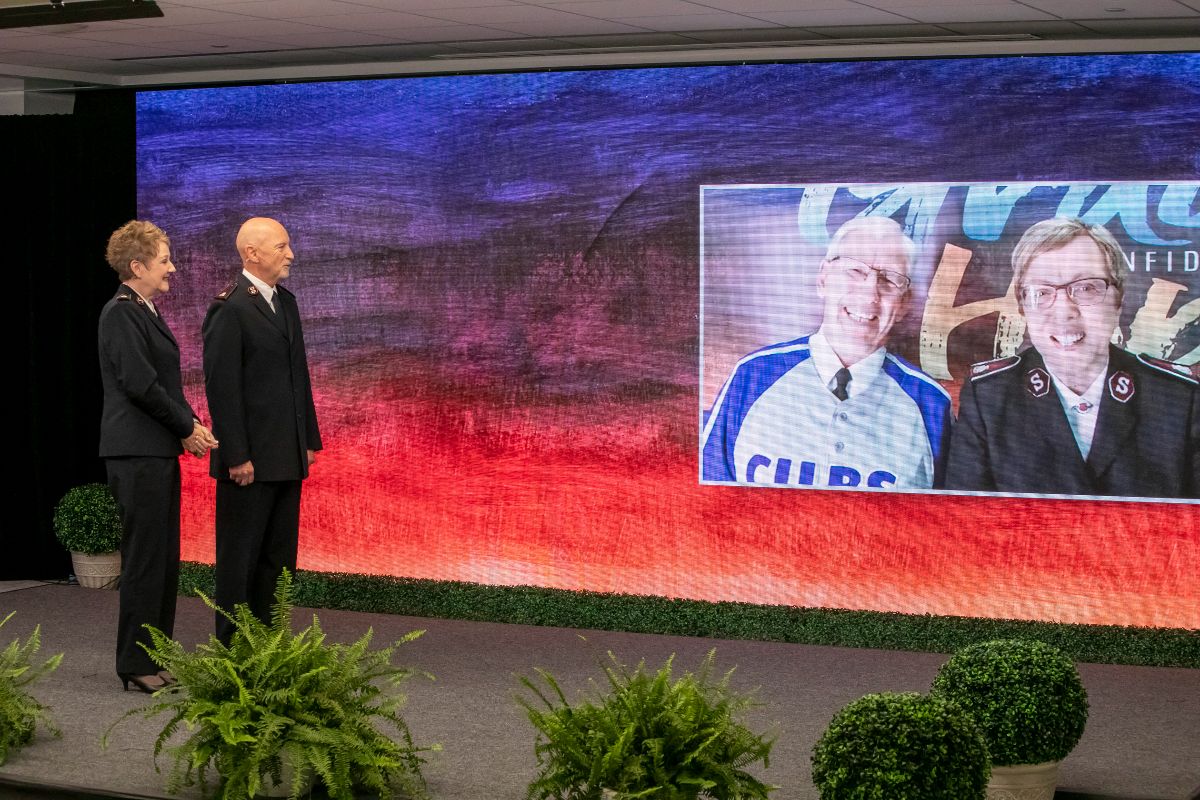 AS if heralding a new day, the USA Central Territory held its first virtual soldiers congress, an interactive event featuring extensive input from General Brian Peddle and Commissioner Rosalie Peddle (World President of Women's Ministries), whose engagement and powerful messages, though from afar, inspired Salvationists across the territory and beyond.
Themed Indescribable Faith, Confident Hope, the congress was designed to celebrate mission advancement and to spur on Salvationists in America's Midwest after more than a year of sacrifice and creativity in sharing the Good News and serving their communities through a time when the COVID-19 pandemic saw record numbers of people turning to The Salvation Army for help.
'We have heard about and seen first-hand how soldiers have stepped up in unprecedented, Spirit-empowered ways throughout the territory,' said Territorial Commander Commissioner Brad Bailey, thanking the troops shortly before he and Commissioner Heidi Bailey (Territorial Leader for Leader Development) welcomed the Peddles.
More than 1,300 registered delegates attended the live-streamed congress, a hybrid of prerecorded and live elements that were viewed in 'watch gatherings' in corps (churches), camps and homes across the territory. Several thousand soldiers, officers and friends tuned in for one or more of its components.
A high point of the weekend was a soldier-moderated Q & A session with the General and Commissioner Peddle, who shared with admiration examples of The Salvation Army's global ministry during COVID-19 and spoke about new soldier resources (Called to be a Soldier and Day by Day) due to be released later this summer which are being distributed to the 1.2 million soldiers around the world.
With answers full of grace and wisdom, and unequivocally grounded in God's Word, the Army's international leaders succinctly tackled challenging enquiries about complex subjects like sexism, LGBTQ+, racism and social justice. They encouraged Salvationists to be engaged positively in the dialogue about important issues and to be a people of compassion and reconciliation.
'It was a privilege to listen to the General and Commissioner Rosalie,' said Alfredo Martinez, a soldier from Aurora, Illinois. 'I particularly enjoyed the questions and answers segment with them. It gave me great hope as a Hispanic soldier that The Salvation Army is interested in me, and that I can feel welcome as a member of this wonderful church.'
Other notable components of the congress included: Zoom workshops focused on the soldier's role in the holistic mission; an exhilarating live miniconcert by the Chicago Staff Band; and a compelling meeting that shared stories of God's work in the world and revealed a World Services Ingathering total of more than US$10 million.
Unique to the event was a virtual prayer room manned by 30 officer and soldier counsellors. 'Our passion for supporting seekers doesn't take a back seat to technology,' said Major Rachel Stouder who, with soldier Mark Bender, organised this ministry in English and Spanish.
Concluding the weekend, the Messengers of Grace – a diverse and resilient session of cadets – were ordained and commissioned as Salvation Army officers. Having risen to the challenge of a unique training experience due to the pandemic, the 20 new lieutenants were eager to get out into the world and take their place in ministry. They discovered their appointments from the territorial leaders with the help of Google Earth on a jumbo screen while members of their families, home corps and divisions virtually cheered them on.
Report by Elizabeth Kinzie
USA Central Territory