by Captain Michael Hanton, Territorial Youth Secretary
We seek to be a Salvation Army committed to and engaged with youth of all ages, intentionally seeking to capture their hearts, engage their passion and unlock their potential. An Army marked by open communication, genuine encouragement, mutual respect, redemptive trust and empowering opportunity.—TERRITORIAL MISSION IMPERATIVE, YOUTH FOCUS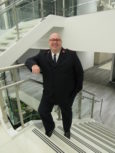 A year ago I was sitting in the final day-long session at the Arrow Leadership conference that focused on how to share the gospel. Challenging us to think critically about how to clearly communicate, the instructor asked, "How has the gospel affected you today?"
A classmate's response resonated with many of us: "Sharing the gospel isn't limited to a script or a process but is reflected in an overflow of  our own hearts."
I paused and considered how over the course of my life God has been drawing me closer and developing me to lead others to Him.
Recently, I was part of a work group that met at territorial headquarters to discuss the youth focus of the Territorial Mission Imperative. In this strategy meeting we discussed how youth leaders and youth in the Central Territory can play a vital role in our mission of "More people, more like Jesus."
Looking at Jesus' ministry and how He recognized the different stages people were in and worked to  develop them, we determined that in order to be successful in reaching the youth of our Army we must emphasize the need for intentional and relational discipleship. We must:
Invest in Youth Leadership Development
• Identify and train capable youth leaders by providing intentional training options to corps based on the needs of their leaders, corps and community.
• Identify opportunities and empower youth to take on leadership roles in their corps.
• Shift divisional and territorial roles from programming to resourcing for corps.
Empower Corps to Effectively Disciple
A disciple is a dedicated follower of Christ, and discipleship is the relationship built between two or more disciples so they grow in knowledge and faith. By clearly identifying and committing to the lifelong work of discipleship in corps ministry, our territory will experience long-term growth, consistent leadership and transformational spiritual depth.
As disciples of Jesus we have been given the mandate to make disciples (Matthew 28:19), and we have been given the privilege of making Jesus known to our youth, families, communities and world. May we be so deeply affected by the gospel that our message is an outpouring of our hearts and our relationship with Christ.