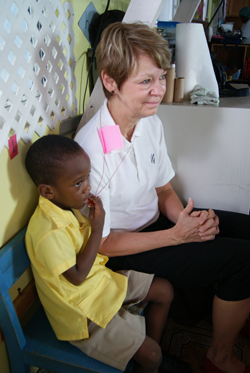 Carey Ferantelli
Friday, November 8, 2013
Morning at the guest house begins as early as 5:45 a.m. for the early risers of the group. Breakfast is a do it yourself meal of food stocked in the kitchen graciously for us. Most of our group enjoys our breakfast on the veranda overlooking the sea. At 8:30 depart for our 20-minute ride in to the Grenada Corps. Edgar is our driver who has the "privilege" of transporting nine ladies most of the week. He is excellent!
Our mission this morning was to share devotions with the pre-school children. Jeannie presented a great story while Rhegan led choruses. The precious preschoolers presented us with a handmade card from all of them, and they received books, school supplies, posters and markers from us.
Each team member had collected numerous items to give to the corps.
After our time of preschool work and painting the daycare room, we had a bit of time to shop before boarding our van back to the guest house for preparation for a return trip to the corps later that evening.  While there Jeannie Brooksbank and I were asked to pray for healing for a shop keeper.
[At] 5:30 [p.m.] we traveled after a torrential rain back to the corps [and] prepared for a women's ministry night. It was a joy to walk into [the] freshly, yellow chapel we had painted the day before.
Sherry was reminded that God is in the details when she heard God quietly tell her to check her bag for a remote that would control power point presentations. After reassuring herself it would not have been an item she would bring because she didn't bring her computer, she obeyed and searched her bag, and there it was—a remote! This very remote was exactly what Captain Haughton and Mrs. Captain Haughton needed and could not find anywhere on the island.
"God you are in all the details of my life," proclaimed Sherry, as she gifted the Haughtons with the remote.
This has been our experience daily. As we trust Him to protect and meet our needs, "He is in the details and we praise Him!"