The Spiritual Life Development department exists to encourage and provide resources for Central territory Salvationists seeking to develop vibrant, growing spiritual lives marked by:
Empowering Prayer
Prayer is the key to spiritual life and the key to fulfilling the territorial mission imperative. Prayer energizes everything we do. It is like oxygen to our souls. Without prayer, we will not – in fact, we cannot – achieve any part of our mission. Faithful, disciplined prayer will always lead us to faithful, disciplined action.
Intentional Evangelism
We are people on a mission to introduce others to Jesus, invite them to accept the love and life He offers, and to walk with them as they also learn to follow Him. We are empowered to do this because the Holy Spirit energizes our own walk with Him.
Compelling Discipleship
Following Jesus is an all-consuming lifestyle of listening to Him, learning from Him, imitating Him. As we follow Him together, we do not have to fear our cultural differences. We can embrace them because we will see Jesus in each other. We will go to our cities because Jesus will lead us there. We will reach young people because Jesus is already drawing them to Himself. We will recognize leadership potential in people of all ages and cultures because we will see them as Jesus sees them.
Active Holiness
Holiness teaching and experience is a hallmark of our Salvation Army history. We believe the Holy Spirit can empower us to live victorious lives free from the guilt and power of sin, and empower us to love God and our neighbors with our whole hearts. The work of the Holy Spirit can and will transform us personally, relationally, and socially.
Continuous Transformation
As Christian Salvationists, we are people who have been transformed by the love of God, the grace of the Lord Jesus, and the power of the Holy Spirit … and that was only the beginning! We are works in progress, daily being more and more conformed to the image of Christ.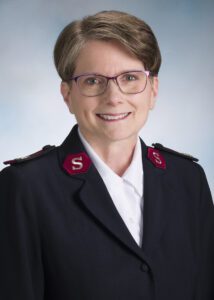 Major Debra Pascoe is the territorial Secretary for Spiritual Life Development