T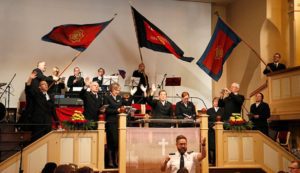 his week the international Salvation Army is praying for our brothers and sisters in the Finland and Estonia territory. Here is some information to help you as you pray:
Zone — Europe
Countries included in this territory — Estonia, Finland
Territorial leaders — Colonels Patrick and Anne-Dore Naud, who lead 40 retired and 84 retired officers, along with 4 envoys
Languages in which the gospel is preached — English, Estonian, Finnish, Russian, Swedish
This territory includes 28 corps and 6 outposts, with 715 senior soldiers, 25 junior soldiers, and 176 adherents
Here are some specific prayer requests from this this territory:
Please pray for children and youth. Children and youth work is a strategic priority within the territory. Please pray for the summer camps for children at our camps in Nummela (Finland) and Loksa (Estonia) to have a spiritual impact on the lives of children. We pray for 40 young people from Finland and Estonia to go to EYE2020 in the Netherlands in August 2020 and to be spiritually inflamed and encouraged by the Holy Spirit. Please pray for new junior soldiers and more children/youth work in corps.
Please pray for Adult and Family Ministries. Please pray for the territorial sports family weekend in August, Women's weekend in September, training days and seminars for AHT, and also developing activities and programs for women and families in our corps. We are very grateful for the retired officers, often still quite active and a great support to our corps. They are faithful prayer warriors who lift up their active colleagues and social unit leaders in prayer.
The Homeless World Cup will be held in the end of June in Tampere (Finland) and the SA is involved in planning and organizing this event. Please pray for human and financial resources and that we can have a spiritual impact on people's lives.
Please pray for new people coming to faith in Jesus, new soldiers and local officers. Our priority is to encourage and develop local officers, offer seminars in order to continue our plan to strengthen corps and support officers in their ministry. We pray for an outpouring of God's love, the moving of the Holy Spirit for new people coming to faith, for more people to become soldiers.
Information regarding the territory is from The Salvation Army Year Book 2020