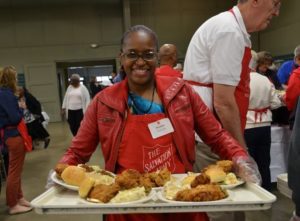 This week, the international Salvation Army is praying specifically for the USA Southern Territory. Here is some information to help you as you pray:
Zone — Americas and Caribbean
Territorial leaders — Commissioners Willis and Barbara Howell who lead more than 900 active and approximately 500 retired officers
The Southern territory includes Alabama, Arkansas, Florida, Georgia, Kentucky, Louisiana, Maryland, Mississippi, North Carolina, Oklahoma, South Carolina, Tennessee, Texas, Virginia, West Virginia, and the District of Columbia
Languages used to preach the gospel — English, Haitian-Creole, Korean, Laotian, Spanish, and Vietnamese
The Southern territory is home to 335 corps and three outposts with 29,111 senior soldiers, 1,991 adherents, and 6,331 junior soldiers
Here are some prayer requests from the Southern territory:
Pray that we are able to create the kind of atmosphere throughout the territory whereby the Holy Spirit will woo men and women to accept His call to be future officers
Pray for the transition between the SAMS/BFI programs, to the new initiative, that will take place in January 2020
Pray for the preparations that are being made for the 2020 territorial congress. We've made great progress, but we have much more to do. We pray the Father will bless our efforts for His honor and glory.
We ask the Lord to provide, in abundance, funds for the mission of the Army. The territory is seeing more debt than it ever has in recent years.
Wisdom for the officers in the territory making decisions every day on how funds are raised and spent on the mission
And two praise reports:
We praise the Lord for the way Soundcast (radio ministries) is spreading around the world. We are approaching 30,000 downloads a month, which doesn't even begin to count the number of people who are listening. God is opening doors almost daily for this ministry to reach literally around the world.
Our self-denial giving, although a burden to many corps, has been a worldwide blessing to many third-world countries. For this, and for all those who give, we praise the Lord.
The above information is from The Salvation Army Year Book 2019. You can learn more about the Southern territory by visiting their website at: https://salvationarmysouth.org/