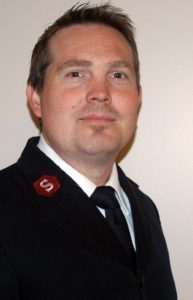 5 true things about your spiritual journey:
It is constant and progressive, and sometimes I still have setbacks.
I've found that using all my senses is important — listening to audiobooks or music, scents, visual aids, playing the guitar, etc., all contribute.
Some spiritual giants have helped me along the way. Without their sage advice I would not have been challenged or felt the urge to grow.
Now I have the responsibility to mentor others who are just beginning their own spiritual journeys. I both feel the weight of responsibility and am honored to help.
I still have days of great frustration.
4 things that have influenced your spiritual development over the years:
Dietrich Bonhoeffer
C.S. Lewis
Fred Craddock
Dr. Bob Laurent
3 things that keep your spiritual life on track:
Journaling
Blogging
Books and audiobooks
2 good news things you see happening in the Army right now:
Young leaders who challenge the status quo and question current practices
I see a fresh, grassroots, genuine love of the Lord taking place in faithful people who are learning to rely on God more and more in uncertain times
1 final thing you would say to encourage someone else on their spiritual journey:
Don't force it, just listen to His voice. Don't become frustrated with yourself when you find that you aren't as disciplined or further along in your journey then you thought you'd be. Have patience and allow His transforming love to work in you.
Captain Scott Strissel is the divisional youth secretary in the Midland division. He regularly worships at the St. Louis Temple corps.