There have been detours along the way, but Charles Cloak is now on a good and godly path.
His life is centered on loving God, serving others and sharing the Light which brought him out of darkness and despair.
In 2014, he entered the Minneapolis, Minn., Harbor Light after being released from jail. The Harbor Light gave him a room and some hope. He participated in the center's holistic BOLT (Basics of Life Training) program and got connected to the corps. At Christmastime, he rang bells at kettles. Then in 2015 he was enrolled as a soldier even though he had not yet given his life to Christ.
"I was becoming a soldier for all the wrong reasons," he said.
In 2016, Charles walked away from The Salvation Army—and God.
"I got in a bad relationship and got back involved with drugs. I made some poor decisions," Charles recalled.
He returned to the Army in 2019.
"I got tired of being tired. Tired of starting over," Charles said.
He entered the Adult Rehabilitation Center (ARC). It was his third time in the program, but this time it stuck. He committed his life to Christ. He now knows that keeping his relationship with God strong is the key to keeping his life on track.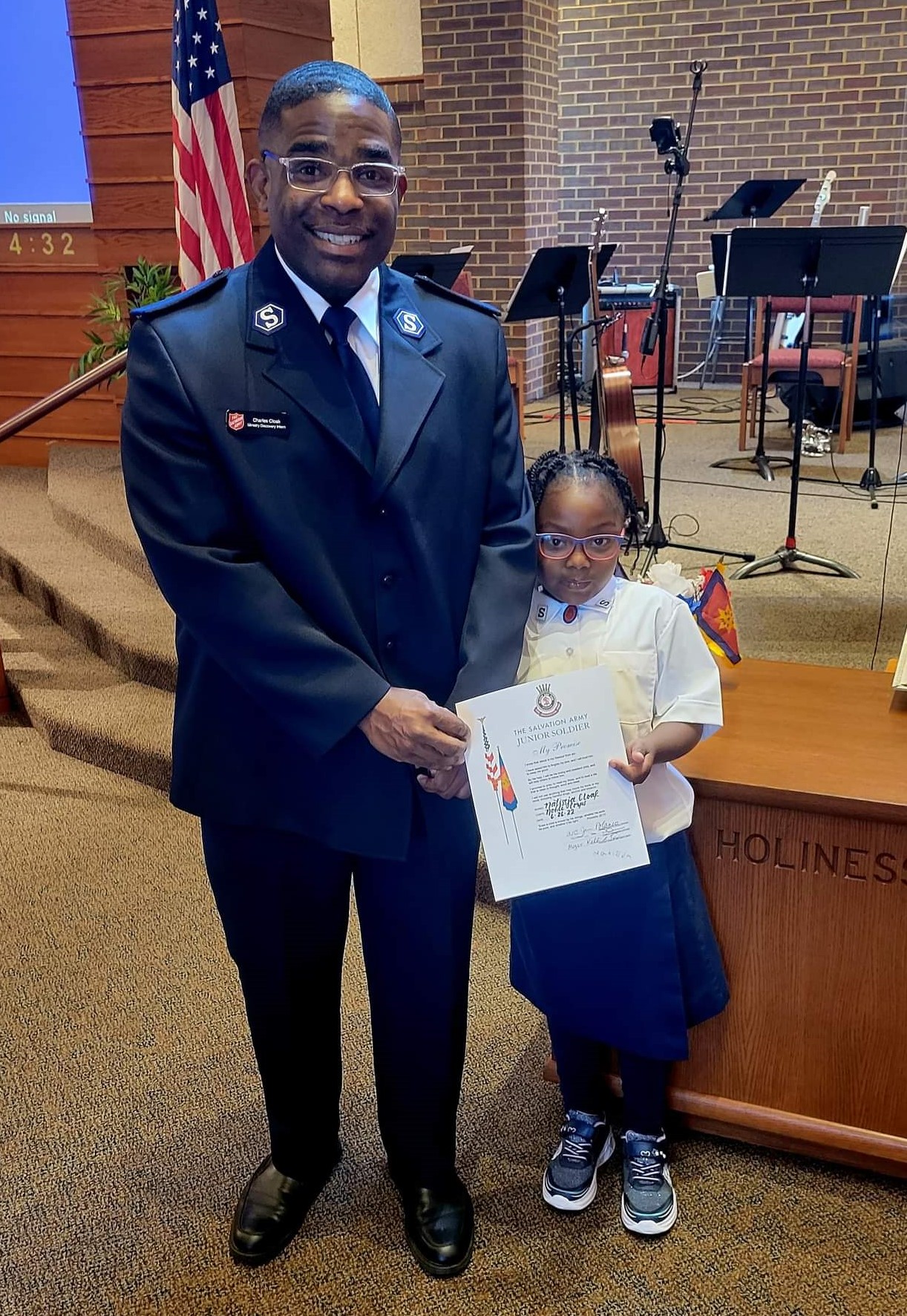 "As long as I continue to keep my focus on God and His will in my life, I can make it through," he said.
Fellow forum representative John Foster has been a helpful colleague.
"John is a big inspiration in my life," Charles said. "He stayed on the path God had for him. To see what John has gone through, and to see he has made it through. I know God will do the same for me."
Charles is now a soldier and a Ministry Discovery intern at the busy Noble Worship Center (Corps) in Brooklyn Park, Minn.
"I supervise volunteers. I supervise shoppers at the food pantry. I help with property management and youth programs," Charles said. "I enjoy supplying a need for someone with rent or a gasoline card or giving someone shoes for their kids."
In addition to ministry at the corps, Charles is honored to serve on the Territorial Soldiers' Forum. He is glad soldiers' voices are being amplified. "They are the ones who help in every area," he concluded. "They are the 'spark plugs' to the church."
Today, he is full of optimism and is headed to training in the fall to become a Salvation Army officer. "I feel like it is my calling," Charles said.
Click here to learn more about the Territorial Soldiers' Forum or find your representative.