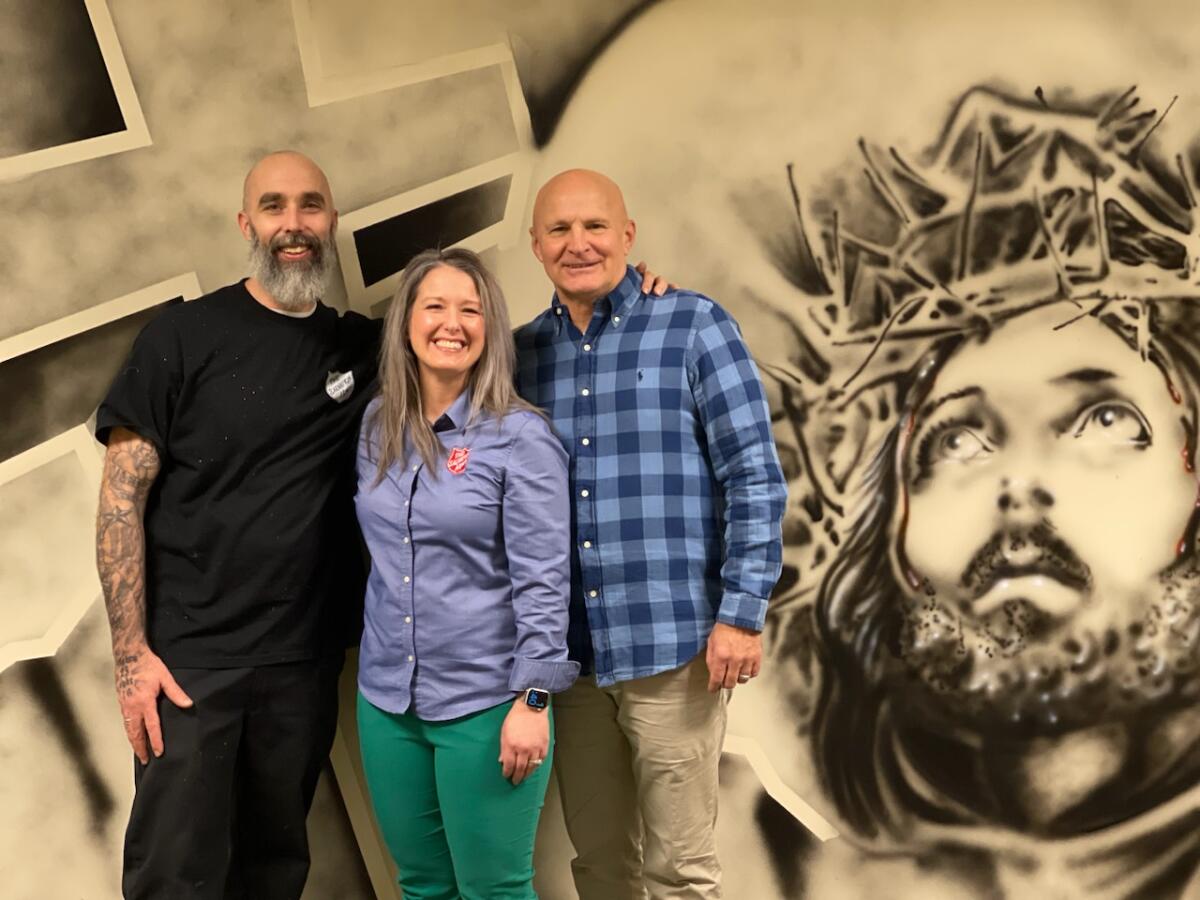 Some people get scolded for drawing on the walls. But Southeast, Mich., Adult Rehabilitation Center graduate Tim Hacker's artwork is being celebrated at the center.
"It is amazing how Tim's art is transforming both him and us. It is great to see how Jesus uses people and their talents," said Envoy Jacqulynn Idzior, who along with her husband, Envoy Bob Idzior, leads the Southeast Michigan ARC. The center houses both men and women, on separate floors.
Tim arrived at the ARC in March 2022, facing drug problems and depression. He had lost his tattoo business. His brother had died. Though Tim had no previous connection with The Salvation Army, he heard of its successful rehabilitation program and found his way there.
"When Tim came to us, I would describe him as a lost soul," said Envoy Jacqulynn. "It has been phenomenal to watch his growth. One day, it was almost like a light switch—he started really searching for a personal relationship with Jesus."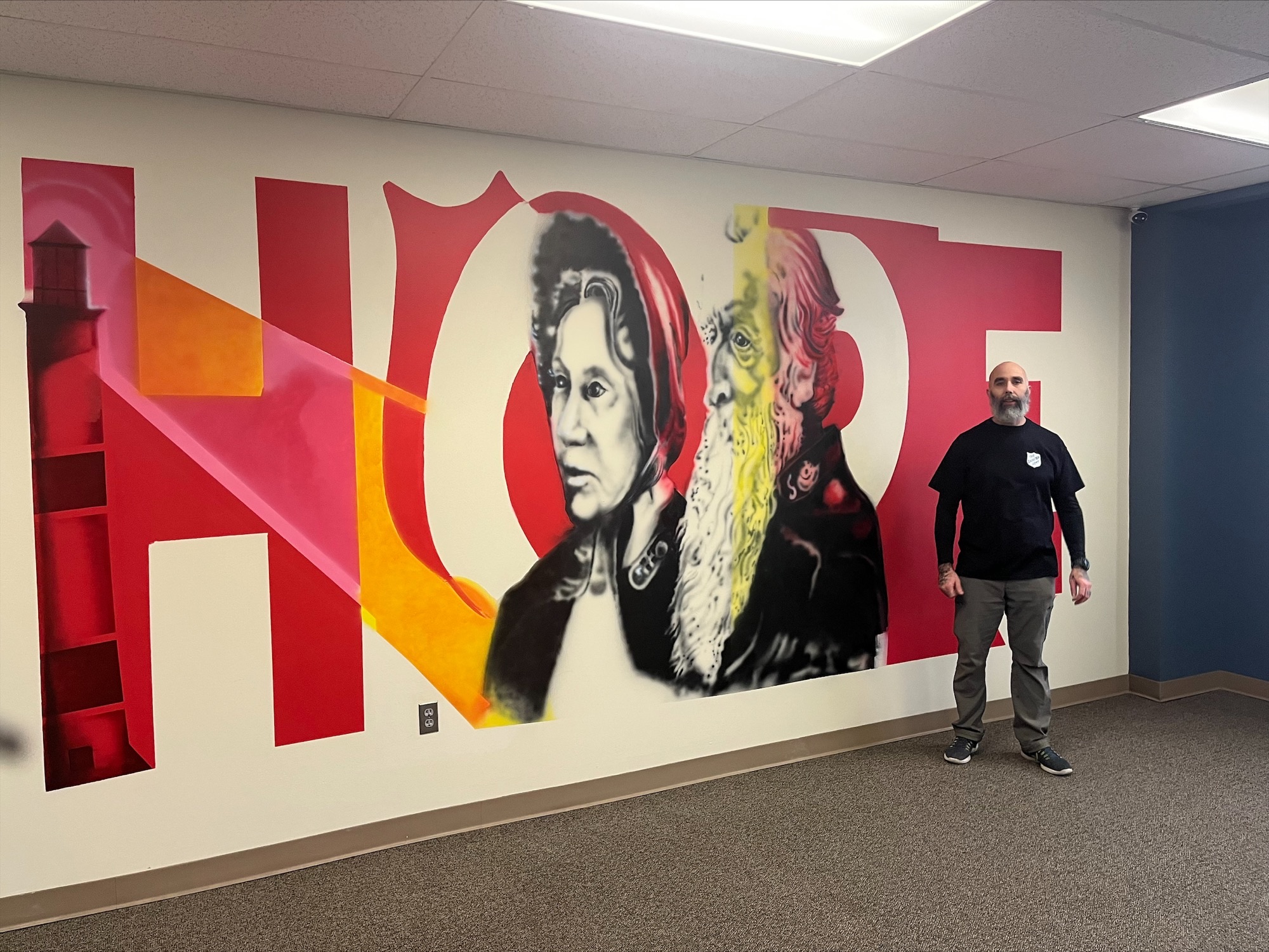 As Tim approached graduation from the center's six-month program, he wondered what his future held. He knew that returning to the tattoo industry was not right for him.
ARC staff had seen some of Tim's drawings, and they were impressed with his talent. Tim was hired to create some paintings and murals and to work in the maintenance department.
"It was a blessing that just fell into my lap. [Envoys] Bob and Jacqulynn wanted to liven the place up and get imagery here that represents faith and hope," Tim recalled. "And I wanted to stay at the center and help people around here with anything I could."
Tim's art now graces numerous walls with murals like the one spelling out "Hope" and featuring the images of Salvation Army founders William and Catherine Booth. Other murals feature a large cross with wings and the image of Jesus wearing a crown of thorns ("A sight to behold," Envoy Jacqulynn said), just outside of the chapel.
"The 'Hope' mural I really like," Tim said. "It reminds us to be still and let God work. There is light out of the darkness. Be patient and good things will happen."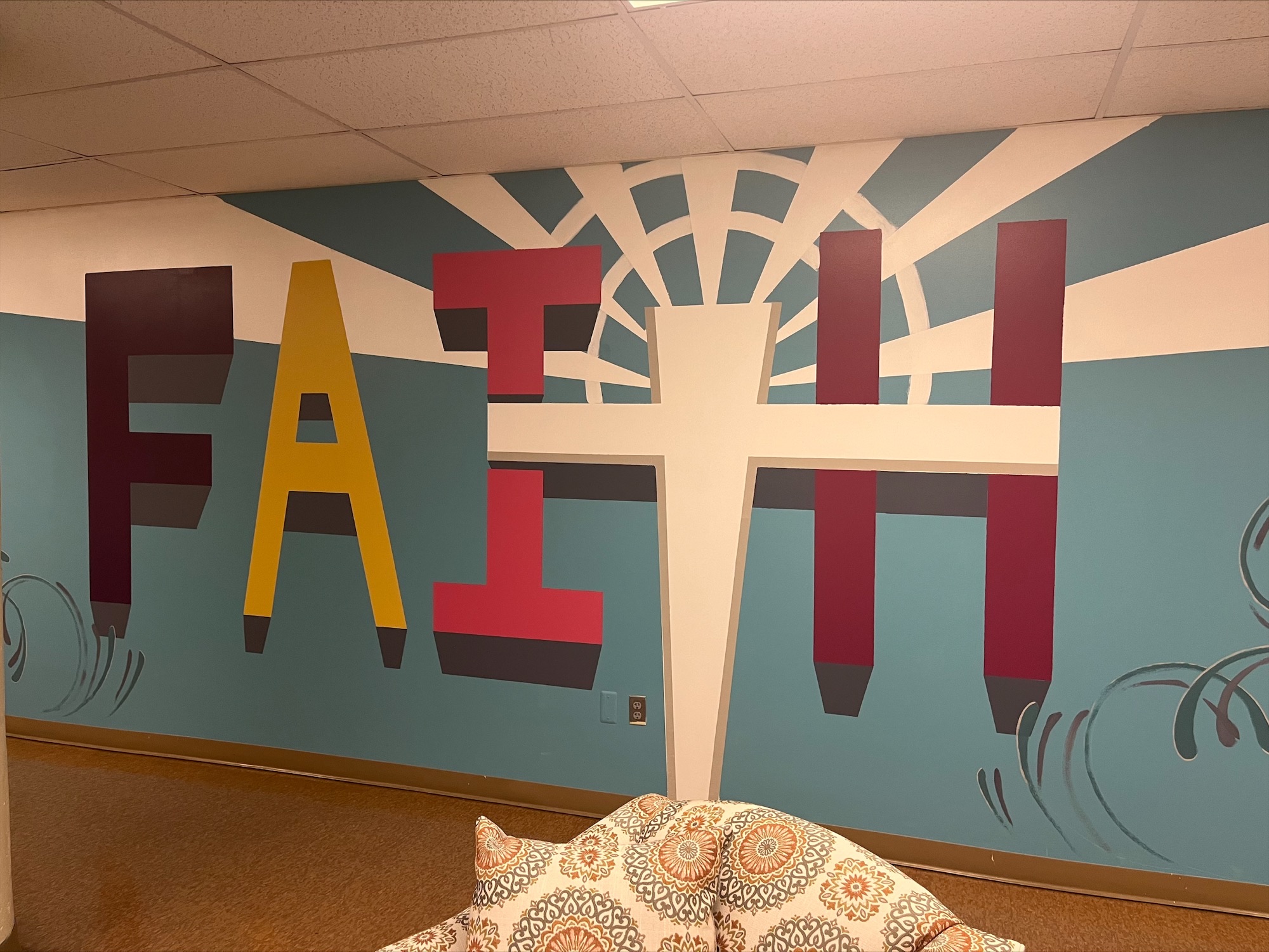 Residents have told Tim how much they appreciate seeing the murals.
"They come up to me and say, 'I walk out of my room and see that on the wall, and it makes me feel good,'" Tim said.
"I think our building is beautiful. But it can feel very institutional," Envoy Jacqulynn said. "These murals have added color and life and personality. This is what our (ARC) program is about—finding your way. Restoration. Our life goes from drab to vibrant and colorful."
It is not just staff and beneficiaries at the ARC who have noticed Tim's talent. Major Randall Hellstrom of the Flint Citadel, Mich., Corps—where Tim attends worship services—hopes to have Tim paint at the citadel in the future.
"Tim is an amazing person. He wants to use his gift for good. That is indicative of the change in his
life," Major Randall said. Tim knows that God had His hand in all of the positive changes.
"I am grateful to be sober and happy. This is the happiest I have been in my life," Tim said. "The fact that God has blessed me to do anything like this has been miraculous. He led me to this place."