March 20, 2023
Patricia Sims | [email protected]
On Wednesday, February 22, representatives from The Salvation Army and FedEx welcomed a brand-new mobile kitchen (canteen) unit to the Emergency Disaster Services fleet for the Kansas and Western Missouri Division.
The new vehicle is the 22nd donation from FedEx to Salvation Army units around the globe including major cities in the United States to as far away as Mumbai.
"The Salvation Army, just like FedEx, knows what it means to have a global reach and a local impact," said Major Kelly Collins, divisional commander of the Kansas and Western Missouri Division. "This new addition to our EDS fleet will be there to positively affect people's lives whether in our day-to-day operations or when disaster strikes anywhere in our region."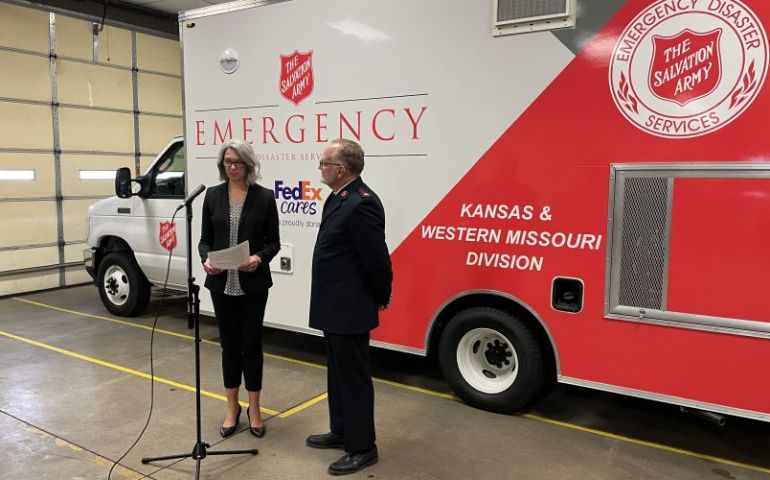 The new unit is built off a standard van platform, allowing for easier access on city streets, especially after storms roll through, potentially knocking down trees and power lines. The canteen will allow Salvation Army EDS crews to get closer to families and homes affected by a storm and serve freshly cooked food shortly after conditions improve.
"FedEx is a proud sponsor of The Salvation Army, and we are delighted to donate this Canteen Unit as part of our FedEx Cares 50 by 50 initiative." said Adrian Edmonds, Director, FedEx Global Citizenship. "Through this initiative, in collaboration with organizations including The Salvation Army, FedEx hopes to positively impact 50 million lives by our 50th birthday on April 17."
In Kansas City, the new unit will initially service as part of The Salvation Army's Honk and Holler program, providing meals and services to people struggling with homelessness in and around downtown Kansas City. Just like The Salvation Army as a whole, it will be ready to respond to any disaster the moment one should occur.