February 28, 2023
Cynthia Fuller | [email protected] | (405) 830-6549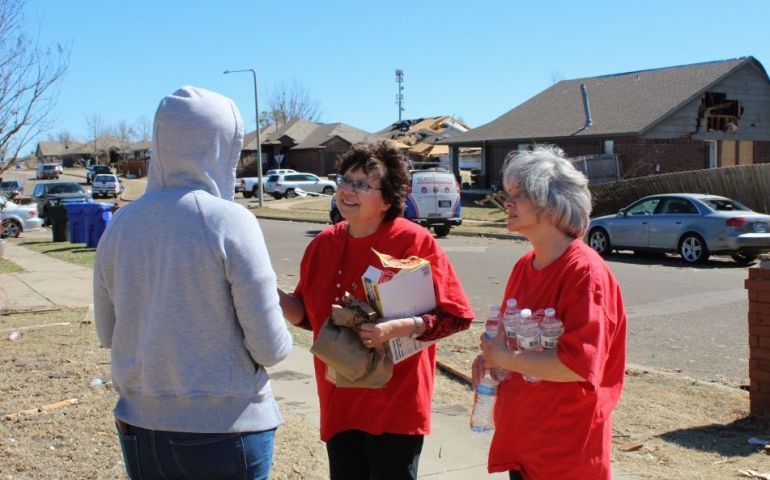 Oklahoma City, OK (February 28, 2023) – After a tornado struck the southeast side of Norman, OK, The Salvation Army began serving affected residents and responders.  In the hard hit Eastridge housing addition, a cold bottle of water was welcomed on an unusually warm February day.
The Central Oklahoma Area Command's Rapid Response Unit provided 220 meals, 421 bottles of water, and 379 snacks on Monday.  Over 30 emotional and spiritual contacts were made.  On Tuesday, not only will the Rapid Response Unit be out again, but their larger Mobile Feeding Unit will also be out roaming in other areas affected by Sunday night's tornado offering food, hydration, and emotional and spiritual care.
On Monday, many were so very appreciative of an encouraging word and a meal.  Jessica, a disaster survivor, states "We are so grateful for groups like The Salvation Army for coming and serving when we didn't know where to turn."  Another survivor, Frances, said "I've been in Norman for over 40 years and have never experienced anything like this.
Liz Banks, Volunteer Coordinator for The Salvation Army's Central Oklahoma Area Command, was one of the persons serving on Monday.  Liz said, "Looking around I see damage, heartbreak, and devastated people but everyone remains so grateful to God and The Salvation Army."
The Salvation Army will be working closely with Voluntary Organizations Active in Disaster (VOAD) partners, first responders, emergency management at the local and state levels to ascertain what further needs may be needed for emergency response.
Financial donations can be made at www.helpsalvationarmy.org or by calling 1-800-SAL-ARMY to support response efforts. For the latest Salvation Army disaster information please go to www.disaster.salvationarmy.org and watch for regular updates on our social media pages at www.facebook.com/salvationarmyaok/ and www.twitter.com/salarmyeds and www.twitter.com/salarmyedsaok.