GRIFFIN, GA (January 17, 2022) – The Salvation Army continues its disaster relief response in the Georgia counties of Henry, Meriweather, Troup, and Spalding following destructive tornadoes that wreaked havoc across the west-central part of Georgia on January 12.
Since the tornadoes struck, The Salvation Army has continually worked with local and state agencies to assess damage and respond to provide meal service to those areas most severely impacted. The Salvation Army's meal service delivery for this disaster response is staging in two locations ­– at The Salvation Army's Columbus Corps and Griffin Corps.
When disaster strikes, one of the first signs that help is on the way is often the arrival of a Salvation Army mobile feeding unit. These "kitchens-on-wheels", or canteens, provide meals, snacks, and drinks to those impacted and first responders. Each of these vehicles can serve 800 people per meal. The Salvation Army Georgia Division has a total of 24 disaster response vehicles strategically placed across the state available for disaster responses. Six of these units are currently in service responding to areas affected by the January 12 tornadoes.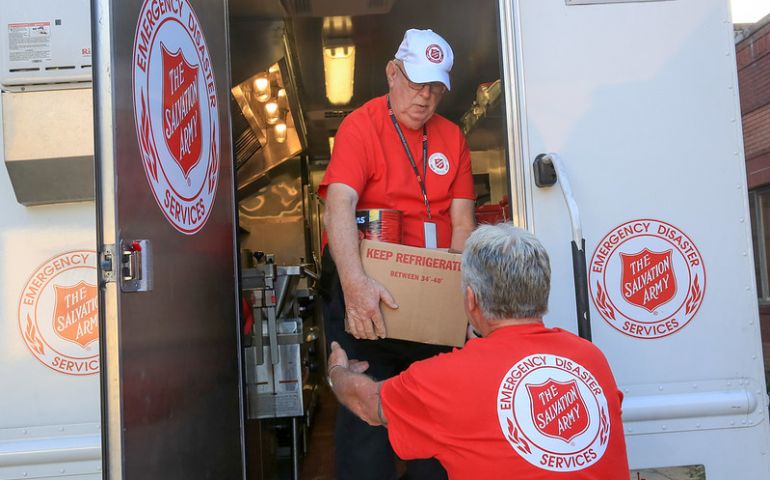 "When responders and others return from their physically and mentally exhausting shifts, we're often the first people they see," said Lanita Lloyd, Emergency Disaster Director for The Salvation Army of Georgia. "And we do our best to make sure their needs are being met during these difficult times as they serve their communities."
The Salvation Army's service in Meriweather and Troup counties include volunteers who are preparing and delivering meals from a canteen from Gwinnett County and a Salvation Army officer and a volunteer from the Rome, Georgia Corps delivering meals and snacks using a Rapid-Response unit from Dalton Georgia. The Salvation Army's Rapid-Response vehicles enable The Salvation Army to respond those areas most impacted by disasters quickly and effectively. In addition, a volunteer disaster team from The Salvation Army's Newnan location prepared and served meals from the Columbus, Georgia canteen and a team from the LaGrange, Georgia, Service Center continues serving meals in Troup County.
Serving in Henry and Spalding counties are canteens from the Georgia Division, manned by teams from the Jackson and McDonough Service Centers, the Covington Service Center, which is providing dinner for responders at the Spalding County Emergency Operations Center and continuing mass feeding services in affected areas, Marietta, manned by the The Salvation Army of Georgia's divisional office and volunteers from Marietta, and St. Marys, manned by a disaster team from St. Marys.
To date in this emergency disaster response, The Salvation Army has served 5,825 meals, 5,547 drinks, and 5,571 snacks.
"We are humbled to provide relief services to our fellow residents in Georgia impacted by these devastating tornadoes," says Captain Jason Smith, presiding officer for The Salvation Army Corps located in Columbus, Georgia. "We will continue to assess and deploy Salvation Army disaster relief resources when and where they are needed for as long as they are needed."