Telisa, a single mom in Champaign, Ill., felt like she was at the end of her rope. She was exhausted from working nights at FedEx and babysitting during the day to help make ends meet but was still behind on her rent and other bills. The stress was taking a toll on her health, and her diabetes was out of control.
In April 2021, she turned to The Salvation Army for help, first visiting the food pantry so she could feed herself and her children. She cried as she explained her situation to Bobbi Kennedy, the caseworker, and shared her dream of someday owning a daycare business.
With Bobbi's support, Telisa started taking steps toward making her dream a reality. She enrolled in Pathway of Hope (POH) and created goals to budget her resources, manage her diabetes, and complete the certifications needed to open her business.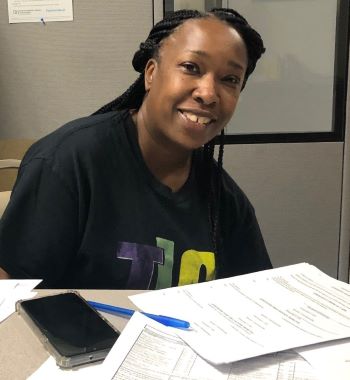 Utilizing referrals to community partners for rent and energy assistance to catch up on her bills, Telisa learned to manage her finances as she continued to work fulltime. At the same time, she worked toward completing the licensing requirements for daycare providers including CPR/First Aid certification. With the help of The Salvation Army, Telisa even completed necessary steps to receive state funds so she would be able accept low-income families.
In less than a year, Telisa opened Little Luve's Daycare in her home in Urbana, Ill., and quickly built a client base, thanks in large part to referrals from corps caseworkers.  She now operates consistently at full capacity.
Corps members also have come alongside Telisa to support her business. For example, the corps women's ministries donated new toys to the daycare during the Christmas holiday. In the spring, caseworker Kenyatta Rule and corps officer Major Sue Summit delivered Easter baskets for each child enrolled.
"Since I've known her, Telisa has worked hard," said Kenyatta. "Telisa came in with goals and she achieved all of them. She had some bumps along the road, but she did it. She's a very good example."