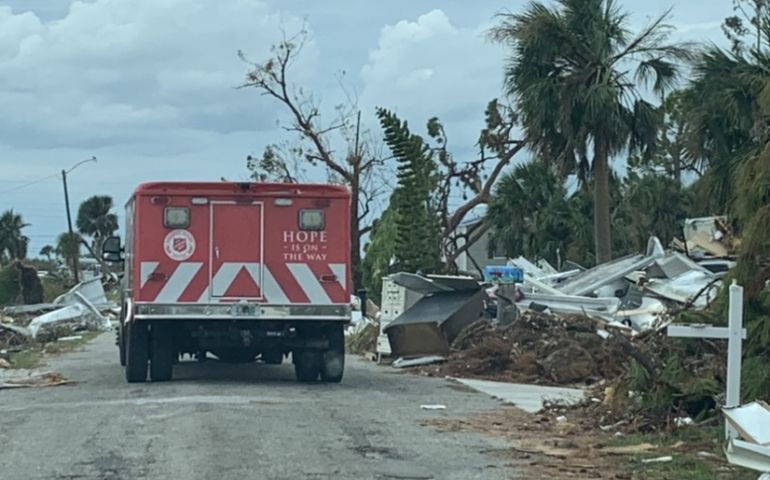 Port Charlotte, FL – For the people of Charlotte and DeSoto Counties, what a difference almost three weeks make. Today, puffy white clouds dot the baby blue sky and the 83-degree day is refreshingly cooled by a light breeze. Unfortunately, the day was not so pleasant nineteen days ago.  In fact, residents of Charlotte and DeSoto Counties had hunkered down, listening to the winds, rain, and storm surge of Hurricane Ian thrash their community and praying there would be something left when the storm was over.  While there was, indeed, something left when the storm was over, astounding damage was left in its wake
"The community looked like a war zone," said Captain Israel Roseno, The Salvation Army's Port Charlotte Corps Officer, along with his wife Captain Claudia.  "There was extensive storm damage, flooded and destroyed homes, no electricity, and a water boil alert."
Immediately, The Salvation Army put in place a full disaster response and relief team and began to serve the community. As of the end of the day on October 16th, The Salvation Army has served 157,823 hot meals, 99,993 drinks, and 36,789 snacks. In addition, The Salvation Army has made 4,633 emotional and spiritual care contacts.
"The Salvation Army cares about individuals – physically, emotionally, and spiritually," explained Captain Roseno. "Our emotional and spiritual care volunteers are trained to assist individuals express their feelings, as well as adjust to their new 'normal.'  They bring hope to those who have seemingly lost theirs."
"It is our honor and pleasure to be able to provide food, hydration, and emotional and spiritual care services to individuals impacted by Hurricane Ian," added Laurie Fried, Port Charlotte Incident Commander. "We are here for the community now and will continue to be here in the weeks and months ahead."
As the community begins the road to recovery, they can be assured The Salvation Army will walk with them every step of the way.