The initiative in award-winning Fergus Falls, Minn., and Kent County, Mich.
Be inspired by the latest two corps receiving awards for distinction in Pathway of Hope delivery through pastoral care, corps involvement and partnerships.
Fergus Falls, Minn.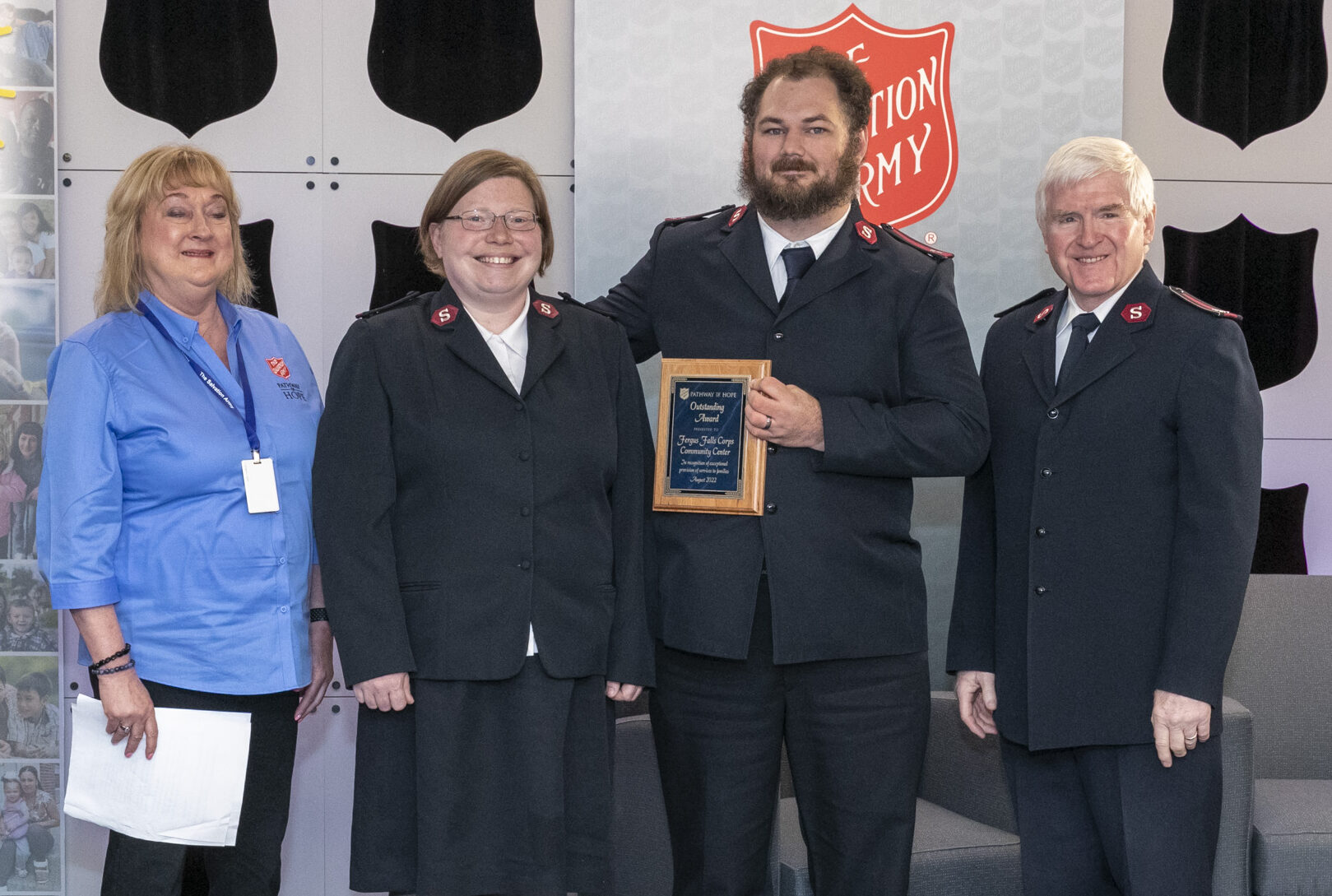 Surrounding families enrolled in Pathway of Hope (POH) with encouragement and support, along with resources needed to meet their goals, has led to an increase in enrollment and contributed to the success of the initiative in Fergus Falls, Minn. Led by Captains Anthony and Elysia Nordan, the corps recently was recognized with the Outstanding Award.
POH families are referred from several community organizations as well as corps services such as the food pantry, lunch program and emergency social services. With the endorsement of the advisory board, community support for POH has grown and led to new funding opportunities. In the past year 34 families, including 69 children, were served through POH.
"Through Pathway of Hope we are seeing more organizational collaboration in the community," said Captain Elysia. "It's wonderful to watch families learning to navigate the resources already available to them."
Part of the corps' strategy is to surround POH families with a sort of "village" made up of the corps officers, congregational members and community partners and resources in addition to their caseworker. The captains offer pastoral care while the congregation welcomes POH families to join worship and corps activities and becomes a network of support, lifting up their prayer requests and encouraging them by signing cards caseworker Breanna Grundmeier makes for special occasions like birthdays.
One corps program which has been attended by POH families is a free monthly gaming night with concessions available, the proceeds of which support World Services/Self-Denial. Because many POH families are unable to purchase concessions, they have the option to spend "Pathway Bucks" which they earn as they complete goals.
"The Pathway Bucks are a great incentive, especially if the children are working toward their own goals," said the captain. "They also give families the ability to contribute to World Services in a roundabout way."
To aid with healthy parenting and child development, the corps offers curricula from Love and Logic, Working for Kids and Parents Forever at no cost, supporting parents of children from newborn to 17 years on a flexible schedule to enable participation. In addition, community organizations help keep families on track by offering wraparound services such as legal assistance and mental health treatment.
Captain Elysia concluded, "Watching families rise and excel who have been down and out and didn't believe they could do it is amazing. We're witnessing God's redeeming grace at work."
Kent County, Mich.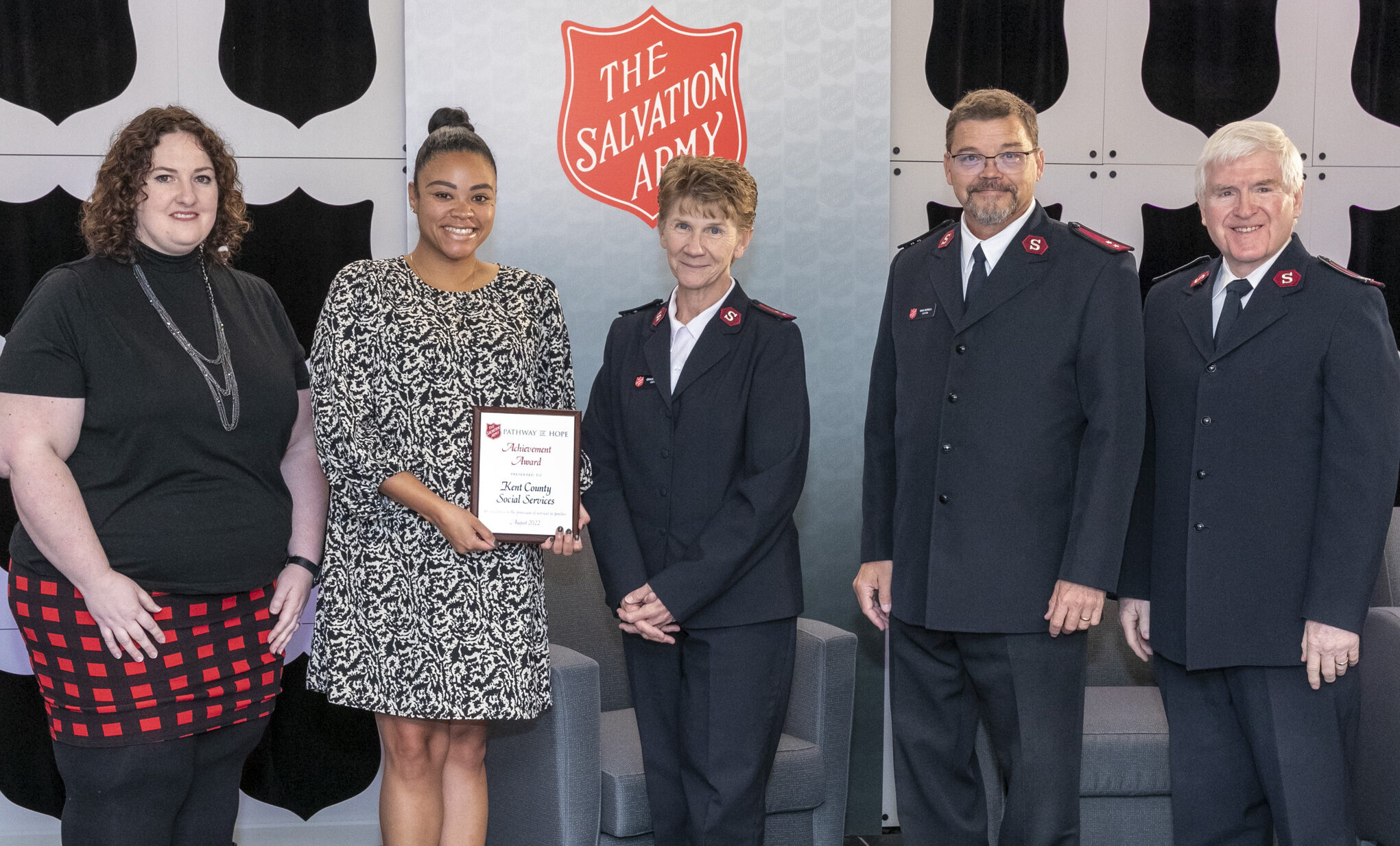 Utilizing a team approach to harness community partnerships and help families achieve their goals, Kent County, Mich., social services has served 18 families through Pathway of Hope (POH) in the past year, earning the Achievement Award.
Captains Grace and Mika Roinila, then corps officers at the Grand Rapids Fulton Heights Citadel, Mich., Corps, and now Majors R.C. Duskin and Maureen Diffley, work with caseworkers, corps volunteers and community partners to provide essential support and resources to families seeking assistance. Internal cross-training ensures employees who support specific areas of assistance such as energy or housing are able to fully engage families with information on the opportunities available to them through POH.
"The Pathway of Hope team at Kent County works diligently to ensure families have both their physical and spiritual needs met at every turn," said Victoria Arnold, director of Kent County Social Services. "I could not be prouder to say that I work with these great individuals and for an organization that cares about the community, inside and out."
Partnerships with several local organizations help connect families with resources such as furniture, relationship coaching, financial support and career development.
Spiritual care is provided through one-on-one connection with officers along with invitations to women's and men's ministries, youth activities such as afterschool and character-building programs and summer day camp, and Sunday worship. A mother's support group for single moms has become a gathering space for women to receive pastoral care, peer support and a brief respite from caregiving as the children are cared for by corps volunteers.
Major Tim Meyer, Grand Valley area commander, concluded, "I am thrilled that the efforts of our Kent County Social Services staff have been recognized with this award, not only because of the hard work, dedication and often difficult follow through required, but because of the changed lives this represents."