by Trevor Darago
Captain Vinal Lee's journey with The Salvation Army began with a group of friends and a skateboard. On a Friday night in Omaha, Neb., 13-year-old Vinal and his friends went skateboarding at the indoor  skatepark at the Omaha South Corps. After seeing a sign that read, "Chapel," he asked his parents if they could attend the worship service on Sunday with the intention he could continue to skateboard with his friends. Little did he know how much his involvement in the corps would grow or that eventually he would become a Salvation Army officer.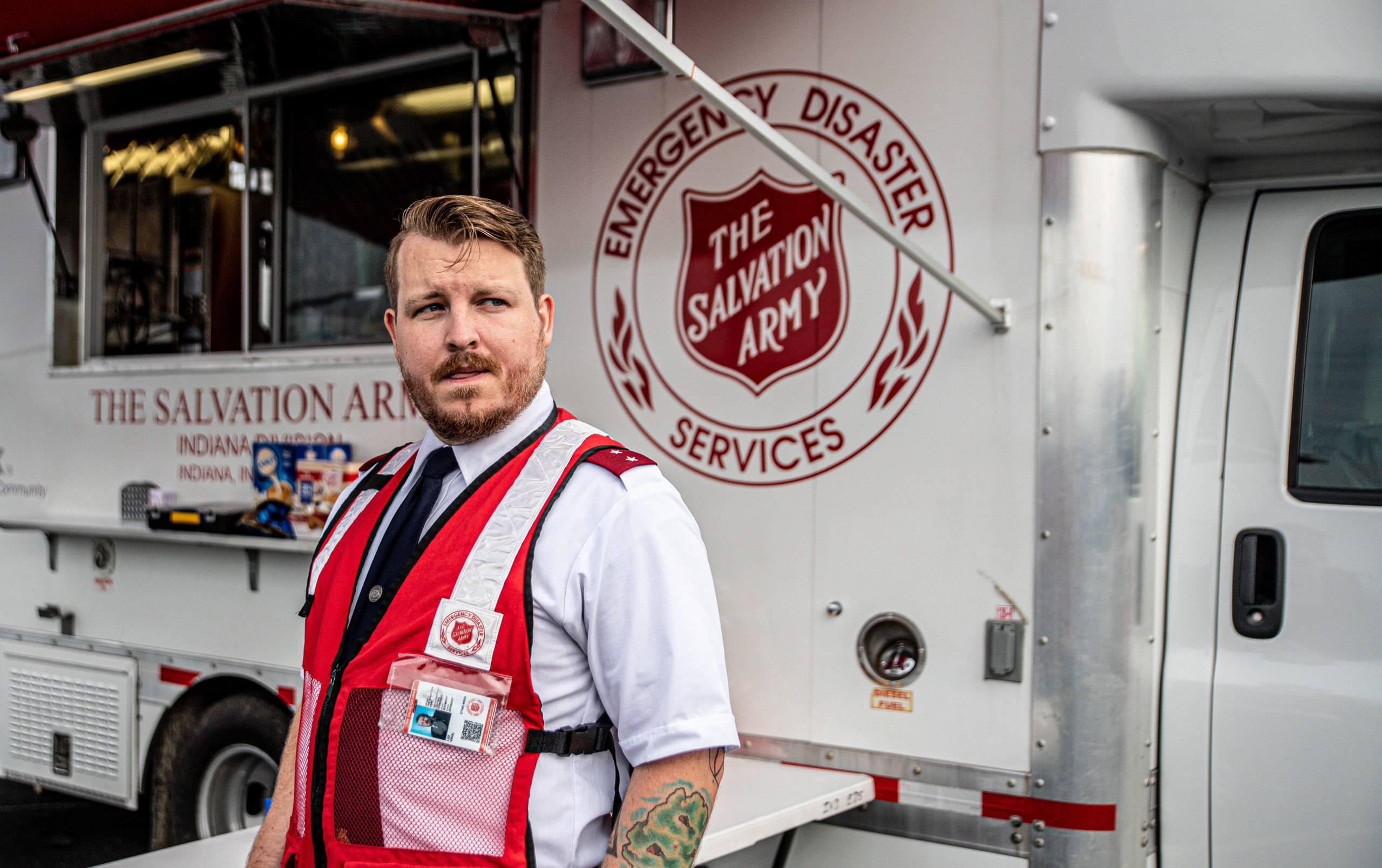 Even before being commissioned as an officer in 2015, he volunteered with emergency disaster services. His passion for emergency response continued as an officer. His deployments have included serving after floods, tornadoes and hurricanes, including Hurricane Harvey in Texas in 2016. His roles have ranged from canteen operations to public information officer, emotional and spiritual care officer and incident commander, including playing that role for the Indiana Division during COVID-19.
Captain Vinal's mission is connecting with people and connecting them with God. "God wants community. It's built into who we are," he said. "We can more effectively spread the gospel when we just reach into ourselves and pull out what connects all of us—and that is our desire to be connected."
The captain has been able to connect with an unreached audience by experimenting with short-form video content on social media platforms like TikTok, Facebook and Instagram, sharing personal stories and the gospel. In one month, his social content reached nearly 28,000 individuals!
According to Captain Vinal, he wouldn't be the officer he has become without the joint efforts with his wife, Captain Brenna Lee.
"There would be no success in our ministry if it wasn't our ministry," he explained. "I'm really good at about three things. Brenna, however, is good at everything." He says his life is unimaginable without her extraordinary talent in creating programs and fellowship with others.
The Lees are excited about their move this summer to Bloomington, Ind., where they have the unique privilege to provide leadership for Bloomington and Brown County, Ind.
"Moving to Bloomington was definitely unexpected, but we are excited about it," Captain Vinal said. "This is our third move in Indiana and will be the fourth corps we've had the opportunity to run."
The Lees are looking forward to guiding their new ministry forward. "I refuse to believe the best days of The Salvation Army are behind us," Captain Vinal concluded. "I feel like we've been called to work in the present but dream forward."