Territorial Soldiers' Forum debuts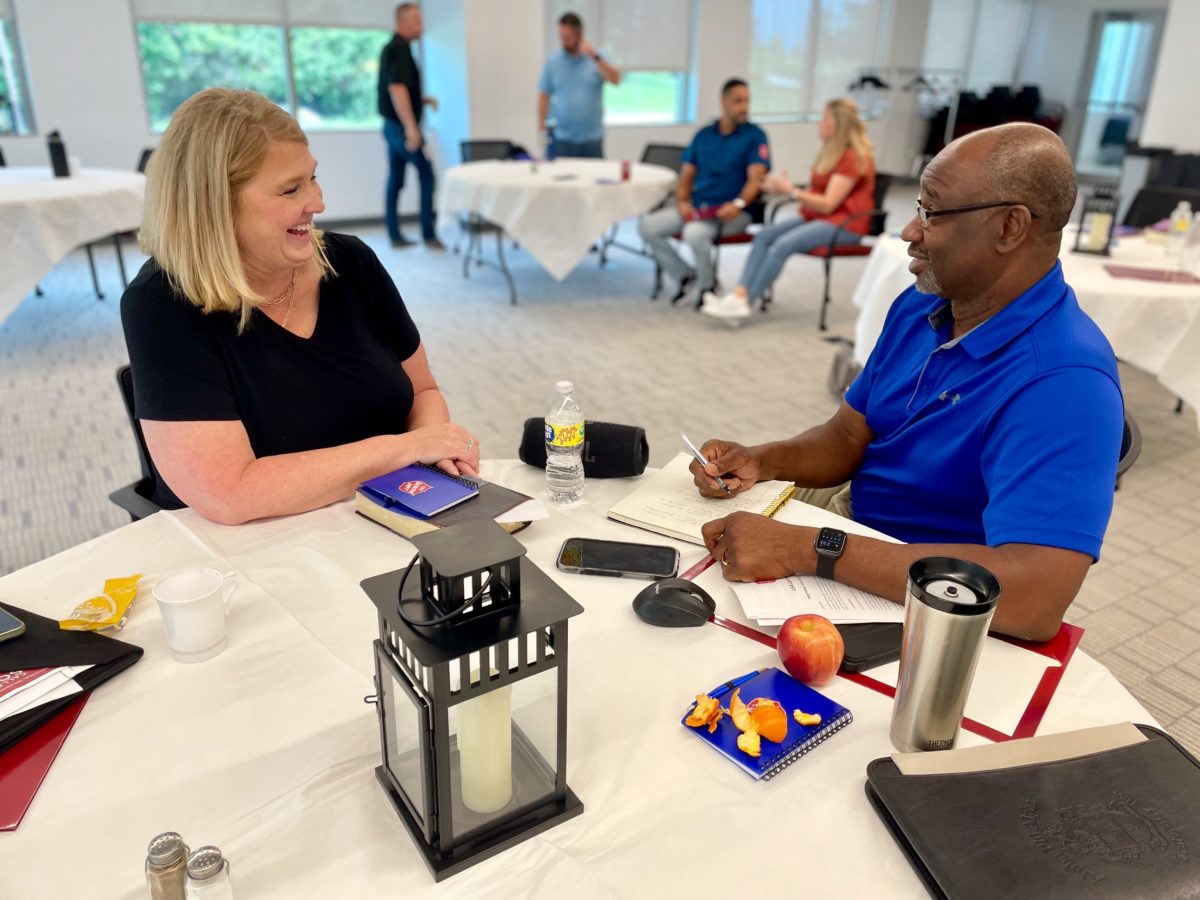 As a soldier, you are invaluable to The Salvation Army. Your commitment and service make a difference in your corps and community; your input is essential in moving the mission forward. Now your voice can carry even farther. With the introduction of the Territorial Soldiers' Forum this summer, your ideas, needs and concerns for the Army have a new and more direct channel to reach leaders of the territory.
"Our territorial leaders have assured us that they want to hear from us, that they want to know our concerns, and they want us to have a structure to be able to communicate with them openly and honestly," said Rochelle Holman, the Central's first territorial sergeant-major and forum chairperson.
The Territorial Soldiers' Forum is comprised of divisional sergeant-majors and assistant divisional sergeant-majors, prayerfully selected by their divisional leaders and approved by the territorial commander; the territorial sergeant-major (TSM) and assistant territorial sergeant-major (ATSM), also appointed by the territorial commander; as well as a young adult representative appointed by the territorial youth secretary. Each member serves for a three-year term.
The process by which membership is chosen helps to ensure that the territory's diversity is represented and thereby a broad cross-section of voices, needs, concerns and suggestions are brought to the table. Soldiers may put forward subjects for consideration through their division's forum email box, a letter sent to their divisional headquarters to the attention of their forum representative(s), and by talking with their corps sergeant-majors or with their forum representative(s) at divisional events. The TSM and ATSM may contact and survey local officers throughout the territory.
The inaugural meeting of the Territorial Soldiers' Forum took place in August with hybrid in-person and virtual attendance, a format which will be utilized on an ongoing basis to incorporate as many members as possible in its meetings twice a year.
Territorial Commander Commissioner Brad Bailey met with the forum during its first meeting, further underscoring its important work.
"We are in this together as Salvationists," he said, explaining that soldiers are vital to the mission and should not feel like their calling or work is secondary to officers.
The territorial corps and community mission secretaries, currently Captains Kristina and Michael Sjogren, are designated as liaisons to facilitate the forum's work.
According to Captain Kristina, the forum's debut is timely with recent changes emanating from Project Advance which aim to better resource and enable mission at the local level. She encourages soldiers serving as local officers in their corps to take advantage of the opportunity to "speak into" the process and be agents of positive change.
The captain also commends the new chairperson and assistant chairperson, Rochelle Holman and Hewitt Gage, respectively, as imminently qualified, citing strong, practical skills like business and communication, their lifelong experience, extensive involvement in and in-depth understanding of the Army, and adherence to its principles, doctrines and practices.
An executive committee will work with the TSM and ATSM to determine the most pertinent subjects to bring before the forum for discussion and possible recommendation to territorial leaders. To help ensure progress, minutes, including recommendations and feedback from the Territorial Executive Council, will be presented within two weeks to the Territorial Cabinet by the TSM or ATSM for discussion, possible approval and then action.
"While our goal is to advance the mission of The Salvation Army throughout our territory," said Rochelle, "it is ultimately to grow the Kingdom of God through building up the saints and reaching out to the lost."