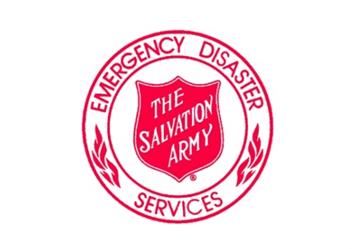 St. Louis, Mo. (Aug. 10, 2022) — Across the Mississippi River from recovery efforts for historic flash flooding in St. Louis, The Salvation Army Midland Division's Emergency Disaster Services responded with meals to feed firefighters who were busy extinguishing a five-alarm structure fire so large, black smoke could be seen for miles.
The building is a metal recycling plant in Granite City, Ill., that started burning late Wednesday morning.
The 72-hour feeding operation will go daily from Thursday to Saturday, with lunch and dinner served for firefighters and first responders.
"Because of our response with the Madison County Emergency Management Agency during the tornado in Edwardsville, the Amazon Distribution Center, they feel confident to call upon us to be able to provide support to the firefighters and first responders with this fire incident over the next couple days," said Martin Rueter, Executive Divisional Director for Emergency Disaster Services.
To donate to The Salvation Army Midland Division's disaster recovery efforts, visit salarmymidland.org and hit the "donate" button for flood recovery and all emergency disaster services efforts.
In locations throughout St. Louis County and City, Mo., and East St. Louis, Ill., since July 26, The Salvation Army has been present at distribution points and all nine MARCs (multi-agency resource centers), offering snacks, cold water, meals, social and financial assistance, flood kits, spiritual and emotional care, and cleaning supplies, to survivors of the recent St. Louis region flash flooding that left millions of dollars in damage.
For more information, contact Nicholas White, Salvation Army Midland Division Public Information Officer, at [email protected] or 314-717-9323.