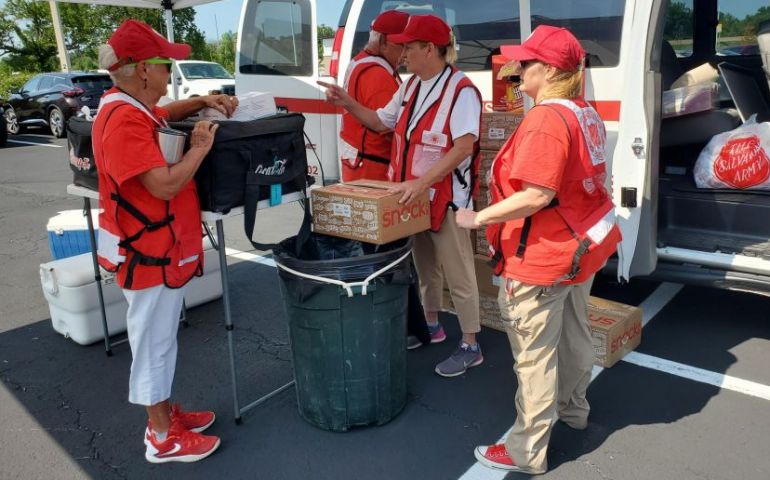 The Salvation Army Distributes More Than 600 Meals at First St. Louis-Area Flood Aid Event
St. Louis, Mo. – In a mark of need, The Salvation Army distributed more than 600 meals and served 800 families Tuesday at the St. Louis area's first multi-agency resource center event, following last week's deadly and damaging flash flooding in the metro region.
The MARC was held at Wentzville's Element Church, in St. Charles County. More than several hundred homes were reported to have damage in St. Charles County, according to the Red Cross.
Sixteen Salvation Army volunteers were on the scene at the MARC, which attracted about 30 organizations, religious entities, and social agencies, offering a variety of services.
The Salvation Army kept the hungry crowd at ease with its canteen inside the building, full of several hundred of people at times over the five-hour event.
Hot meals of chicken, mac and cheese, peas and carrots, and grilled hot dogs were served, as were snacks both savory and sweet, Chick-fil-A sandwiches, and bottles of cold water, for the heat in the 90s.
"A lot of us don't have insurance or health to fix our homes and feed ourselves," said Karen, who accepted flood clean-up supplies, a box fan, and a large broom, from The Salvation Army. "You guys come along and help with the need that we need for everybody. I appreciate it."
As always, The Salvation Army offered emotional and spiritual support to those who needed it. Major Fred Mead represented the Army.
Major Mead spoke with two 91-year-old people last weekend about the floods.
"Their basement flooded," Major Mead said. "It was about being able to sit and talk with them. Trying to find the good that comes out of a bad situation. They had some estranged family members who are back in the picture now. Those relationships are mended because of this."
Other MARCs this week include:
Wednesday, Aug. 3: John F. Kennedy Community Center, 315 Howdershell Rd., Florissant, Mo., 3 – 8 p.m.
Thursday, Aug. 4: Centennial Commons, 7210 Olive Blvd., University City, Mo., 3 – 8 p.m.
Friday, Aug. 5: Friendly Temple, 5515 Martin Luther King, Jr. Blvd., St. Louis, Mo. 3 – 8 p.m.
Saturday, Aug. 6: East St. Louis Senior High School, 4901 State St., East St Louis, Ill. 9 a.m. – 7 p.m.
To donate directly to this flood relief work of The Salvation Army Midland Division's Emergency Disaster Services team, visit https://donate.stlsalvationarmy.org/give/420123/#!/donation/checkout. To learn more, visit salarmymidland.org.