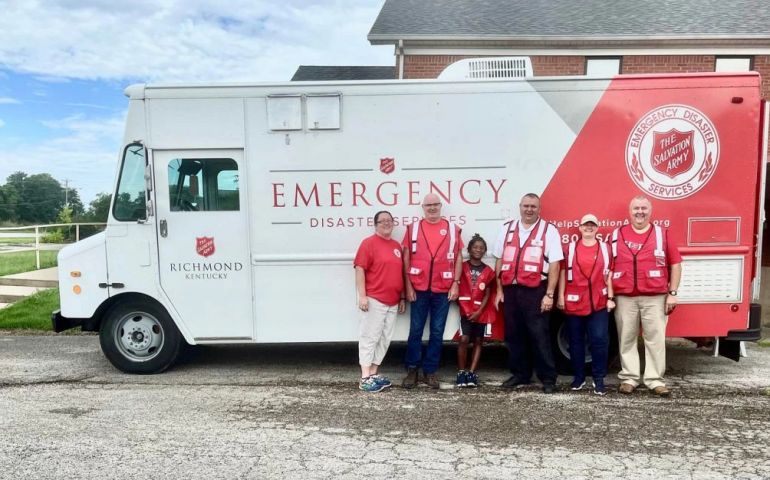 (Hazard, KY) – A brief respite from days of rain on Saturday allowed The Salvation Army to begin moving their considerable disaster relief resources into this flood ravaged area of Southeast Kentucky. Units from Richmond and Danville brought meals, beverages, snacks, and cleaning supplies, as well as providing much-needed emotional and spiritual care to survivors and first responders.
Captain Kevin Justice of the Richmond Corps piloted his mobile canteen unit to Jackson on Saturday, setting up meal service near the Family Dollar store on Kentucky Highway 15. It didn't take long for local residents to take notice. "We went through 250 meals quickly and had to send the van back to Richmond for more meals," reported Captain Justice. "There is nothing to eat, so the folks here are happy to see us and thankful for the help we're providing in their time of desperate need." Justice said he will be back in the same location on Sunday. In the evening, he plans to deliver meals to the shelter in Wolfe County at the high school and middle school.
Meanwhile, Lieutenant Cornelius Walton of the Danville Corps transported 150 meals to Jenny Wiley State Park Resort in Prestonsburg, where more than 100 people are sheltering. On Friday, Emergency Disaster Services Director Bo Sells delivered more than 500 cleanup kits from Louisville to Floyd County.
In total for Saturday, The Salvation Army served 650 meals, 200 drinks, and 200 snacks. On Monday, additional units will be deployed to the area from Louisville, Middlesboro, and Jackson, Tennessee.
The Salvation Army is coordinating their efforts with state and local officials, as well as other participating relief agencies, and plans to be in the area as long as their services are needed. An Incident Command Post has been established in Hazard to coordinate the response.
To make a financial donation to this relief effort, please visit https://helpsalvationarmy.org or call 1-800-SAL-ARMY (800-725-2769). 100% of disaster donations go to help the relief efforts.