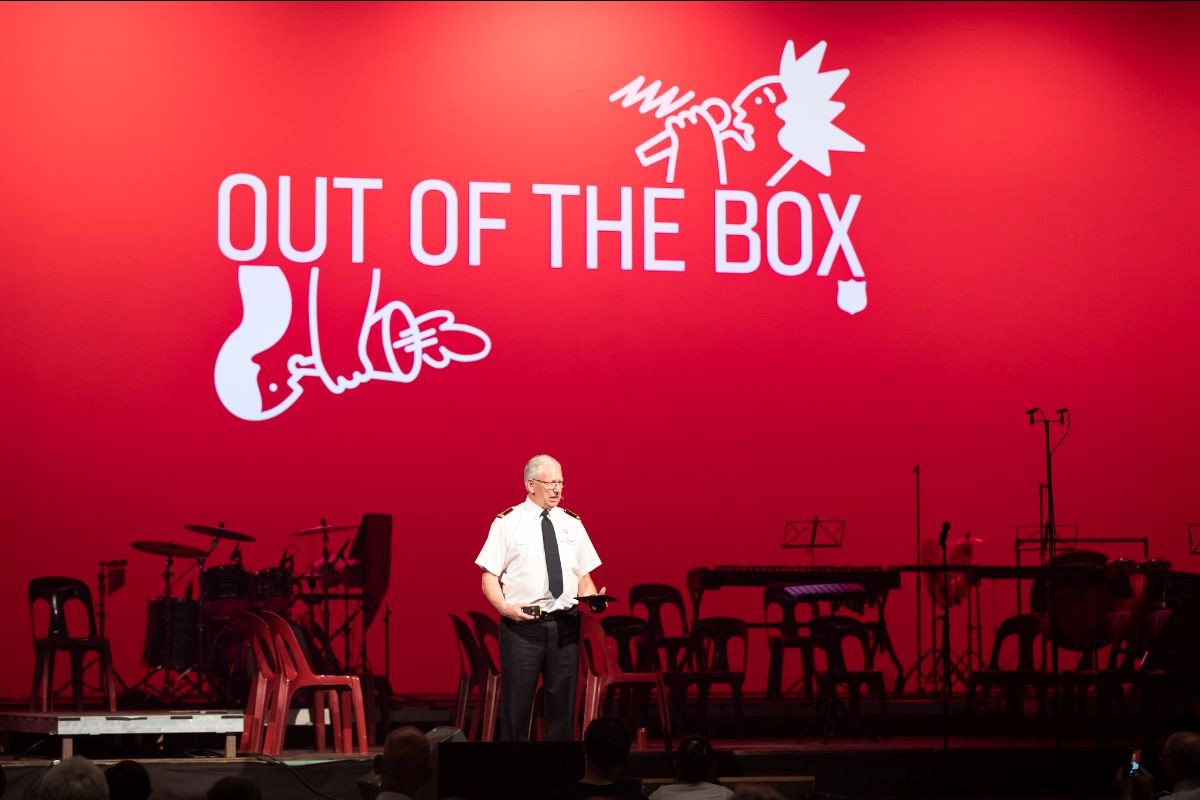 The General Commends 'Out of the Box' Approach
THE Salvation Army's Out of the Box festival in Thun, Switzerland, was enhanced by the presence of General Brian Peddle and Commissioner Rosalie Peddle (World President of Women's Ministries). The festival was designed to be a special community experience for the Salvation Army family after two years of pandemic-related restrictions. More than 1,300 Salvationists and employees from the Switzerland, Austria and Hungary Territory enjoyed creative workshops, concerts and panel discussions. 
In the two days leading up to the festival, the General and Commissioner Rosalie met with members of the Foundation Board and Management Board of The Salvation Army's Switzerland, Austria and Hungary Territory. A morning was also spent meeting leaders from churches and other organisations, discussing essential topics such as the relevance of Christian witness in a secular society; ecumenism and connections with other religions; shaping relationships with governments; and the place of women in the Church. 'The world deserves the Body of Christ,' declared the General. 'It is the most beautiful expression created by God.'
At the festival, spiritual input and discussion took place in the plenary session, in workshops and in the 'Talk Lounge' (a relaxed setting where the international leaders and other significant people shared their thoughts on faith and life), giving depth to the joyful celebration. Participants were asked to think about how they put their Christian faith into practice and encouraged to think 'out of the box'. Talking about the challenges faced in various parts of the international Salvation Army, the General emphasised: 'The world in which we live – no matter what nation or culture – needs the service and message of The Salvation Army.'
Commissioner Rosalie offered particular words of encouragement to the women present, challenging them to develop and actively contribute their leadership skills. 'Be bold,' she said. 'Love who you are!'
Highlights of the festival included the commissioning and ordination of the nine cadets of the Messengers of Reconciliation Session and a welcome to six new cadets from Hungary and Switzerland as members of the Defenders of Justice Session. The General also installed Lieut-Colonel Daniel Imboden as the new Chief Secretary and Lieut-Colonel Heidi Imboden as part of the territorial leadership team, with special responsibility for the Austria and Hungary Regions.
It was a particular privilege for delegates to interact with the General and Commissioner Rosalie so closely and authentically, whether in the Talk Lounge, where they answered questions, during breaks or in personal conversations. The international leaders' enthusiasm and fire for God, for Jesus Christ and The Salvation Army had a positive effect on the people they met.
Reflecting on the innovative festival, the General said: 'We will share with the Salvation Army family that our time here has brought inspiration and encouragement.'
Based on a report by Susanne Gutbrod