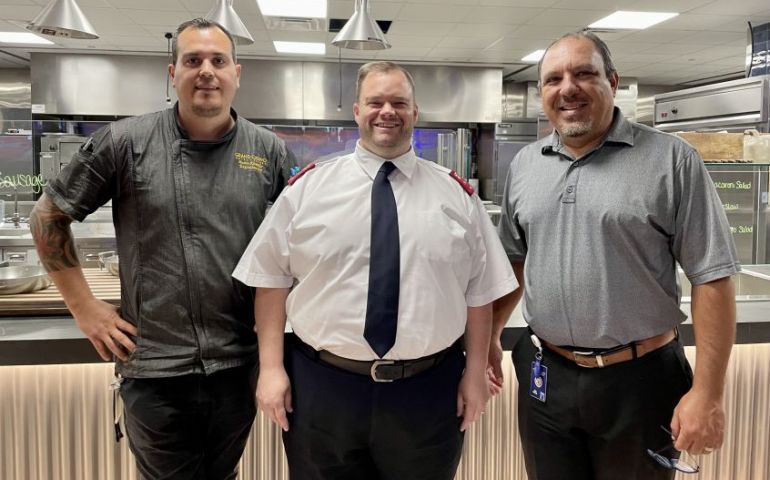 The Salvation Army relies on trained volunteers, partnerships with Voluntary Organizations Active in Disaster (VOAD), and relationships with local, state, and tribal emergency managers when responding to disasters along with local partnerships associated within the local community.
During the Spring 2022 disaster response in Oklahoma, The Salvation Army learned new ways to enhance its relationship with Citizen Potawatomi Nation (CPN). CPN has supported The Salvation Army in the past yet stepped up at a critical moment during the recent disaster response that occurred in their backyard.
Citizen Potawatomi Nation is a federally recognized government with over 37,000 tribal members. One of their goals is to give back to the community, strengthen communities, and help those who are hurting, like The Salvation Army's Mission of "meeting human need in His name."
The Salvation Army responded immediately to Seminole and the surrounding areas to provide meals for almost 4,000 people over the next several days. This included those impacted by widespread power outages, homebound individuals, and children at home due to school closures. The Salvation Army worked with CPN to assist in the meal preparation. "The partnership (with CPN) allowed our teams to focus their time on delivering meals and visiting with individuals, not cooking," stated Captain Patrick Connelly, The Salvation Army Officer, Shawnee, Oklahoma.
"We are happy to support the community of Seminole as they respond to the tragic weather events, they've recently experienced. Many of our employees and patrons come from the Seminole area, so to us it's like helping our family," stated Joe Garcia, General Manager, Grand Casino Hotel & Resort.
The Salvation Army is grateful for those who come alongside us to serve, not just during disaster response, but 365 days a year. "CPN is an invaluable partner, and this is but one example of what they do to ensure our communities not only succeed, but thrive," said Connelly.