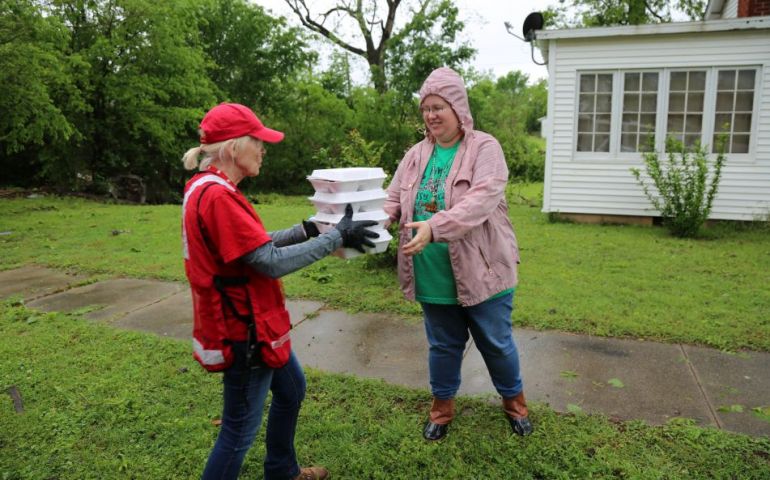 Shawnee, Oklahoma (May 8, 2022) The Salvation Army's Arkansas-Oklahoma Division continues to serve those affected by a series of tornadoes that touched down last week.   Several of the neighborhoods affected were not only hit by Monday's storms, yet again on Wednesday.
Two mobile feeding units, one from Central Oklahoma Area Command, and one from Shawnee, Oklahoma continue to provide food, hydration, and emotional and spiritual care. Power outages continue to be a challenge, causing people to lose the perishable food in their homes.  While serving one of the survivors, an older lady, when asked if she needed some lunch, she stated, "Well, only if you can spare it."  Others continue to be very appreciative of receiving not only a meal yet hope as well.
The Salvation Army continues to work closely with first responders and emergency management at the local and state levels to ascertain what the needs are as response efforts evolve.
Financial donations can be made at www.helpsalvationarmy.org or by calling 1-800-SAL-ARMY to support response efforts by using the Spring 2022 Severe Weather and Tornadoes designation. For the latest Salvation Army disaster information please go to www.disaster.salvationarmy.org and watch for regular updates on our social media pages at www.facebook.com/salvationarmyaok/ and www.twitter.com/salarmyeds       and www.twitter.com/salarmyedsaok.