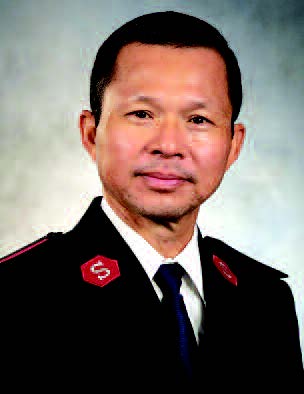 7,595 days and counting
by Major Steve Kounthapanya
As an officer, the most important things for me are my relationship with Christ, the high calling He has given me and the covenant I signed to fulfill the Great Commission ("Therefore, go and make disciples of all nations, baptizing them in the name of the Father and of the Son and of the Holy Spirit, and teaching them to obey everything I have commanded you. And surely, I am with you always, to the very end of the age." Matthew 28:19-20, NIV)
For the past couple of decades being an officer, I have been compelled to "go" the extra mile and out of my comfort zone to reach anyone who needs help physically and, most importantly, spiritually. As officers, our mission is to welcome and love everyone. Their race, culture and ethnicity does not matter. Even those who may seem unlovable, we must love. Since we follow Christ, our love must be unconditional.
A growing church is filled with diversity as people come together with the common purpose of worshiping God and sharing Christ's love. They represent the Kingdom of heaven on this earth. Throughout the years with willing hearts to serve in multicultural ministries settings, my wife and I have seen many blessings from God in people's lives and congregations as well as every aspect of ministry in each appointment.
To win people to Christ in different cultural settings has been a blessing to our whole family because of the changes we've seen in people's lives as we have fulfilled the Great Commission. Since it's a command from Christ Himself, I pray that as His followers we take to heart the Great Commission in our daily living. It is the mission of The Salvation Army to preach the Gospel of our Lord Jesus Christ to all people and to meet human needs in His name without discrimination.