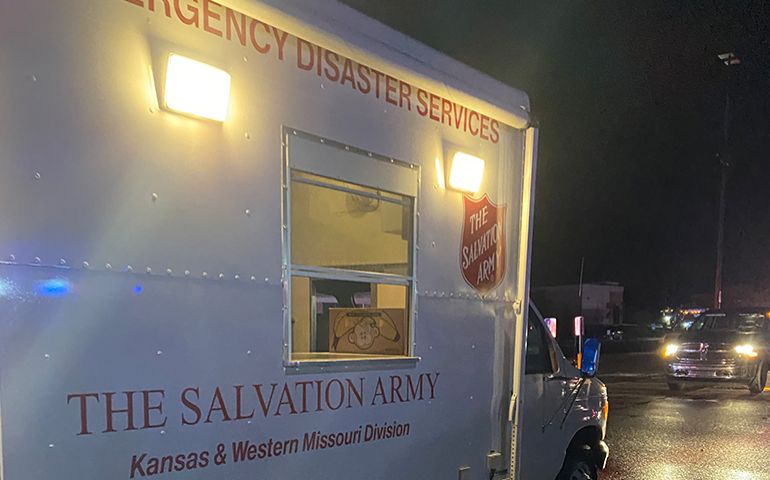 ANDOVER, Kan. – Early on the evening of Friday, April 29, an EF-3 tornado touched down in the southeastern corner of Andover, Kan., a suburb of Wichita, Kan. Reports indicate the tornado stayed on the ground for approximately 20 minutes, damaging nearly 1,200 structures in the community of 15,00 residents.
Shortly after the storm clouds cleared, officers, staff, and volunteers from The Salvation Army's South Central Area Command, which encompasses Sedgwick and Butler counties, began staging with a mobile kitchen unit to the respond. The canteen arrived at the Marketplace Shopping Center at Kellogg Avenue and South Andover Road by midnight on April 30 and began serving food and drinks to first responders.
Over the course of the weekend, The Salvation Army served 981 meals, 790 drinks, 425 snacks to anyone in the area. The Salvation Army staff of two officers and eight employees were joined by 10 Emergency Disaster Services (EDS) volunteers, serving more than 150 hours total. An emotional and spiritual care chaplain was also on site to provide comfort to those coming to grips with the devastation left by the storm.
"In the immediate aftermath of any storm, a quick, coordinate response can do wonders to support our emergency worker and the residents," said Major Merrill Power, South Central Area Commander. "I'm incredibly proud of how well our team worked together and will continue to work with everyone in Andover until all the pieces are picked up and put back together."
On Monday, May 2, The Salvation Army's feeding program switched to mobile operations with the canteen driving to affected neighborhoods to provide meals and drinks directly to residents and first responders still at work.
Divisional EDS staff will arrive in the community on Tuesday, May 3, to begin distributing Walmart vouchers so residents can purchase necessities that were lost in the storm. The Salvation Army will also have staff at the Multi-Agency Resource Center which will open its doors at 8am in the Andover Community Center at 1008 E 13th Street.