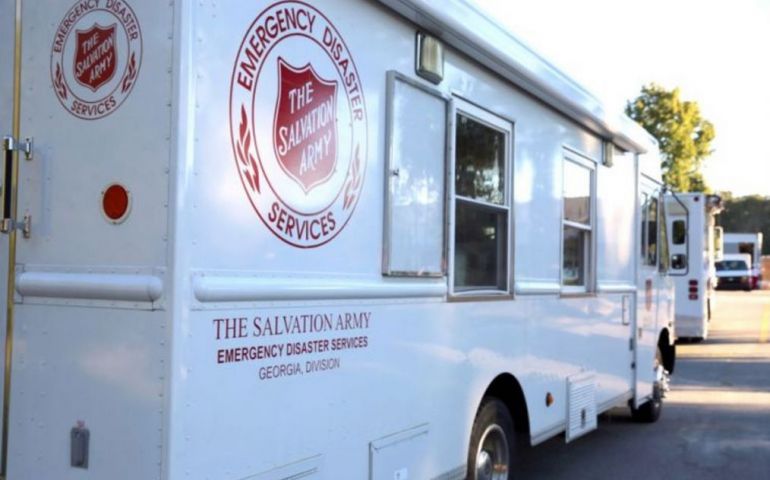 SAVANNAH, GA (April 12, 2022) – The Salvation Army Georgia Division is responding to communities in the Bryan County area affected by an EF3 tornado. Initial damage assessments determined that 13 homes were majorly or totally destroyed. The tornado was reportedly on the ground for 11 miles and had a width of 1,300 yards.
In response to a request from Bryan County to deliver food to disaster workers and those impacted by the tornado, a canteen from Savannah, GA, and Rapid Response Units (RRUs) from Brunswick (manned by a team from St. Marys) and Newnan (with crews from Columbus and Atlanta Red Shield) are delivering lunch and dinner throughout the affected communities. The Salvation Army is also providing support to manage local volunteers in Bryan County, where most of the devastation occurred. In addition, The Salvation Army is distributing storage bins to families impacted by the tornado so they can gather and protect their most cherished possessions from the elements.
"We are diligently working daily with other agencies, churches, and local restaurants to quickly help those impacted by the tornadoes," said Linda James, Director of The Salvation Army of Savanah's Center of Hope Director.
According to Lanita Lloyd, Director of Emergency Disaster Services for The Salvation Army of Georgia Division, "The Salvation Army has a strong presence in the Savannah and surrounding communities, and we will continue to fully and carefully review and evaluate the situation as we serve those affected by this disaster with dedication and commitment."
In times of disaster, The Salvation Army is a trusted responder. With the generous support of communities, The Salvation Army can meet immediate needs during disaster responses. The best way to help relief workers and those impacted by disasters is to make a financial contribution. Financial contributions allow disaster responders to immediately meet the specific needs of those impacted.
How you can help: