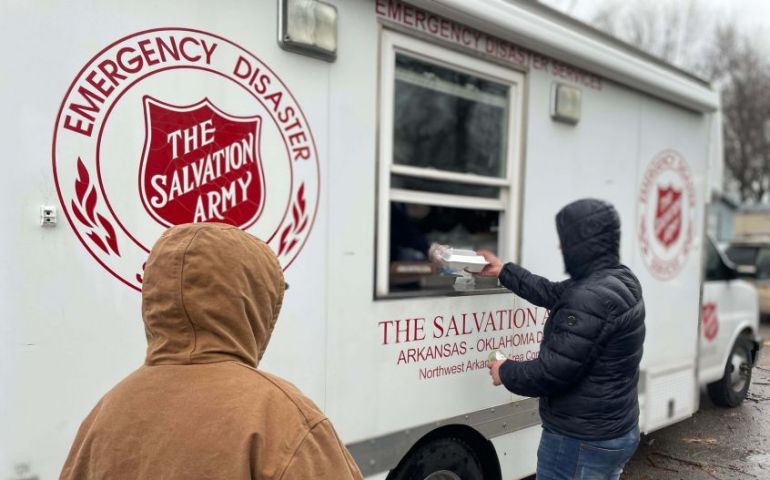 March 31, 2022 (FAYETTEVILLE, AR) – Even as storms continued to roll across the State of Arkansas on Wednesday, The Salvation Army of Northwest Arkansas began responding to those affected by the heavy storms that tore through Northwest Arkansas on Tuesday evening into very early Wednesday.
The Northwest Arkansas Area Command deployed their Mobile Feeding Unit on Wednesday morning to assess the need for food, hydration, and emotional and spiritual care to those affected by the storms.  Over 450 meals, snack, and drinks were provided to storm survivors and first responders.
The mobile feeding unit is prepared to serve 500 meals on Thursday and is working closely with VOAD partners to support shelter feeding as well as mobile feeding efforts.  The team is led by Lieutenant Jonathan Flowers, Corps Officer for The Salvation Army of Springdale.
The Salvation Army is working closely with emergency management officials at the local and state levels, as well as other partner agencies to ascertain what further needs may arise in the aftermath of the storms.
Financial donations may be made at www.helpsalvationarmy.org or by calling 1-800-SAL-ARMY to support response efforts.  For the latest Salvation Army disaster information, please go to disaster.salvationarmyusa.org and watch for regular updates at www.facebook.com/SalArmyNWA for additional information.